Student Blog: Keeping A Legacy Strong
The spark of drive-in movie theaters.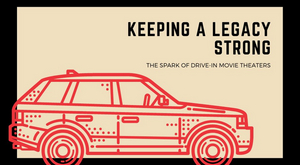 Drive-in movie theaters. Iconic attractions of American history. What used to be immensely popular and packed full destinations, have now seen a decline in ticket sales and audience members. Many drive-ins have completely closed over the past years, but some have remained intact. I am lucky to have Bengies Drive-In Theatre a mere 45 mins away from me in Middle River, Maryland.
Last Saturday was my 3rd time at Bengies. What I love about Bengies is that they cater their movies to all sorts of ages. From kid-driven animated movies to scary rated R movies. The rotation is always kept relevant with new movies as well as dabbling in classics like The Matrix or Austin Powers. Bengies atmosphere is incredibly welcoming and always entertaining.
Bengies also brags that they have the largest drive-in screen in the entire country. Since the 1950s the 6,240 square foot screen has kept people of all ages engaged all night long.
This past weekend I had a small group of friends to go with and we watched A Quiet Place 2 and In The Heights. We loved both. It was a perfect balance of spooky adrenaline and then heartwarming vibes and uplifting spirts to end the night. We enjoyed popcorn and candy apples from the old-school snack bar and dodged the rain a couple times but regardless it was such a great way to kick off the summer.
A Quiet Place 2 was probably one of my favorite scary movies I have ever seen and that does not really say a lot because I did not even see the first one. Emily Blunt is one of my favorite actresses ever especially in Into The Woods and A Devil Wears Prada. She did not disappoint her motherly role. In The Heights was everything I had hoped for as well. I had actually never heard the entire soundtrack from the musical before, so I was pleasantly surprised to hear Lin-Manuel Miranda's writing pre-Hamilton. Anthony Ramos (swoon) was perfect for Usnavi. His lovable and caring personality shone through and the OBC cameos were incredible as well.
This summer I plan to keep an eye for out for other movies at Bengies so I enjoy the theater while it is still available to me. Drive-ins are becoming less and less popular and especially lost a lot of business over the past year due to the covid pandemic. I plan to help these local gems to keep their legacy strong.
I encourage others as well to check out their local drive-ins. The number of theatres in the country dwindles every year but people should try and support them to help keep these businesses afloat. They represent so much love and appreciation for movie makers and inspire joy to audience members of all ages. Something about sitting in your car with your radio tuned into the local station, windows down with the people you love, sounds better then a slimy old movie theater with lumpy down seats and mysterious stains, right?