Student Blogger: Maddie Davies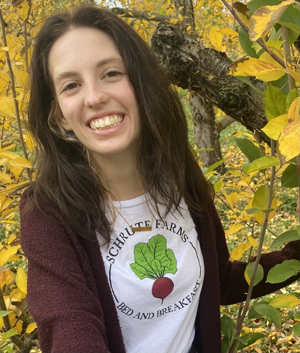 Student Blog: Choose Your Fighter: BA or BFA?

September 9, 2021

When I started looking into college theatre programs about 5 years ago (I can't believe it's already been that long), I had very limited knowledge about the difference between a BA and a BFA. It has been drilled into my brain by a variety of sources that BFAs are better. I had no reasoning behind it other than hearing it from other people. In reality, BAs and BFAs are just different. Neither one is inherently better than the other. It just depends on what you are looking for. It still feels like there is a stigma around opting for a BA program over a BFA in the general theatre community though.
---
Student Blog: Epic Theatre at IndyFringe

August 25, 2021

What really strikes me about Climate Follies is the use of Brechtian-style theatre to create the atmosphere of the play as a whole. Brecht's style, also known as Epic Theatre, relies on the Estrangement Effect. Through various tech and acting techniques, the audience remains very aware that they're watching a play. They are not allowed to fall into the reality of the play.
---
Student Blog: Directing a World Premiere

August 11, 2021

"Climate Follies is a comedy to cope with the climate crisis. 5 actors play a multitude of roles across 15 super short scripts using clowning, puppetry, singing, and dance." Director, Raphael Schwartzman, and Jim Poyser have been working with the current cast since July 2021 but have been workshopping the script since 2019.
---
Student Blog: It's M*A*S*H Time!

July 27, 2021

The premise of M*A*S*H is the day to day life of the members of the 4077th MASH unit during the Korean War. We see the nurses and doctors tend to their patients and cope with life and participation in a time of war. Those of you who know me probably know I have been obsessed with the tv show M*A*S*H this summer. For those of you who don't know me, I will explain what I mean when I say 'obsessed.' I often go through what I call 'phases of interest.'
---
Student Blog: Sandbox Student Productions: Bringing Social Justice to the Forefront of Theatre

July 7, 2021

Sandbox is a student run company. We are not officially a Butler club, but we are able to use the blackbox theaters with permission from the department. We are centered around social justice theatre and try to put on a number of readings of scripts each school year, highlighting a different, relevant charity with each reading.
---
Student Blog: Find My Friends

June 24, 2021

From the very first time I met Olivia (the random roommate), I knew she was one of the coolest people I'd ever known. She wore thrifted clothes and brought her skateboard with her most everywhere. She had a very 'I don't care what other people think' aura to her. Almost immediately, I was able to open up and talk with her without feeling awkward.
---
Student Blog: 10 Shows I'd Travel in Time to See

June 2, 2021

A few days ago, one of my friends sent me a TikTok asking what shows I would choose to see if I had 3 comp tickets and a time machine. I liked this concept, but decided to make it a list of 10 instead of 3.
---
Student Blog: My Unironic Love of Act Without Words II

May 25, 2021

My junior year of college I was asked to stage manage Fleeting Full which was a compilation of 4 short Beckett plays. After just two rehearsals, I fell completely in love with the plays, specifically Act Without Words II.
---