Jonas Schwartz-Owen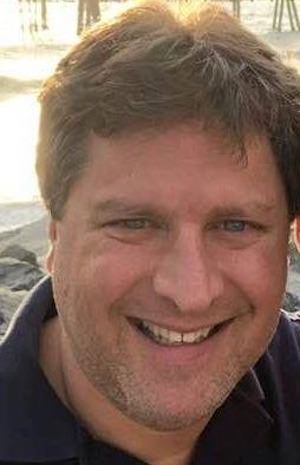 Jonas Schwartz is Vice President of the prestigious Los Angeles Critics Circle. He was the Los Angeles Columnist for the New York based Theatermania.com for 15 years, reviewing, among others, the sold out tours of Book of Mormon and Hamilton. He is now thrilled to work with Broadway World.

Jonas has been a film critic for over 20 years at Comcast Cable and Maryland Nightlife. He is currently a columnist for one of his favorite writers, John Kenneth Muir, on http://reflectionsonfilmandtelevision.blogspot.com/. He has been certified by the MPAA and is a founding board member of the International Press Academy. He chairs several voting boards, particularly the Satellite Awards DVD and Television nominating committees. His reviews have been carried by an array of publications including Comcast Cable, Lord of the Rings Fan Site (which surprisingly spotlighted a negative review of the first Lord of the Rings) and The Drudge Report.

Jonas is also working on a novel, 10VE: A Binary Love Story, about a girl who falls in love with a man over the Internet. Catastrophe results when she ignores the dangerous implications of taking the written word as purer than the intentions of its manipulative author. Rather than a crime thriller, the book focuses on how a woman can take tragic situations and grow beyond them.

Jonas graduated from University of Southern California with a major in Broadcast Journalism and a minor in Film Criticism.

MOST POPULAR ARTICLES
LAST 365 DAYS
BWW Review: ANYTHING GOES Starring Sutton Foster Hits the Big Screen
Posted: Mar. 23, 2022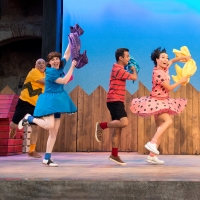 BWW Review: YOU'RE A GOOD MAN, CHARLIE BROWN at South Coast Rep
Posted: Jul. 21, 2021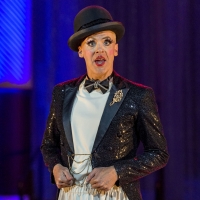 BWW Review: THE TROUBIES' LIZA-STRADA at Getty Villa
Posted: Sep. 15, 2021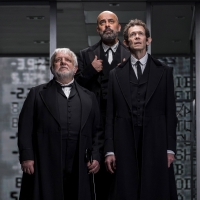 BWW Review: THE LEHMAN TRILOGY at Ahmanson Theatre
Posted: Mar. 10, 2022


BWW Interview: Ross Mollison And Petra Massey of ATOMIC SALOON at Atomic Saloon Theatre
Posted: Oct. 24, 2021


BWW Review: A PUBLIC READING OF AN UNPRODUCED SCREENPLAY ABOUT THE DEATH OF WALT DISNEY at Odyssey Theatre

April 6, 2022

Lucas Hnath is an ambitious playwright. He turned his mother's harrowing recollections of being abducted in the '90s into a riveting, intimate one-woman tale, Dana H, where the actress lip-syncs to the recording that his mother had made. Despite such legends as Harold Prince, Betty Comden and Adolph Green flopping with a sequel to Ibsen's A Doll's House, he soldiered on with A Doll's House, Part 2, creating a funny and absorbing examination of 19th Century gender wars. Now, he examines the life of Walt Disney in A Public Reading of an Unproduced Screenplay About the Death of Walt Disney. And though Hnath appears to have a focused vision, this time his deliberate touch distances the character from the audience and leaves this reviewer nonplussed.
---
BWW Review: ANYTHING GOES Starring Sutton Foster Hits the Big Screen

March 23, 2022

The buzz on the internet about Sutton Foster playing Marian the Librarian in the latest Music Man revival was polarizing to say the least, but NO ONE can claim that Sutton Foster wasn't born to play Reno Sweeney in the classic Cole Porter musical farce, Anything Goes. Foster won a Tony playing the role on Broadway in 2011, and in 2021, returned to the role at the Barbican Theatre in London, belting out standards like the title number, 'I Get A Kick Out Of You', and the famous list song, 'You're The Top'. Trafalgar Entertainment and Stage2view filmed the cast during the London run and will now air the presentation in American movie theaters for two nights.
---
BWW Review: THE LEHMAN TRILOGY at Ahmanson Theatre

March 10, 2022

Three men stand on a stage for over three hours, trekking through 150 years of history in The Lehman Trilogy and it's the most invigorating evening imaginable. Directed by Sam Mendes and written by Stefano Massini—and adapted by National Theatre dramaturg Ben Power -- the play is a remarkable journey of three immigrant brothers from Bavaria, who travel to America to start a small business that evolves into the money-making machine known as Lehman Bros.
---
BWW Interview: Ross Mollison And Petra Massey of ATOMIC SALOON at Atomic Saloon Theatre

October 24, 2021

SpiegelWorld gives Vegas audiences a chance to laugh again. An Interview with creator Ross Mollison and performer Petra Massey
---
BWW Review: THE TROUBIES' LIZA-STRADA at Getty Villa

September 15, 2021

During the opening number, the Troubadour Theatre Company, affectionately known to all as the Troubies, comment how thrilled the troupe, and the audience by extension, is to have returned to live theatre. The audience responded with glorious applause, and both the occasion and the Troubies deserve that adulation. The Troubies, who have rocked Los Angeles for the last 25 years, are one of the most creative teams in the city. Their imagination and gumption has entertained with parodies of classical works infused with a musical motif such as Alice In One-Hit Wonderland, Much ADoobie Brothers About Nothing, and A Charlie James Brown Christmas. Their latest, Lizastrata, based on both the Greek Aristophanes comedy Lysistrata and the songs made popular by Liza Minnelli, could have been a dazzler, but with a gossamer plot, too many recycled jokes, and a venue ill-equipped to allow the cast to sing with heft, the latest production is uninspired.
---
BWW Review: YOU'RE A GOOD MAN, CHARLIE BROWN at South Coast Rep

July 21, 2021

Good grief! You're A Good Man, Charlie Brown Is Live But Sadly Not Alive. A combination of miscasting, poor direction, and a play that runs out of steam, this early production in the reemergence of live theater is a disappointment.
---
BWW Review: THE OXY COMPLEX at IAMA @ The Pico Playhouse

April 5, 2021

Anna LaMadrid's one-person comedy The Oxy Complex explores humanity reaching its breaking point after 500 days with zero human touch.
---
BWW Book Review: A STORY THAT HAPPENS By Dan O'Brien

March 13, 2021

Playwright Dan O'Brien made a splash in LA theatre back in 2017 when The House In Scarsdale: A Memoir For The Stage received multiple Los Angeles Drama Critics Circle Nominations. Now, O'Brien has published four of the essays under the title, A Story That Happens, as a primer for burgeoning playwrights.
---
BWW Review: INSIDE THE BOX at GEFFEN PLAYHOUSE

October 11, 2020

The Geffen is hosting a game night and it's a goofy, geeky, glorious distraction from the gloom and doom of 2020. Created and led by puzzle enthusiast David Kwong, this latest version of the Geffen Stayhouse series, Inside The Box, is a perfect way to connect with others in these isolating times.
---
BWW Review: Vegas In Three Acts. From The Sublime To The Obscene To The Badonkadonk.

March 4, 2020

And now, the Supermodel of the World, RuPaul Charles has transferred her fierce Drag Queens to the Flamingo Hotel to recreate her award-winning reality show RuPaul's Drag Race where the audience gets to be the judge.
---
BWW Review: Clutch Your Pearls, THE BOOK OF MORMON Has Returned to Town

February 22, 2020

After three successful runs in Los Angeles in 2012, 2014, and 2017 at the Pantages, that smut-mouthed, but endearing musical comedy The Book Of Mormon has squatted downtown at the Ahmanson, and third time around, it has lost none of its luster, or its smut.
---
BWW Interview: I CAN DO THAT, Hector Guerrero's Sojourn Across A Chorus Line

January 8, 2020

The Welk Resort Theatre, located at the Welk Resort in San Diego, launches the Pulitzer Prize/Tony-winning A Chorus Line as part of its 39th Season. Director/Choreographer Hector Guerrero makes his debut on the Welk Resort stage with this beloved musical created by Michael Bennett in 1975 with music by Marvin Hamlisch, lyrics by Ed Kleban, and a book by James Kirkwood Jr and Nicholas Dante. Guerrero spoke about his evolution as a dancer, choreographer, director as well as how this musical speaks to him.
---
BWW Interview: Director/Choreographer Daniel Pelzig Returns To Musical Theatre West With Irving Berlin's HOLIDAY INN!

December 6, 2019

Ballet, opera and musical theater director Daniel Pelzig helms the musical version of Irving Berlin's Holiday Inn, playing at Musical Theatre West. This is Pelzig's fourth production with MTW, after My Fair Lady in 2015, Mary Poppins in 2017 and The Little Mermaid earlier this year.
---
BWW Review: BANDSTAND at Broadway In Thousand Oaks Has All The Right Moves But Something Is Out Of Tune.

December 2, 2019

The musical Bandstand, which is now part of the American Theater Guild tour across the country, thrives when Andy Blankenbuehler's Tony-winning choreography is front and center. Restaged for this production by Marc Heitzman, who was Dance Captain in the Broadway production, the dances display vitality that makes audiences want to stand up and join in. The book and score do not hold up their end of the bargain, and in this production, Bandstand is further saddled with lackluster performances that should have been re-enlivened by tour director Gina Rattan.
---
BWW Review: BETWEEN RIVERSIDE AND CRAZY at Fountain Theatre

October 23, 2019

BETWEEN RIVERSIDE AND CRAZY, which makes its Los Angeles debut at The Fountain Theatre, is a hard-hitting drama about wanderers, those unattached, ungrounded people who lack the support to make smart choices, but still deserve grace and hope. Winner of the Pulitzer Prize for Drama in 2015, the play features all that one expects from playwright Stephen Adly Guirgis: incisive dialogue, complex characterizations and relationships that are unique but also relatable. The cast and director Guillermo Cienfuegos serve the play well.
---
BWW Review: Languid Production of FRANKENSTEIN Will Have No One Clamoring, "It's Alive!"

August 23, 2019

The California Premiere of Nick Dear's adaptation of Frankenstein features a heartbreaking performance by Michael Manuel as a creature born innocent but ugly, taught to hate and rebel against humanity. Manuel carries the production on his hulking shoulders, which becomes crippling due to a confounding script and unusually lifeless direction from Los Angeles star director Michael Michetti.
---
BWW Interview: Erik Patterson of HANDJOB at Echo Theatre Company

August 23, 2019

Erik Patterson has made a name for himself in the LA Theater community. A mentor to burgeoning playwrights and a stinging satirist who has racked up nominations and awards, such as the Los Angeles Drama Critics Circle Writing award for 2017's ONE OF THE NICE ONES, Patterson writes confrontational plays about that most rickety of life forms, humanity. Patterson's new play HANDJOB opens at Echo Theatre Company, directed by Chris Fields, and stars Steven Culp from Desperate Housewives and The West Wing.
---
BWW Review: GOOD BOYS at Pasadena Playhouse

July 5, 2019

RIVERDALE Scribe Explores The Fruits Of The Poisonous Trees in GOOD BOYS.
---
BWW Review: DEATH OF A SALESMAN at Ruskin Group Theatre

June 26, 2019

DEATH OF A SALESMAN, the Pulitzer Prize-winning play by Arthur Miller, is the American Hamlet for actors of a certain age. Its protagonist is a complex, frighteningly bare role, that provides an acting challenge relished by the greats. Rob Morrow, best known for Robert Redford's QUIZ SHOW and the quirky TV dramedy NORTHERN EXPOSURE, pulls off the tricky role by adding an impish quality to the crumbling man, bringing a fresh light to the production at Ruskin Group Theatre.
---