BWW Interview: Gernot Romic of AN AMERICAN IN PARIS at Landestheater Linz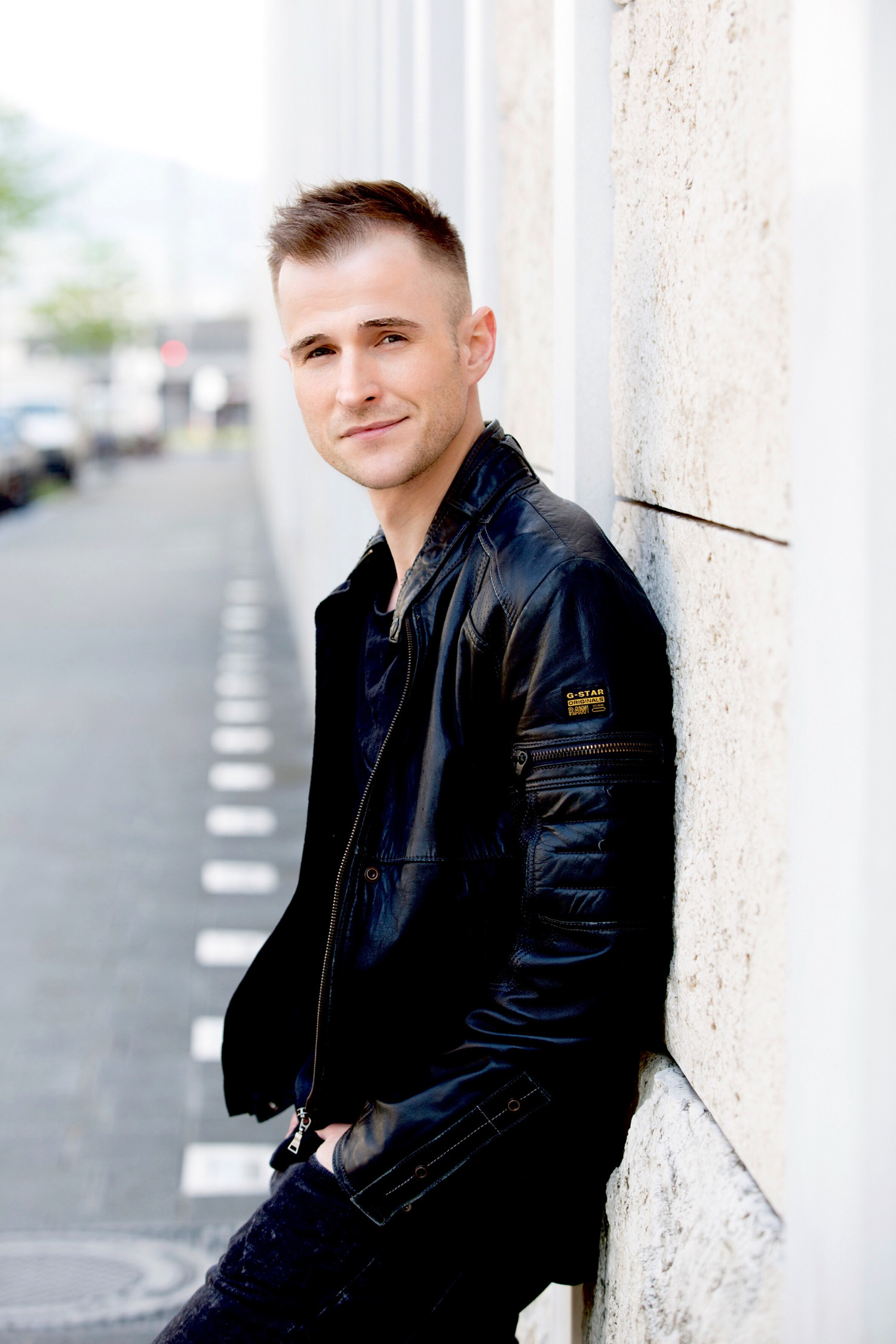 The Landestheater Linz is getting ready for the big opening night of AN AMERICAN IN PARIS, the multi nominated Musical from Ira and George Gershwin. It will be the first german production. While rehearsals are under its way, we got the chance for a chit chat with the leading man Jerry Mulligan played by GERNOT ROMIC. ROMIC is working with Director/Choreographer Nick Winston and the rest of the cast, to create some theatre magic at the unique Landestheater Linz, a couple of years ago a more or less an insider tipp, now a renowned house for outstanding productions.
The clock is ticking, Opening night is not that far away, November 25th is coming fast. Let's find out how ROMIC is getting ready for Opening Night.
BroadWayWorld.com: An American in Paris, the Oscar © awarded movie found it's way on Broadway in 2015. Linz is the host of the First German Production. How exciting is it, to play the Leading Man in such a huge production?

GERNOT ROMIC: Of course it is incredibly exciting. When i saw the show on London´s West End, I was completely blown away by the show and people's energy on stage. And I remember myself saying, "My God, how tough is this show? And the role of Jerry Mulligan...he has to do everything!" I didn't know then that i was going to play the show here in Linz and I definitely never even expected to play the leading man in this wonderful show. So I'm really, really grateful, honored and super excited.

BWW:You are in the middle of the rehearsal process. Tell us something about the character you are going to create.

GERNOT ROMIC: Jerry Mulligan is a young American soldIer just after the war, who has decided not to go straight back to America. He´s a very passionate artist and lives for his drawings and he is completely inspired by the city of Paris, its people and their flair. And, of course, there is this one girl he meets on his first day in Paris that he can´t get out of his head and as luck has it they get to know each other and he falls in love with her. He also gets to know Adam and Henri who become friends quite quickly.

I try to make Jerry as fresh and dynamic as possible. He is generally a very positive, emotional guy and also a little cheeky which makes him quite likeable I think. But he is carrying a lot of memories and experiences from war around with him and that makes him really a down-to-earth guy who fights for the things that matter in life. I think every mom would love to have Jerry as a son-in-law.

BWW: Audiences in New York, London and Paris felt in love with the show immediately. Is it because dancing creates a multilungal connection?

GERNOT ROMIC: Yes, of course, dance is a language everybody can understand. It is a very emotional language that does something to people. And even though dancing is a big part of this show there is also the music of George and Ira Gershwin. The music and it's orchestration is just amazing, i mean my heart melts everytime we sing "´S Wonderful" or when we get to do the scene with "I Got Rhythm"... you just can't keep still. It´s so cool. In Linz we are so lucky to have the famous Bruckner Orchestra with 33 musicians in the pit. The sound is phenomenal.

And last but not least there´s the story. It is not futuristic. It is a story about people like you and me and I think everyone in the audience can identify with at least one of the characters on stage.

So it´s a good mix of everything. I think people will fall in love with this show very quickly.

BWW: The show is well known for its outstanding dance numbers and of course some of the finest songs ever written by George Gershwin. Would you describe it as and old fashioned musical?

GERNOT ROMIC: Well, yes... sure, it isn't a modern pop/rock show you see in musical theatre nowadays so compared to these shows it is an old-fashioned musical but definitely not in a bad way. When you think of a good old-fashioned broadway musical you think of singing, acting, dancing, great music, funny and touching stories, a huge orchestra, a big set on stage, entertainment, comedy, drama, tap dancing... And the story of An American in Paris is timeless! It´s the genre of musical that inspired me and many of my colleagues to study performing arts. And I for one love, love, love it. Have i already said I love it? I love it!

BWW:Nick Winston is directing and also choreographing the show in Linz. Is he going to recreate some "Fred Astaire" magic or is he going to do something unique, something special no one has ever seen before?
GERNOT ROMIC:Nick Winston is a genius. What he does and creates with and within this show is just breathtaking. Sure, when we started rehearsals we talked about some impressions and the style of Gene Kelly who played my part in the film. But he takes these impressions and makes something completely new, fresh and his own thing out of it and that's amazing. I´m so honored and happy that i get to work with him. Really, I think it is magic what he is creating here and I don´t think that the German/Austrian audience has often seen this kind of show at this high level because - I have to say this - the whole cast is amazingly talented.

BWW: What would you say, is the most challenging part in the show?


GERNOT ROMIC: For me personally, building up my stamina for the whole show is the most challenging part. It is really a triple threat part. I´m singing, acting and dancing my heart out during the show. I always have big dance breaks in my songs and it is indeed a challenge not to convince the audience when I start singing again that I'm not dying of oxygen deficiency. But there is also the huge dance number in the 2nd act...it`s massive. I really have to keep up my stamina and condition for this show... but that is my job that I love and why I wanted to become a musical performer .To have this challenge combined with such a great part is pretty cool and rare and I'm so thankful for that.

BWW:You have been a part of some of the finest shows all over Europe. Are you still getting a bit flurry before Opening Night?

Yes! Sure! Opening nights are always exciting and the end and beginning at the same time of two very important production periods. You´ve been working so hard for 7 weeks and on this evening you want to present to the public and the audience what you´ve been working on. Family is there, critics are there, agents are there, TV is there... you really want to do a good job and not disappoint anyone. So yes. I am still in a flurry before opening night and in general before shows but in a good way. I think if I ever stop being nervous or excited before a premiere, I may have to rethink my choice of career.

BWW:As said before, AAIP is a huge dance show. You are a first class dancer, have you done some special preparation for the show?

GERNOT ROMIC: Well, thank you very much for the compliment but first I have to say that every single member in our cast of An American in Paris in Linz is a first class dancer and musical artist. I´m so blown away by the talent of my colleagues and I am really lucky and honored to get to work with them every day and to have them around me.

But to answer your question, yes, I did some special preparation. For example I did more ballet classes again before rehearsals started and stretch more than I would for a not so physical show. Especially before this rehearsal period I tried to be as healthy, fit and strong as possible. But as in every show I learned my lines and my songs before it all started.

BWW: The whole Musical "World" is looking to Linz, in November. Every Opening Night has something special. To open the First German production must exciting but it is also a major responsibility.

Gernot ROMIC: Oh yes, it is extremely exciting. I mean, to play the lead in the first German-language production of such a massive show is absolutely a dream come true for me. But sure there is pressure, like you said... the musical world is looking to Linz. I am THE American in Paris on stage and to have this responsibility might be scary sometimes, and I do have respect for this part. But like I said... it is my job and I love my job, it is what I have chosen to do for my life and I am so grateful and lucky I´ve been entrusted with this responsibility and this role. All I can and will do is keep on working hard and do my best to not disappoint anyone or me. I am a perfectionist that makes me my biggest critic, which doesn't make my life easy all the time.

BWW:We are as excited as you are, thank you for your time and see you at the Opening Night.

Gernot Romic on facebook and Instagram

All pictures copyright by just-smile-pics.
Martin Ganeider, born in the beautiful mountains of Austria (not so Sound of musicish as some might think) Felt in love with Musical theatre when (read more about this author...)