Beck Announces Special Guests Robert Forster & Gena Rose Bruce For Australian Dates
Fans of multi-platinum Grammy-winner Beck are set for two magical evenings when the iconic US songwriter returns to Australia.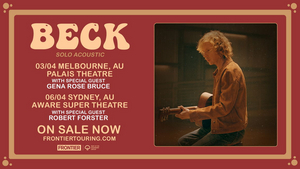 With his Palais Theatre, Melbourne, show on Monday 3 April almost sold-out and Sydney's Aware Super Theatre on Thursday 6 April selling fast, fans of multi-platinum Grammy-winner Beck are set for two magical evenings when the iconic US songwriter returns to Australia soon for his first live performances down under in five years.
Having wowed fans in Austin, Nashville, London and Paris in 2022 with his latest intimate and acoustic, almost two-hour sets, Beck's upcoming headline dates will highlight his songcraft and unparalleled versatility, the 'Debra', 'Lost Cause' and 'The Golden Age' singer delivering much-loved classics, covers and rarities.
Released last week, new single 'Thinking About You' is Beck's first original material since his universally acclaimed, 2019 GRAMMY-winning album Hyperspace. A sublime dose of undiluted elemental Beck, it's a heart-tugging ballad in the tradition of classics Morning Phase and Sea Change - and incidentally recorded in the very same room as much of the latter. As covered by NME, Rolling Stone, American Songwriter, Pitchfork, Musicfeeds and more, 'Thinking About You' finds Beck's wistful vocal and acoustic guitar tones accompanied by Blake Mills (guitar, mandolin), Justin Meldal Johnsen (bass) and Roger Manning (keyboards).
Now, Frontier Touring are delighted to announce that joining the bill as special guest in Sydney is one of Australia's most acclaimed talents: Brisbane singer-songwriter and author Robert Forster. In Melbourne, VIC singer-songwriter Gena Rose Bruce joins the bill.
Forster - co-founder of The Go-Betweens with the late Grant McLennan - just released his 8th solo album, The Candle And The Flame. Led by the singles 'She's A Fighter', and 'Tender Years' the album has been met with immediate praise around the world from critics and fans alike. The Candle And The Flame sees the indelible Forster at his captivating best:
Sydney, this is the chance to witness two of the finest songwriters of their generation together in one night on stage. Simply put, Beck with special guest Robert Forster is not to be missed!
Melbourne: with its title track co-written by and featuring US singer-songwriter Bill Callahan, local singer/songwriter Gena Rose Bruce unveiled her acclaimed sophomore album, Deep Is The Way, in January 2023. Navigating emotional turmoil, fragility, death and honesty on her latest release, the LP scored a Feature Album on PBS and Double J, who quickly heralded her as "one of the country's brightest emerging indie talents".
Five years since he was last on our shores, don't miss the incomparable Beck, when he returns to Australia in April 2023. Final tickets on sale now!
AUSTRALIAN TOUR APRIL 2023
Presented by Frontier Touring
TICKETS ON SALE NOW via frontiertouring.com/beck
Monday 3 April
Palais Theatre, Melbourne, VIC
Licensed. All Ages
ticketmaster.com.au
FINAL TICKETS!
Thursday 6 April
Aware Super Theatre, Sydney, NSW
Licensed. All Ages
ticketek.com.au
Patrons are advised to purchase tickets only through authorised ticket sellers. We cannot guarantee any ticket purchase made through any means other than the official ticketing agents listed on the Frontier website.