BWW Review: SHATTERED is a Fascinating Unscripted Experience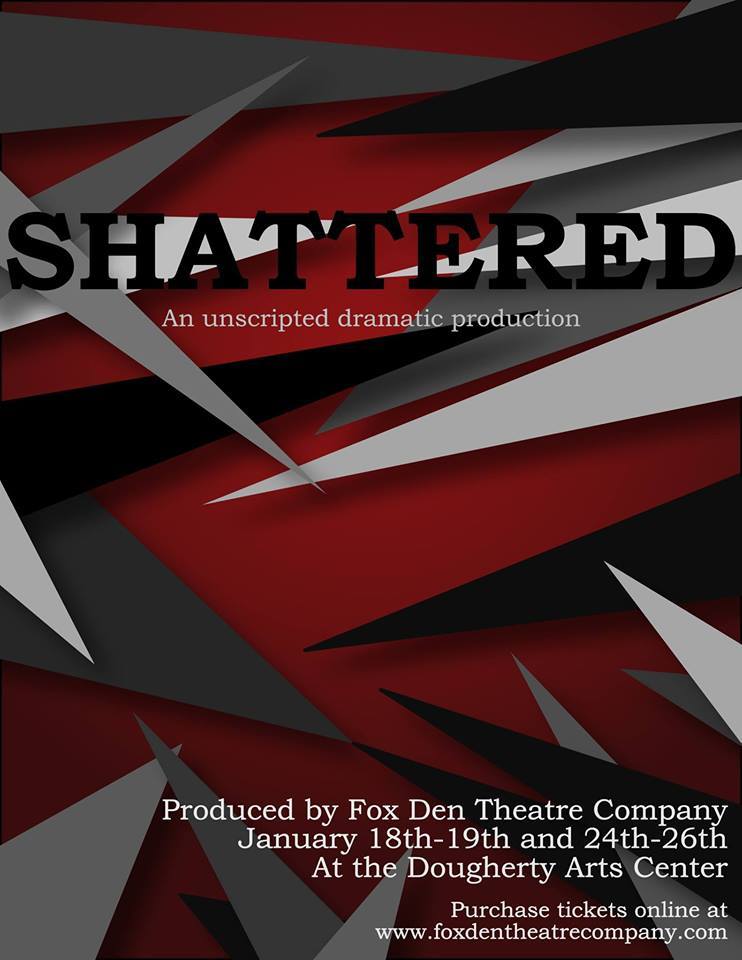 Fox Den Theatre Company presents its inaugural production SHATTERED at the Dougherty Arts Center. The unscripted dramatic production is completely devised by the cast and members of the crew with no two shows being the same. Directed by Peter Rogers, the focal point of the 90-minute improvised show is the challenges and hardships of keeping relationships, platonic, familial, or otherwise intact while dealing with trauma and grief.
With none of the performances being exactly alike, it is easier to focus on themes used in the show. The title SHATTERED is reflected throughout the production in various ways. The version seen for this review centers on a friend group broken and scattered by the traumatic and unexpected death of one of its members. Portrayed during this performance by Jeff Chatman, Jessica Von Schramm, Suzanne Zink, Christian Lewis, Lahari Dunn, and Paul Normandin, the friends struggle to find resolution with each other and within themselves. The ending for this evening's performance is not happy, but altogether real, showing that holding onto a memory can feel less painful than facing the reality of grief.
Creating an original show at each performance is a feat not uncommon in the world of improv comedy, but seeing the style adapted for drama is fresh and compelling. The six actors onstage brought high caliber performances throughout the impromptu plot that kept the audience guessing what would happen next. In every scene, the ensemble weaves the unfolding story and manages to create three-dimensional characters over the course of the show. There is also plenty of levity injected throughout which can feel much needed after more emotionally charged scenes. Standouts in the six-person cast are Lahari Dunn and Paul Normandin. Both actors play beautifully off their fellow castmates and give the production some of its funniest and most poignant moments.
The magic of unscripted theatre can also prove to be its greatest challenge. Later scenes become shaky and less cohesive as energy and time wane. This begs the question what will the end game be for this group and how will the new information suddenly offered factor into the main plot? Unfortunately, the cast is not one hundred percent successful answering these questions and several loose ends are left untied.
Still, SHATTERED is a fascinating unscripted experience for theatre-goers. Given the nature of themes like mental health and grief, it was unclear how this new company would approach this concept. Fortunately, both cast and crew create a show that is original and entertaining to watch. Although its first appearance is not an entirely even one, this debut work from Fox Den Theatre Company is an intriguing introduction to Austin Theatre.
SHATTERED is now playing at Dougherty Arts Center (Dougherty Arts Center, 1110 Barton Springs Rd, 78704) until January 26th, Thursday-Saturday at 7:30 pm and Saturday at 2:00 pm.
Run time approx. 90 minutes with 15-minute intermission
Tickets: $20