Wells Of Life Leadership Honored At Gala For Philanthropic Contributions On World Stage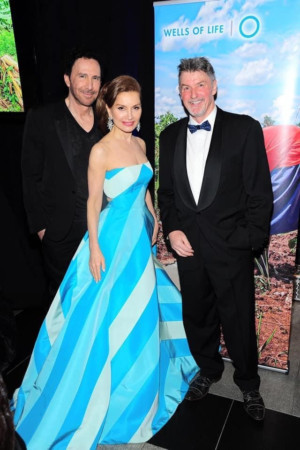 Wells of Life was recently recognized at the Better World Awards Roc 4 Humanity Gala held in New York City.
Gina DeFranco, executive producer and creator of The Better World Awards: Roc4Humanity recognized Nick Jordan and Wells of Life's President, Pete Callahan, for their efforts to save lives in Uganda. The annual fundraising event acknowledged and expressed gratitude to Wells of Life, an organization dedicated to providing fresh water to Ugandans.
Wells of Life, a Christian non-profit organization, is committed to improving the quality of lives within Ugandan communities by building wells to provide access to water. "Water is the most essential building block for life," said founder Nick Jordan in accepting the honor. "Access to clean water is critical for survival, wholesome lives, opportunities and smiles of Ugandan people. While there is still so much work to be done, the incredible support of renowned philanthropists, like Jean and Martin Shafiroff, inspires and lets us move forward to new wells."
The Gala's hosts included CBS Radio personality Ms. Rita Cosby and Consuelo Vanderbilt Costin, CEO of Soho MusePresenters in addition:
Past honorees and presenters include Prince Albert II of Monaco, Julian Lennon, Bryan Ferry, Boris Becker, Flavio Briatore, Mr. Elie Saab, Mrs. Roberto Cavalli, Troy Bayliss, Ky-Mani Marley, Denise Rich, Jimmy Jean-Louis, Edwin "Buzz" Aldrin, Pamela Anderson, Kweku Mandela, Olivia Gaynor-Long, Kweku Mandela, Kelly Wright, Eva Longoria Baston, Jenson Button, Eddie Jordan, Mark C. Thomas, Jeanine Mabunda, and Johan Christer Novsjo.
Jordan remarked, "The Gala in New York City was truly one of the major highlights of this year for us, as we shared our celebration with a generous group who overwhelmed us with their compassion and interest in our upcoming projects in Uganda."
"We were especially gratified by the 'Queen of Charity,' Jean Shafiroff, whose support and influence in lending endorsements is extremely valuable" he said.
At this year's Awards, Jean Shafiroff was presented with the Humanitarian Philanthropist Award in recognition of her extraordinary humanitarian achievements. This year, Shafiroff donated a well for a school in need of access to clean water.
"Philanthropy is my passion, and one of the most important lessons that we, as role models, can pass on to younger generations is the value of giving to the needy and most vulnerable. I fully support the Wells of Life's initiatives in encouraging all humanitarians to bring water, a basic human right to all people on earth," said Shafiroff.
Shafiroff's salon nominees include photographer Mr. Harry Benson, the Commander of the Order of the British Empire. Benson was presented with Humanitarian Arts Award by Kerry Kennedy, the President of Robert F. Kennedy of Human Rights Foundation, on behalf of lives that benefited from his involvement in improving basic living conditions worldwide. Other honorees for this year include Mrs. Claudinette Jean - Humanitarian Helping Hand Award and Fred Schneider - Humanitarian Musician Award.
One in nine people worldwide lack access to clean water. The mission of Wells of Life is to change that condition. Wellsof Life has funded 405 wells to date in Uganda. Each well provides life-saving drinking water access to over 400,000 people.
Before the Gala, Wells of Life Executive Board member, Rand Sperry, met with Pope Francis I. The Pope's powerful voice supported a critical water well in Uganda. Wells of Life is concerned with the lack of immediate attention from influential voices to support provision of consumable water. "Powerful voices could help alleviate the domino effects caused by lack of water, and yet only a few speak out and bring awareness to suffering regions. One such person is Pope Francis I. The Pope has graciously supported our mission of relieving the most devastating problem of all, access to the basic need of satisfying thirst," said Jordan.
The Pope's advocacy has called the world to action. The Vatican's statement, "Pope Francis advocates for global access to clean drinking water" demonstrates his commitment to Wells of Life's life-saving mission.
The Wells of Life Board remembers and honors the leadership and service of the 41st U.S. President, George H. W. Bush, whose life encourages us to contribute our minds, hearts and bodies selflessly to the maintenance of lives and peace around the world.
In this season of giving, we would like to thank all of our national and international supporters, as well as our role models, past and present, who enlighten our spirits to continue our journey.
For more information, visit: https://wellsoflife.org/
PHOTO CAPTION: Jean Shafiroff flanked by Peter Thomas Roth and Mr. Jordan, seen here at the The Better World Awards: Roc4Humanity. The organization recognized Nick Jordan and Wells of Life's President, Pete Callahan, for their efforts to save lives in Uganda.
Related Articles

More Hot Stories For You
VIDEO: Jennifer Hudson Performs 'Bridge Over Troubled Water' as Tribute to John Lewis
Jennifer Hudson was one of the stars who took part in CBSa??s John Lewis: Celebrating a Hero TV special, which aired on Tuesday at 10 p.m. ET....

Check Out the Original Broadway Cast of HAMILTON's Latest Projects
What have the original cast members, ensemble members, swings, and standbys of Hamilton been up to lately? Check out their latest projects!...

Disney Employee Pulls the Curtain Back on What it is Like to Work at Disney World During the Pandemic
Rolling Stone has reported on a conversation they had with one Disney World employee, pulling the curtain back on issues of safety, whether social dis...

VIDEO: On This Day, August 6- HAMILTON Opens On Broadway!
On this day in 2015, Hamilton officially opened on Broadway at the Richard Rodgers theater!...

Disney's Live-Action MULAN Will Be Released on Disney+ This September for an Extra Fee
As BroadwayWorld previously reported, the release of Disney's live-action Mulan has now been delayed several times, but a new plan for its arrival has...

Zach Braff Shares Tattoo Tribute to His Friend, Nick Cordero
Zach Braff is remembering his friend, the late Nick Cordero, in a special way. Tattoo artist Doctor Woo shared a photo of his depiction of Nick in Bul...