VIDEO: Watch Donna Lynne Champlin Sing New Song 'I've Always Never Believed In You' From CRAZY EX-GIRLFRIEND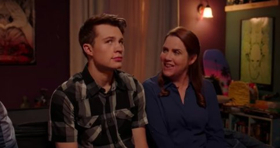 A new song has been released from the hit TV show Crazy Ex-Girlfriend. The song, titled 'I've Always Never Believed In You' is sung by Donna Lynne Champlin's character, Paula.
Watch the video below!
Donna Lynne Champlin most recently was seen on Broadway in "Billy Elliot." Her other Broadway credits include "Sweeney Todd," "By Jeeves," "James Joyce's The Dead" and most notably for her portrayal of Older Helen (based on a young Carol Burnett) in "Hollywood Arms" written by Carol Burnett and directed by Harold Prince. Other NYC/Off-Broadway credits include "Promises, Promises," "The Taming of the Shrew," "Almost, Maine," "Master Class" at the MET, "The Dark at the Top of the Stairs" (OBIE Award), "Bury The Dead," "Flight of the Lawnchair Man" (NYMF award, "Outstanding Performance"), "Love Jerry" (NYMF award, "Outstanding Performance"), "First Lady Suite," "My Life with Albertine," City Center Encores! "Bloomer Girl," and Carnegie Hall's "Very Warm for May." A Princess Grace Grant winner and Presidential Scholar in the Arts, Donna Lynne graduated with high honors from CMU and studied at Oxford on scholarship with an emphasis on Shakespeare and Chekhov.
Crazy Ex-Girlfriend follows Rebecca Bunch, a successful, driven, and possibly crazy young woman who impulsively gives up everything - her partnership at a prestigious law firm and her upscale apartment in Manhattan - in a desperate attempt to find love and happiness in that exotic hotbed of romance and adventure: suburban West Covina, CA.
From CBS Television Studios and Warner Bros. Television, CRAZY EX-GIRLFRIEND is executive produced by Rachel Bloom, along with Aline Brosh McKenna ("The Devil Wears Prada"), Marc Webb ("500 Days of Summer," "The Amazing Spider-Man" films), Erin Ehrlich ("Awkward"), Michael Hitchcock ("Glee") and Sarah Caplan ("Ray Donovan").