Talia Thiesfield and Sydney James Harcourt to Star in Immersive Pop Experience 'CLEOPATRA' at TNC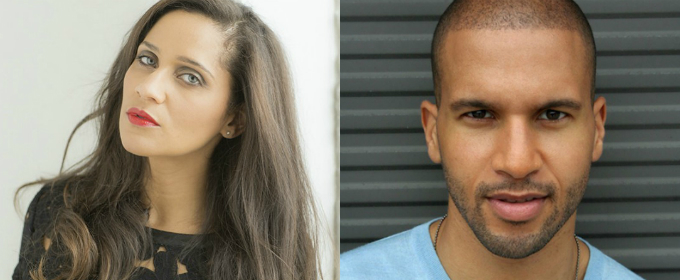 Theater for the New City and Nathaniel Hill will present CLEOPATRA: The New Pop Experience, an electrifying immersive pop experience fusing the worlds of Electronic Dance Music and Musical Theater and set to the story of one of the most famous women of all time.
CLEOPATRA: The New Pop Experience is by Jeff Daye (Mad Libs Live!, The Bad Years,) and Laura Kleinbaum (Nickelodeon's "Bubble Guppies", "Butterbean's Café"), with additional music and lyrics by Drew Fornarola (STRAIGHT, Claudio Quest, Molly Shannon's Tilly the Trickster), and will star Talia Thiesfield* ("Veep", "Limitless", "Manhattan Love Story") as Cleopatra and Sydney James Harcourt* (Hamilton, American Idiot, Bells are Ringing) as Marc Antony.
Directed by Jenny Leon (1776 at Feinstein's/54 Below; You, Me & That Guy), CLEOPTRA will run for 12 performances beginning Thursday, September 21 at Theater for the New City's Johnson Theater.
The charisma of Beyoncé, the influence of Oprah, and the wealth of Melinda: there was one woman who had it all before them: Cleopatra. 31 B.C.E. finds the legendary queen, and the most powerful woman the world had ever seen, celebrating Egypt's latest triumph over the Roman Republic with an extravagant celebration thrown in honor of her lover Marc Antony. But outside the city walls, the nefarious Roman general Octavian lurks, and enemies plot her dynasty's end just as the disco hits its crescendo. Set to an original high-octane pop and EDM score spun by a live DJ, this exhilarating immersive musical traces history's most mysterious ruler and mixes historical drama with an enveloping spectacle that will leave Cleopatra's guests guessing and grooving all night long.
Joining Talia and Sydney in the cast are Dan DeLuca* (Newsies 1st Nat'l Tour) as Octavian, Chelsea Zeno* (Priscilla Queen of the Desert 1st Nat'l Tour) as Iris, and Morgan Reynolds* (We'll Take Manhattan, Wizard of Oz Nat'l Tour) as the Master of Ceremonies. Rounding out the ensemble are Anna Shnaitter*, Adam Theodore Barry*, Aramie, Lisa Graye, Yuriko Miyake, Brady Richards, Ivy Quainoo, T'kaiia Williams and Tim Wilson.
The production is choreographed by JT Horenstein ("Dancing with the Stars", "America's Got Talent", "The Sing Off", "America's Best Dance Crew") and features Scenic Design by Joshua Warner (Stages on the Sound's Macbeth, Good King Wenceslas), Lighting Design by Josh Hemmo (Hand to God, Monsoon Wedding, Roe at Berkeley Repertory Theatre - Asst.), Sound Design by Matt Fischer (Martin Denton Martin Denton, Vanity Fair, Mighty Good Company), and Costume Design by Yu'Seph Cornish ("Space Rabbit", Over My Dead Body). Electronic music design is by Lloyd Kikoler. Music Direction and Vocal Arrangements are by Dan Garmon.
CLEOPATRA is produced by Theater for the New City (Crystal Field, Co-Founder and Director) and Nathaniel Hill with the support of Hal Brody Productions Inc., Jennifer Schoppe / Christine Schoppe, Courtney Smith, and Stark Kirby.
All tickets are $18 and are available for purchase at Smart Tix at http://bit.ly/2wOPPEF. Tickets are also available for purchase AT THE DOOR. The performance schedule is Thurs-Sat at 8PM, Sunday September 24 & October 1 at 7PM, and Sunday October 8 at 3PM. Visit for more about the show www.CleopatraExperience.com.
*Appearing courtesy of ACTOR's EQUITY ASSOCIATION