Click Here to Visit the College Center

Blogs are the opinions of the authors and do not necessarily reflect the opinions of BroadwayWorld. BroadwayWorld believes in providing a platform for open and constructive conversation.

Student Blog: There's More Hope for Immigrant Artists
How do I continue to be positive in my planning to work on Broadway as a foreigner? Let me share with you.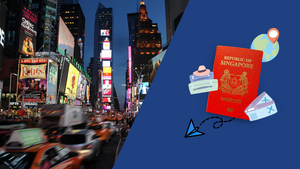 If you're not a US citizen or a green card holder, and have a dream of pursuing a career in the US, fret not. I am from Singapore and in this part 2 of 2, I will be sharing about unions and my preparation journey. Take a few minutes to check out Part 1, where I shared my financial plan and visa application plan.
Union
Recently the Actors' Equity Association (AEA) announced in their first-ever convention, that they are removing membership restrictions involving International Artists and Immigrant Artists. That means that International Artists are able to apply for membership even if they do not have a green card. That is a huge leap for us who dream of performing on Broadway.
I do not have the best knowledge about the unions in the US. The main ones for actors are AEA and SAG-AFTRA so you can look them up for their requirements. You actually can still be hired in small scale productions or non-equity shows which would eventually lead you to the path of becoming a union member and being able to perform on Broadway. I would be happy enough if I can book a gig in the US and slowly build my way up to be an established performer, sign with a talent agency and finally get my union membership.
The journey there is harder than being there and I want to do this for me. I always think that if I don't try, I will forever regret it and never know what it will be like if I did. In all honesty, there are a lot of moments where I felt so lost and on the verge of giving up. What I did was actually to follow some small scale immigrant performers on social media to track their progress which motivates me to strive like them.
Preparation
Ever since I decided to pursue my dream, I have to prepare myself and be ready to be hireable on Broadway. First and foremost is school. I am currently in the BA(Hons) Musical Theatre program in LASALLE College of the Arts (Singapore). I have thought about going to the US to study musical theatre but it was too expensive. As I am currently on financial support from school and since it's a semi-government school, I have to pay less than my peers. I honestly think that it is not about the school you go to, but it's about your attitude. Yes, some schools have better connections to the industry and better teachers, but if a students' attitude is not on par, I think that it will just be a waste.
My preparation for dance skills includes flexibility, techniques and gymnastics. Being a versatile performer is important so I am trying to expand my dance skills beyond the techniques and flexibility. Whatever the school curriculum has, is a baseline. I have to keep up with other things that my school doesn't teach like gymnastics and tap. I know, it is surprising that my school does not offer tap classes but in hindsight, we actually have 1 on 1 singing techniques and coaching every week for the entirety of our 3 years. For me, tap classes are cheaper than singing classes therefore I will take the win.
My preparation for acting skills includes monologue repertoire, character work and voice work. I think that having different types of repertoire for different skills is important. Monologues - Classical, Contemporary, Comedy, Tragedy, Children and more. In Singapore, we follow the British English due to colonisation, and I was taught a neutral accent. Throughout my degree I am planning to train my American accent to be able to adapt to the US market.
My preparation for singing skills includes stylising, vocal range and acting through songs. My least trained skill is singing. I am working extremely hard to master it. Like I mentioned earlier, my school provides singing lessons which I take very seriously, sometimes too seriously that it is starting to affect my singing. I will have to constantly keep track of my singing techniques, which I believe will improve as I get to know my voice better. Plus, I stopped smoking, which is a huge step.
I really hope that I may inspire some of you to take a leap of faith and don't push away your dreams, thinking that it's impossible. What's the worst that could happen? Plan B: All the skills I acquire will make me more hireable. Final words of advice... Keep going at it, don't let anyone tell you otherwise, and you can do it!