Click Here to Visit the College Center

Blogs are the opinions of the authors and do not necessarily reflect the opinions of BroadwayWorld. BroadwayWorld believes in providing a platform for open and constructive conversation.

Student Blog: The Struggle of Becoming an Educated Actor
We need to begin training actors to be more well-rounded individuals, to understand the industry they desperately want to contribute to.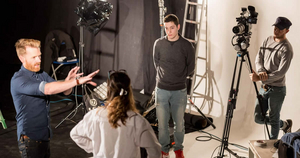 "What makes a successful actor?" is a question I hear all too often at workshops and intensives, questionnaires, and even in classes. A question with no defined answer, open to perspective and experience to guide it. A question that prompts me to raise another, much more important question that I find somewhat synonymous; "what makes an educated actor?"
In my experience of acting programs (and I've been through a ton), there is a huge emphasis on craft and technique, but education on the business side of the industry is occasionally mentioned, rarely offered, and never encouraged. This is a knowledge gap I didn't even realize I had before I began to fill it, and that worries me. Some actors that aren't as fortunate in their training as me don't even know that they should be educating themselves deeper on the industry, because most of the time in the training they put all their trust, money, and hearts into, they aren't ever told that they should. This is an experience I watched the majority of my friends and classmates go through, one I went through myself until I found one gem of a program that began to broaden my perspective and make me crave more exposure. What upsets me is that the program I found was just that, a gem, a rarity.
Even the most talented and well-trained actors will enter the industry completely helpless without a knowledge of the business they are becoming a part of. No doctor would ever get a job just knowing how to perform surgery, they must know about all of human anatomy and the medical system as a whole. If an actor doesn't know set etiquette, understand the casting process, how often they're likely to get work and how likely they aren't, they aren't just setting themselves up to be bad hires, but to be unprepared for the lifestyle they are stepping into, ultimately setting themselves up for failure in an already difficult career path. In my eyes, the romanticization of the cliche life of a scrappy actor needs to officially go out of style. We need to begin training actors to be more well-rounded individuals, to understand the industry they desperately want to contribute to. This knowledge is something that needs to be regarded as a requirement, not just an option.
This issue goes beyond workshops and acting classes for teens but extends into intensive secondary education as well. Even at some of the best schools, the programs are not robust enough to include career-based training. Sure there are occasionally gen-ed and elective requirements but in all the hours I spent in my senior year sifting through course layouts and major requirements looking for a college to fit my needs, I found few programs with a more industry comprehensive education built-in.
It is inarguable that the training offered at these schools is impeccable at honing an actor's craft. But it seems to me that it neglects to go any length beyond that. I've asked every alumni I know from my school's drama program one question: "how does this program prepare you for a life in the industry" and the consistent answer that I've received is "it really doesn't." This isn't just a problem within my school's program but in the majority of drama programs that are out there. Many of the most prestigious acting schools pop out incredibly talented actors, but not well-rounded ones.
All of this leads me to wonder "how can we fix this problem"? Does the answer lie in a more robust BFA curriculum? The encouragement of multiple degrees or minors? Or should this knowledge be imprinted before students are even admitted to a collegiate program? Should it be a part of the admissions process? All of this is something to ponder, but the real curiosity I get out of this dilemma is the "why" of it all. Every working actor and industry professional I've spoken with has preached the importance of this knowledge, some even saying it is more important than that of craft or any other sect skill. So this leaves me to ask; if we know how important this education is to developing actors, why don't we stress it's importance and why don't we teach it? I have found no answer to this question but I intend to keep asking it. I encourage all actors to do the same.