Click Here to Visit the College Center

Blogs are the opinions of the authors and do not necessarily reflect the opinions of BroadwayWorld. BroadwayWorld believes in providing a platform for open and constructive conversation.

Student Blog: Six Mainstream Artists Who Should (And I Hope, Will) Write a Musical
All actors gravitate towards mainstream artists for a reason- their storytelling abilities in song!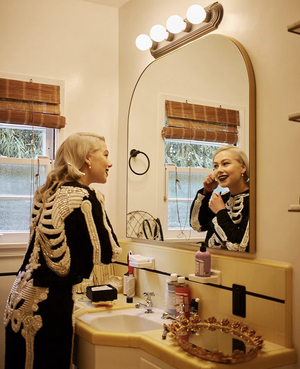 After my previous blog about how jukebox musicals should not be looked down upon in the theatre world, I got to thinking about which of my favorite artists would have the best jukebox musicals. Here are six female artists from the twenty-first century whom I believe should write a musical or have a jukebox musical.
6. Lana Del Rey
A perfect mixture of old Hollywood and modern alternative, Lana Del Rey can craft almost anything into a steamy, glamorous ballad. A Lana Del Rey musical would likely take place somewhere in California, seeing as many of her songs are set around Los Angeles (Hollywood, Venice Beach, etc.) Additionally, a Lana Del Rey musical may give a lot of opportunity to altos, as Lana's music is mainly meant to be sung in the lower register. Between her almost electric-sounding songs such as "Off to the Races" and "Carmen" and her gentle laments such as "Sad Girl" and "Happiness is a Butterfly," Lana could easily give us an old Hollywood love story for the stage.
5. Taylor Swift
The most obvious- Taylor Swift is our generation's most well-known storyteller. Taylor's versatility in songwriting would make any musical an emotional rollercoaster. Just shuffling her music is enough to drag anyone's emotions all over the map; on her Red album alone she goes from the frustrated "I Knew You Were Trouble" to the wistful "All Too Well" and then to the party song "22." Within all of her songs themselves there are whole stories, and her command of language is beyond admirable. Lastly, Taylor's fanbase (and if someone isn't a fan, there's a 95% chance that they at least respect her greatly) has grown so large and diverse that whatever musical she would write would be something almost everyone would love and want to see over and over again.
4. Lorde
Upon the release of her 2016 album titled Melodrama, a great many people noted that Lorde's music at the time was perfect for a musical version of The Great Gatsby. Before that, her 2013 album Pure Heroine was noticeably ideal for a musical version of any dystopian young-adult novel, such as The Hunger Games. Now, her 2021 album Solar Power has proven to be ideal for a beachy, southern-California-summer tale. Lorde's ability to bring all of these to mind just makes me wonder what kind of musical she'd bring to the stage. Could she bring in a more dystopian, post-apocalyptic story, which is something we don't have a lot of in the theatre world? Or would she give us the story of a teenage summer, combining Melodrama and Solar Power songs for themes of young love, loss, growth, and trauma? Whatever she does, Lorde does it well. And whatever musical she'd give us, it would be unlike anything that's ever been staged before.
3. Tori Amos
Radio host Howard Stern once said that the music of Tori Amos "sounds like something a sad lesbian would listen to." Luckily, the theatre community is full of sad lesbians, and a Tori Amos musical would be ideal for that audience. Tori, rivaling Jason Robert Brown in terms of pianistic complexity, writes raw and rich lyrics that are practically begging to be staged. Much of her music is based on femininity and everything that comes along with being a woman, such as traumas, sex and sexuality, and fearing submission to men. For example, her seven-minute piano ballad titled "Mother" from her debut album, Little Earthquakes, tells an entire story of growing up as a young woman and fearing the day she'll have to be married to a man and become "his." A Tori Amos musical would be an incredible female-driven musical, and it's easy to imagine a story of the Amazon warriors, the Hunters of Artemis, or a modern-day feminist society. We may not even know it, but a Tori Amos musical might be something we all need in the theatre world.
I've always believed that we need more pop-punk/rock musicals, and Hayley's music was the soundtrack for a generation of teens. Additionally, Hayley's vocal ability certainly matches that of any musical theatre actor, making it easier for her to write theatre-worthy vocal lines. Plenty of performers who are now entering the professional theatre scene are people who grew up loving Paramore, and there are even more Paramore fans who would love to see a Hayley Williams-written musical. Many have remarked on social media that classic Paramore songs such as "Still Into You," "Misery Business," and "Ain't it Fun" would be easy to build a story around, and Hayley's moodier solo ballads such as "Nineteen" and "Dead Horse" would fit in perfectly.
1. Phoebe Bridgers
Claiming her place as the goddess of sadness with her two stunning studio albums, Phoebe Bridgers writes the way Picasso painted his blue period- beautifully, with melancholy colors. Any Phoebe musical would not be a happy or jazzy musical, but rather a gut-wrenchingly dark, raw, and beautiful show from beginning to end that would draw the audience in right away and leave everyone in tears by the end. Songs such as "Halloween," "Graceland Too," and "Moon Song" are all easy to picture as a second-act ballad sung by a love interest to a struggling main character, and other songs such as "Scott Street," "Garden Song," and "It'll All Work Out" are fitting for group numbers for a worn yet hopeful ensemble of characters. Just one listen to a Phoebe Bridgers song is the equivalent of listening to a show such as Fun Home or Spring Awakening in that Phoebe carefully crafts her story of love, loss, or troubled family (just a few examples of her themes) by weaving every line of music with her deepest emotion, and seeing that brought to life onstage would add just that much more to her music.
Whether any of these artists wrote an original musical or a jukebox musical, any show with their music would be ideal for the new age of musical theatre. Not every musical is going to be a "5-6-7-8" upbeat show, and there is more and more room for originality as the world changes and art starts to change with it. Musical theatre is so broad and diverse, and these six artists could easily bring even more new ideas to the table.