Student Blog: One Year with BWW
I can't even process how it has only been a year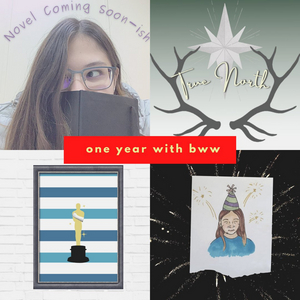 Happy Anniversary to Me!
I have been writing in the student blogger program, here at BroadwayWorld for a whole year. That does not make any sense to me in the slightest. How has it only been one year.
Time really does not make sense anymore.
Since joining BWW, I have written 24 posts, this being my 25th. I have written over 13 200 words.
I don't even think I wrote that much if we combine all of my creative writing tasks from school.
This program is so open when it comes to what you write about. You can write about anything, which is both freeing and daunting. I will not lie, coming up with blog pieces every month is exhausting but it has forced me to be more observant in my everyday life.
I have become more documentative during my days. If I think of an idea, I write it down. If I think of something funny, I write it down. I have never documented my life and thoughts more since joining BroadwayWorld's student program.
My first post was about learning Drama online and what a challenge that was. I ended up passing Drama, last year. But I didn't have the energy to continue with it. I am happy to inform you that all Drama students are back to having their practicals, in person.
My seventh post was all about the Dear Evan Hansen movie. We were slowly learning who was in the cast and today, we wait for the release of the finished movie. We have already seen a trailer and I cannot believe how quickly that movie making process went. Especially in a pandemic.
I joined halfway through my first year at university and as I write this, I am preparing for our end of semester examinations. After these exams, praying that I pass, I will be halfway through my entire degree. How crazy?
This time last year, I was living my best life, I was doing well in school and now, I have no idea where I stand in any of my courses because I haven't received any marks or feedback on anything, since day one of last term - trash, I know.
I have watched more series than I should, I have confessed my undying love for Jessie Mei Li and the cast of Shadow and Bone, who just announced their renewal. I expressed my appreciation to the cast of Kim's Convenience and especially, Simu Liu, who is coming out with a new Marvel movie very soon.
I said goodbye to one of the greatest theatres of all time, which is now being taken apart to make way for whatever that historic building is going to be used for next.
I have encouraged myself to be kind to myself. Hopefully when I read that blog again, I will have passed my semester exams. Super stressed right now.
And I have put it into the universe that I want to write a novel. The fantasy novel is still very much a work-in-progress. But since my last post, we experienced something so bizarre that experience is being written as we speak, very slowly but it is getting there.
It will probably be a bit of a comedic book, but we shall see.
I have loved every minute of being part of this family of writers.
I am getting more confident with my writing every day.