Click Here to Visit the College Center

Blogs are the opinions of the authors and do not necessarily reflect the opinions of BroadwayWorld. BroadwayWorld believes in providing a platform for open and constructive conversation.

Student Blog: One Size Does Not Fit All
On not having the "Broadway Body" and taking up space in a flawed theatrical world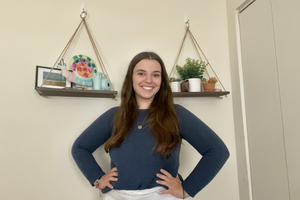 "Ugh, that costume looks horrible on you. See, right around your stomach, you can't hide anything! Take it off. It's awful."
I stood in the middle of the theatre under the relentless, beaming stage lights during our tech week 'costume parade' and looked down at my shimmery dress (stomach pudge included, but not too prominent), which matched many of the other ensemble girls'. I began to process these verbal wounds to my teenage, fragile ego, and after a few moments, I wanted nothing more than to hide in the wings until closing night. I didn't think the dress looked too bad on me until the costumers pointed it out via yelling out to the rest of the cast, and I certainly didn't realize that fish in The Little Mermaid dance ensemble had to have a flat stomach to be granted a front spot and fancy umbrella in "Under the Sea," but I digress. Soon enough, I was placed in a squid costume two sizes too big, and sent to the back of the stage to lay on the ground and point bubble guns at my cast mates. While it was disheartening to get demoted in a large number simply because the costume did not flatter my body, I know that my experiences are just the tip of the iceberg regarding fatphobia, especially in entertainment.
For most performers, it's encouraged to draw attention to yourself while on stage. It's all about taking up space, commanding attention, and creating a believable performance. But for people whose bodies are larger than the ideal (which, in the entertainment world, is often the standard), they're expected to shrink. Both literally and figuratively. Instead of standing out, fat actors are encouraged to blend in, to not draw too much attention to themselves. Because how dare they be perceived as sexy, beautiful, and desirable? Suddenly, the amount of space they take up is not a part of performance, but a problem to be remedied.
As someone who's been overweight for a long period of my life, and also as someone who's loved theatre for even longer, I've noticed the limitations on fat (or even curvier or bigger) bodies from an early age. If I got anything outside an ensemble role in a musical (because directors rarely see someone my size as dainty and innocent enough to pass for an ingenue; I know my ingenue days have been over for years), it'd either be a motherly role or the comedic sidekick.
Even in my latest performance, I played a fat college-aged woman (and not a middle aged woman at the ripe age of 22!) who had peaked in high school; while my director wanted to change my character's intent by making her much more confident about gaining weight, the book and score still painted my character's weight gain as a comedic trope and a source of shame for her. Honestly, I'm funny, so the roles I do get, I know I'm good at. But the fact is that many in charge of casting cannot take larger people seriously enough to envision them being subdued, sensual, or simply the protagonist in a love story, and it's admittedly taken a massive toll on how I view myself. It's because it's simply not a part of our societal narrative, and I don't necessarily blame individuals for not seeing the big picture quite yet.
I, too, have a hard time seeing myself as capable or worthy of romantic affection. It's never really happened to me thus far, and I never have seen representation of fat women being the protagonists of their own lives, outside Tracy Turnblad or the Marthas from both Heathers and High School Musical (the latter two are arguably a stretch). I adore theatre and am in constant awe of how entertainment shapes us, but it is fair to say that societal views and industry practices can hurt the soul just as much as they heal. And I think it's about time to see not simply my body type on stage, but more so characters living the various experiences that fat people do have and do deserve to have.
I want to see someone who looks like me fall in love. I want to see someone who looks like the vast majority of Americans be hot and take charge of a scene. I want to see fat people dance unapologetically in elaborate costumes, or have an 11 o'clock solo number in which all eyes are on them. I want to see fat theatre makers become stars and success stories. And, most importantly, I want them to take up definitive space in the theatre world, because it's about time that we give them the room to do so. Besides, if art really does imitate life, why wouldn't you want people of all shapes and sizes represented on stage?