Click Here to Visit the College Center

Blogs are the opinions of the authors and do not necessarily reflect the opinions of BroadwayWorld. BroadwayWorld believes in providing a platform for open and constructive conversation.

Student Blog: My Unforgettable Moment
"If you've a dream, then stand behind it."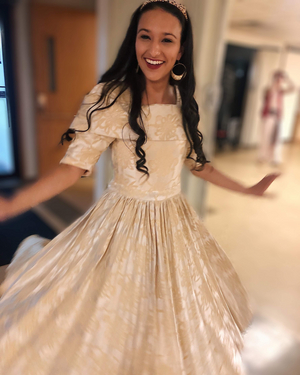 I was the little girl running around the grocery store with a mermaid tail and tiara singing "Part Of Your World" in the frozen section. But I didn't know exactly what I wanted to do, except for the obvious; be a princess. I tried a lot of things. Karate, T-ball, once I tried soccer and instead of being a responsible goalie, I befriended the ladybugs in the grass and sang to them with some occasional twirling. It was a good time, just not for my soccer team. I got a participation trophy though.
Whoever had to endure being on the same team as me, you are welcome. I'm 20 today and the "be a princess" dream still stands. In 8th grade, my school took us on a trip to NYC. I was ridiculously excited. Especially when I found out we were going to see Aladdin On Broadway. I had never seen a Broadway show before, what I didn't know was how it was going to affect me.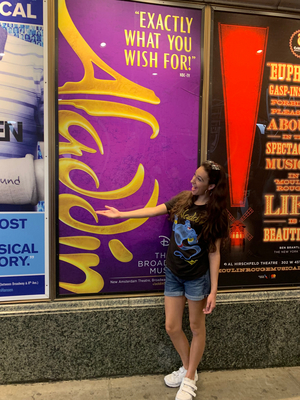 My first walk through Times Square was nothing short of magical. The crowds, the lights. Or better yet, "the pulse, the beat, the drive" ("NYC", Annie). It was thrilling. We hit 42nd street and I see ALADDIN on the marquee. Standing in this space of magic and being literally surrounded by creativity made me feel complete. When I walked into the New Amsterdam Theatre, it took my breath away. Earlier we had gotten to tour it and go backstage, seeing memorabilia from other Disney shows, I even got to sit in Ariel's shell and try on Mary Poppins's costume. The lights flicker three times and we rush to our seats. The show begins, the second the curtain goes up, I was immediately drawn in. Soon my unforgettable moment happened. The magic carpet hit the sky and the "stars" twinkled above and sheer joy was plastered on Courtney Reed (Jasmine) and Adam Jacob's (Aladdin) faces. And I started to sob, I thought to myself "This is it, this is what I am going to do."
I am typing through tears right now. I will never forget the surrealness of that moment. How alive I felt and how excited I was to be a part of this. Emotion flooded over me and I looked around the room and saw the smiles, people being moved, and the energy it created. I wanted to make people feel that, how I felt. As I left the theatre and walked back to the hotel in the brightly lit city (that truly never sleeps), the lyrics "If you've a dream then stand behind it" ("These Palace Walls") were repeating in my soul. These words have stuck with me ever since. Though people tried, no one could change my mind. This is the dream and I most definitely am standing behind it.