Click Here to Visit the College Center

Blogs are the opinions of the authors and do not necessarily reflect the opinions of BroadwayWorld. BroadwayWorld believes in providing a platform for open and constructive conversation.

Student Blog: My First Musical
I will forever be grateful for the opportunity I got to experience and all the people I got to meet.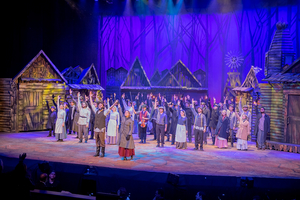 I've always wanted to write about the first show I did because it was an event that shaped my life profoundly. It holds a special place in my heart because I was able to be me. Many of you guys might be thinking that this first experience traces back to elementary school, middle school or high school, yet, truthfully, my first show was in my third year of college.
Although my first show happened in 2020, my love for the arts began since I was young. It all started with a passion for music. My grandfather would play concert videos of classical music to all of my cousins. At the age of 4, I wanted to play the violin. My hands were too small, so I started playing the recorder and transferred to the violin when I was 5. I started singing lessons at the age of 8. When I was 10, I started playing the drums. And when I was 12, I decided to stop playing the violin and drums for personal reasons. Singing was the only thing that stuck with me. Singing was and will always be my safe haven.
I must have been in 2nd grade when I auditioned for my first musical. I didn't get in, but I didn't think anything of it. It wasn't until 7th grade that I auditioned again. I didn't get in again. My self-esteem was very low back then, and although I loved watching my school's musicals and singing and being part of choir, I decided to not audition again based on fear. Sometimes we believe that we are not enough for the things we love to do. A rejection can lead us many times to stop fighting for what we want. I started to regain confidence in singing when I was a senior in high school, but it wasn't until my second semester of college, when I took a musical theatre masterclass, where I was reminded for the love I had for this art. It had always been there, but I was too afraid to open myself due to the possibility of rejection. In my second year of college, I auditioned for my university's musical, and lucky me, I wasn't accepted either.
So, although this blog might seem like a list of the rejections I've gotten. I want to talk about my first yes. I want to show that if you fight for something, the end result is worth the wait. In August 2019, auditions for El violinista en el tejado (Fiddler on the Roof), where held in my university, Tec de Monterrey. I was very nervous, my heart was racing, stomach was fluttering, my mind was constantly thinking about the lyrics.
The minute I was inside the audition room I thought of three things. One, when singing, don´t look at the teachers. Two, don't hum your starting note loud enough for the teachers to hear. And three, you are meant to be a part of this even if you're rejected. For the audition, I sang my go to confidence go to song, Astonishing- Little Women, even though it is "overdone". I thanked the directors and left the audition room smiling. I knew I had done a great job. A couple of days later, I got a call back. My first callback. For this, I watched the movie, I saw the slime tutorial, I had the cast recording on repeat. I did research about the characters, the setting, Jewish traditions and more. For the sister characters, we had to audition with the song, Far From the Home I Love. I fell in love with the character Hodel, I thought we had many things in common, so I decided to audition for that character. My callback went great. I did the best I could, I put my best effort. Now, I only had to do the dance callback, which in my luck, I have two left feet. I still remember that Saturday evening, around 8 o'clock, when I got a message from the producer. She was asking for my schedule, and to my luck, aka talent and hard work, I was accepted to the musical! I was cast as an ensemble member and couldn't be happier.
I still remember happily going to every single rehearsal there was. Getting there early, listening to the cast recording in every single car ride. I remember being scared to talk to the other cast members since most of them new each other. What I used to want before, became even better. The cast was and will always be a family to me.
The musical was originally set on November 2019, yet due to certain circumstances, it was changed to February 2020. With this change, one of the cast members wasn't going to be in town during all performances. Therefore, audition to alternate the character were held. My first thought was to audition so the teachers are aware of my passion, willingness, and flexibility as a performer. Yet, honestly, my mind and heart were optimistic and happy to be having this chance. So, I auditioned to alternate my castmate's character. On October 28, 2019, I got the news that I was cast as the alternate role of Tzeitel. I still remember the feeling vividly. I was at taco place near my university with some friends, and when I saw the notification on my phone, I started to cry. This moment is a part of my greatest accomplishments ever.
With this I had the opportunity and responsibility of learning this character through watching and taping the scenes. I would start practicing on stage as this character until the last week of January. This meant that in my house I would use my siblings as my scene partners, I would set my house up to do the transitions, I would take notes endlessly so that everything would turn out perfectly.
I will be honest. I was extremely anxious of rehearsals in January and February. I was scared that I would slow the production down when getting acquainted with the full spaces, yet my constant practice and love for the art as well as my castmates patience and kindness, helped me get through it. So, in the end, this was the layout. I would do 5 performances as my original ensemble character and I would get to do 1 performance as Tzeitel. This 1 performance was closing night.
As I'm typing this, I am smiling so wide. To this day, I am honored to say that I was able to be a part of this show. February 23rd was the day I stepped on stage as Tzeitel. You can imagine that I got to the Auditorium very early. My hands where numb, I didn't eat because I was too nervous and excited, I immersed myself in this space of freedom and joy. All of my cast mates where supportive. They would come in and give me hugs. My whole family and friends where here. And when I say this, I am talking about more than 100 friends and family sitting down in the first few rows. Parents, siblings, grandparents, cousins, uncles and aunts, friends, teachers, and more. Literally everyone I care about. I remember when the curtains began to open, and the fiddler was on the roof playing the first few notes.
I remember the moment I walked out with basket, TRADITION. This song is so fun and cheerful. We were dancing, we were singing, we were living in Anatevka. When it was time for Matchmaker, oh my gosh, I was living the dream. I was utterly content. My part was the goofy and I was able to laugh, be sarcastic, and play with my "sisters". We ended the song with an amazing harmony and with a hug, just like family.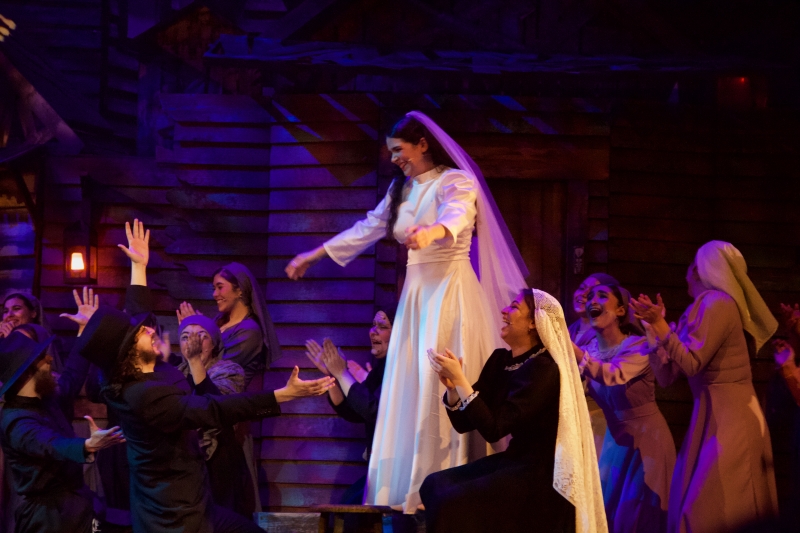 The show progressed and I had to wear this beautiful white dress for the wedding. I still remember my grandma telling me how gorgeous I looked in this dress and how happy I looked. Although my grandma won't be able to see me at my real future wedding, she got to see me get married in the musical and that makes me very content.
The moment I got to bow and acknowledge the cast and the audience all at once is incomparable. There were more than 1500 people sitting in the audience. They laughed and they cried throughout the show. There are no words that fully explain all the emotions I felt. I will forever be grateful for the opportunity I got to experience and all the people I got to meet. When someone is able to do something they love, they feel at home. That's how I felt in that very moment. At home.