Click Here to Visit the College Center

Blogs are the opinions of the authors and do not necessarily reflect the opinions of BroadwayWorld. BroadwayWorld believes in providing a platform for open and constructive conversation.

Student Blog: Let's Talk About Cinderella
I had no expectations for this movie, but I ended up enjoying it. I laughed, sang and had a good time.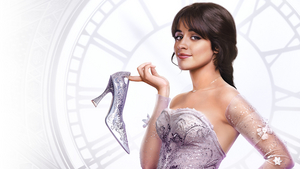 It's 2021 and we already have a lot of Cinderella remakes that have tried to give a modern twist, show another perspective or vision of this classic but someone decided that the world needed another Cinderella movie that could work as a Jukebox musical.
Starring Camila Cabello, Idina Menzel, Nicholas Galitzine, Minnie Driver, Pierce Brosnan and Billy Porter, this movie was not as bad as I thought it would be. The story is the same with little changes that work but the narrative felt a little weak, for example they empowered every woman in the story, even the prince (and I loved it) but that was not enough. They tried to make the prince more rebellious and we can see it through his clothes and his first scene. I didn't really believe that he was that party guy who hated rules and that stuff-- he still had that charming vibe.
The music choices were great but really "Somebody to Love" and "Perfect" ? Don't get me wrong, those are jams but I would love them to take more risks (maybe an original song for their dance at the ball). Idina sang Material Girl-- it's not her style but she owned the song and that scene was amazing. Or the final number with everyone singing "Let's Get Loud" wow!
And talking about musical numbers, the one at the ball with the dancers and the prince was not my favorite but I have to say it was a smart move and they nailed it, I mean the shots, the choreography and the music were totally inspired by Moulin Rouge! and that made the scene different and surprising.
The conflict with the movie was probably that the main character was going to be played by Camila Cabello, who we know more for her singing, but she did a great job as actress. I really saw the chemistry she had with Nicholas aka Prince Robert through the movie. Billy Porter as Fabulous Godmother was in the iconic scene of the transformation and that was probably one of my favorite scenes. Idina Menzel as the stepmother made me understand and even like the character. She was tough but not cruel, such as the stepsisters who also carried the comic relief parts of the film.
Another character that I loved but didn't have character development was Princess Gwen. She was new in the story and I wish they gave her more scenes to actually know her, because she ended up being important. Oh! I almost forgot it-- I'd like to made an honorable mention to the 3 mouses, their scenes as humans were so funny, because in other movies when they turn into people we assume magic did a perfect job and sometimes they didn't even have dialogue, but here they're a "real" representation of an animal that has a human body and it's feeling weird but amazed by simple things like clapping.
Finally, I really like the message about putting yourself first and not giving up your dreams for what other people want, because in this case it fits perfectly for both Cinderella's and Robert's stories, also we saw the consequences of not deciding your future when the stepmother tells Cinderella she wanted to be a pianist but she never made it.
I had no expectations for this movie, but I ended up enjoying it. It made me laugh, sing and had a good time with a story that even though it had been told hundreds of times, the vision of Kay Cannon made it fresh and perfect for a movie night with your family, your little cousins or your friends.