Click Here to Visit the College Center

Blogs are the opinions of the authors and do not necessarily reflect the opinions of BroadwayWorld. BroadwayWorld believes in providing a platform for open and constructive conversation.

Student Blog: Let's Make A Show!
I'm dramaturging my first show this year and it's been a very exciting and wild time between new and old protocols.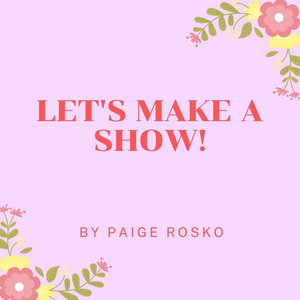 It's almost midway through the fall of my junior year and I'm dramaturging my first show! We've been in rehearsals for a while now and the rehearsal process this semester has changed from last year and the years before, but the process is just as exciting as always.
Dramaturg is a position that is very hard to describe to people who do now know what it is. From my point of view, dramaturgy is about keeping the director and designers true to the playwright's intent while also providing historical background and answering questions. Pretty much being an all-knowing being concerned with all things show-related. This is my first time dramaturging an in-person show, but not my first time dramaturging. Every other production I've done has been online, so this process is very different but very exciting.
Obviously, the COVID pandemic is still happening and precautions need to be taken. Along with school-mandated vaccines and masks, my theatre department is requiring anyone in either the rehearsal space or theater to be tested every week. In the theater, we can try to be distanced as much as possible but when staging a play with a full cast, there are times when we need to be close to each other. Earlier this semester when I was working on our first production as an electrician, there were times we were in the grid, close together, or sitting tight at our tech table. The weekly negative testing does allow me to feel safer being in a room for hours at a time with multiple people, even if we all are masked. It is interesting to see the play being staged with masks on, but masks have been a part of theater history and culture for centuries.
Something interesting that my school has done this year is move all productions out of our black box theater and into our proscenium. Typically, the staged readings take place in the black box and the mainstage productions happen in the proscenium. Keeping all productions in one space has been easier, especially for me, who has never worked in the black box before. So, while there is one show still running in our proscenium, we are rehearsing and beginning to block our show, another mainstage, in the black box. We are in a small space, which feels more comforting and close and everyone feels more involved because no one is shoved in the back of the theatre or up in the light booth for the time being. It is a very special feeling to be in the room with other creatives.
One thing I've noticed is that I'm working a lot better when I'm in the theater during rehearsals. I've gotten so much more work done while sitting and watching rehearsals and just vibing off of everyone else's energy. I've worked outside of rehearsals, but I do feel the most energized to get things done when I'm in the rehearsal room (also might be the fault of the large coffee I drink at the beginning of every rehearsal). I think being in the room and being able to bounce off of everyone else's energy is really moving and just makes me want to work so much harder so I can help the work of everyone else in the room.
This process has been something incredibly special and I am so excited to be a part of it. I feel very involved in the process and my director is using me, as the dramaturg, a lot. I am so excited to get this show on the stage and finally allow audiences to experience the energy that we've created.