Click Here to Visit the College Center

Blogs are the opinions of the authors and do not necessarily reflect the opinions of BroadwayWorld. BroadwayWorld believes in providing a platform for open and constructive conversation.

Student Blog: Dear Evan Hansen is Not A Queer Musical: Why Are We Ignoring Actual LGBTQ+ Musicals?
Dear Evan Hansen is not a queer musical and we need to stop treating it like one.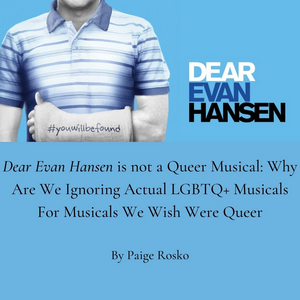 Recently, the trailer for Dear Evan Hansen dropped online and the internet was abuzz with emotions. Some people were excited, some were confused, and others were feeling a lot of different things.
One topic of conversation surrounding the trailer was the fact that many thought that Evan Hansen was queer. (In this article, I will be using the term "queer" to describe the LGBTQ+ community because as a queer person, I feel comfortable with the term). An article, that can no longer be found online, described Dear Evan Hansen as a gay musical. This article generated outrage among many people because there is nothing queer about Dear Evan Hansen. The only time anything queer is mentioned in the show is during "Sincerely, Me" with the lines "Our friendship goes beyond/your average kind of bond/but not because we're gay". Nothing else in the show discusses or brings up anything related to queerness or being gay. So, why is it being considered a gay musical?
The main argument for why Dear Evan Hansen is being considered a queer musical seems to be because of the audience of the show that has pushed their wish for the characters of Evan Hansen and Connor Murphy to be together, even though Evan is in love with Connor's sister, Zoe. I believe that due to this, people who have not seen or listened to the musical before have assumed that this ship is canon. Why are people talking more about the small queer moment in Dear Evan Hansen than discussing musicals with actual LGBTQ+ representation?
The most recently gay musical I can think of is The Prom. It debuted on Broadway in October 2018 and closed in August 2019. This musical, while being funny, heartwarming, and supported by an amazing cast, never reached the level of popularity that some feel it should have. For years, people have been talking about wanting more musicals that feature lesbians, something that The Prom does have. This raises the question of why The Prom never became heralded as the modern queer musical. Is it because it is a lesbian musical and the love story is not about two men?
On the internet, specifically on certain social media sites, male queer characters are more accepted and praised by people than lesbian characters. This fetishization of queer men has assisted in the elevation of pseudo-relationships, like Evan and Connor's in Dear Evan Hansen over canon lesbian relationships like Emma and Alyssa's in The Prom.
Queer representation is any form of the media is incredibly important, but we should be supporting actual queer representation more than non-queer characters who we wish were queer. I hope that, in the future, queer stories we be told, shared, and appreciated just as any other story is told.