Click Here to Visit the College Center

Blogs are the opinions of the authors and do not necessarily reflect the opinions of BroadwayWorld. BroadwayWorld believes in providing a platform for open and constructive conversation.

Student Blog: Broadway Community Forum
Broadway Community Forum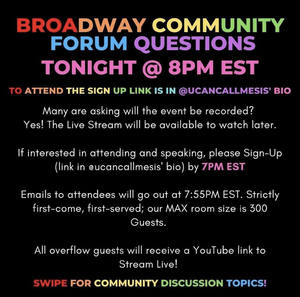 Saturday, May 8, I had the chance to attend the Broadway Community Forum, organized by the incredible Sis (@ucancallmesis on Twitter and Instagram). The whole experience was incredible and eye-opening on so many levels, and I genuinely think everyone in the industry needs to watch as much of it as they can. If you're interested, click here to watch the full forum.
I was fortunate enough to be given a platform to speak about my experiences being autistic in theatre, and I thought I would share my transcript of the speech here. Here it is:
Hi! My name's Madison Moore, pronouns she/they; I'm zooming from Munsee Lenape land, colonially known as Manhattan. I'm a Musical Theatre major at Marymount Manhattan College, and I'm here tonight to speak on neurodivergency, and specifically from my experience of being autistic in theatre.
For years, in and outside of theatre, I and many of my autistic peers have had to mask. For those that don't know, masking is when autistic people deliberately try to hide their autistic traits and mimic neurotypical traits in social situations. And it's exhausting. It often leads to eventual meltdowns that seemingly come out of nowhere. I was unfortunate enough to have a meltdown in a rehearsal that led to one of my parts in a song getting taken away at the very next rehearsal. And this was in a YOUTH production.
Masking is exhausting. And I'm done with it. Because autistic people and all neurodivergent people-- I know there is a similar issue for those with ADHD, and I know it has to be even worse for those with psychotic disorders--we should not have to hide our true selves to be cast and accepted in this industry. We shouldn't have to work twice as hard as our neurotypical peers to even be considered for the same roles. I have never once been accommodated in a show I have worked on. And if it's this bad for me? A white person? It has to be unimaginable for physically disabled neurodivergent people, for neurodivergent people of color, for Black neurodivergent people. We must have accommodations.
Finally and quickly, I'd like to address how many prominent members of the Broadway community have publicly supported the organization Autism Speaks. If you care about us at all, you will cease your support for them immediately. They are a hate group. They are eugenicists. They are dedicated to finding a "cure" for us when what we need is acceptance. Please listen to us. I don't exactly know what I'm doing yet, but I have ideas for promoting neurodivergent people in theatre and if you're neurodivergent and in theatre in some way, please feel free to dm me on my Twitter or Instagram to share ideas, my handles are the same on both @MadisonCMoore1. Thank you for listening.