Click Here to Visit the College Center

Blogs are the opinions of the authors and do not necessarily reflect the opinions of BroadwayWorld. BroadwayWorld believes in providing a platform for open and constructive conversation.

Student Blog: 10 Tips for Applying to College When it Seems Just About Impossible These Days
Application season is rough and hopefully these tips can help your application shine!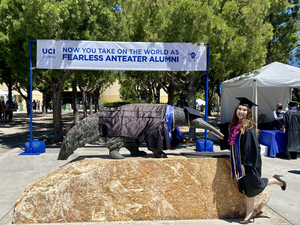 It's that time of year again, the summer nights are quickly fading into crisp fall evenings, back to school supplies are flying off the shelves, and the nerve wracking college application season is here like it or not. With the competitive stakes higher than ever and with more and more students applying to top universities, you may feel like it's nearly impossible to get into the school of your choice, but I promise it's not.
That being said, having been through the process and successfully coming out the other side a UCI graduate I have some tips that may help you this application season.
1. Be Yourself and No One Else
I know we're all mostly performers here, but for once this is not the time to play a part or put on a show. Too many times students think they have to be someone else to be good enough to get into a top university. One of the worst things you can probably do is be what you think admissions counselors want to see because I promise you they are far beyond tired of reading dry, lifeless applications and essays filled with the same boring accomplishments and topics every other try-hard has.
2. Don't Play the Comparison Game
As artists we know the comparison game is a dangerous one you always lose. No one ever benefits from comparing themselves to others. Everyone is on their own path and by holding your application up to your peers' all it does is instill doubt and fill your mind with thoughts of did I do enough? Am I good enough? It's simple, just stay in your own lane and focus on yourself.
3. Write About Things You are Passionate About
The point of application essays is so that the college can learn about who you are outside of your academics or in other words what makes you you. Write about topics and aspects of your life you are passionate about and proud of. You will shine a lot brighter through the things you care about rather than the boring topics you feel obligated to write about. You don't need all sorts of loud noise filling the space, it's refreshing to just see you. You are enough. And if you feel like there's not anything special to you, I promise there is. Everyone has a story to tell.
4. Showcase You, This is not the Time to be Modest
Like resumes and reels this is not the time to hold back. This is the time to put yourself in the spotlight where you belong. You should be the star and main character of your story. Your application should be highlighting all your best angles. How you are a leader, what you are doing in your community, and why they should admit you into their school. Give them everything you've got. Find creative ways to tell stories about your life while staying true to you.
5. Grades aren't Everything
And I'll say it again; grades aren't everything. Now don't confuse this statement with grades don't matter because that's not at all what I'm saying. Yes, your grades are extremely important, be sure you take AP/Honors and mostly importantly do your best, but there just has to be more to you than that. There are too many smart kids with stellar GPAs and nothing else, meaning there has to be more that separates you from the pool of applicants. Who are you without your A+'s? Grades aren't exactly a personality trait you can use to skate through your applications. It's actually a pretty boring one once you think about it. This goes the other way as well, don't feel bad if you don't have a perfect or near perfect transcript. I sure didn't, in fact I had a few Cs on there. Colleges look at the big picture and who you are as a whole with grades only representing a fraction. They are looking for ambitious, driven students so don't let your grades discourage you or be the sole reason you don't believe in yourself. If you lack a little in the grades department make up for it in your essays and other parts of your application. Let them know why you should be there.
6. Do Your Research
We are privileged to live in a time where we have so much information at our fingertips. There's no need to request information packets from schools and such the way our parents did. With a quick google search we have everything we could ever want to know about anything with the touch of a button. That being said, there is no excuse for not learning about the places you want to go. Learn about the programs they offer and what is appealing to you. Do you want to go to a big or small school? Private or public? Do you want to go to school in the snow or by the beach because location is just as important. There is so much to consider when looking into schools. A pro tip when looking into schools is to make three categories for the schools you find; safety schools, target schools, and dream schools.
7. Start Early
I can't stress it enough how important it is to start this process early. It's never too early to start looking into college. I would suggest starting to look at options in your freshman or sophomore year of high school and not waiting until fall of your senior year. This is because you should be aware of what colleges are looking for as well as academic requirements and such. You don't want to start researching schools the summer before your senior year and find out you are missing requirements. You should look into general class requirements and have a plan for high school to ensure you don't miss anything. There are many helpful resources on the internet or even through your high school that clearly lay out the different requirements for CSUs and UCs. A good starting place would be a template similar to this one from Innovate Public Schools.
8. Talk to People Who are Where You Want to be
Get yourself a mentor who is where you want to be. There is no one better that you can talk to than someone you want to be like. There are many Facebook groups and pages like reddit for different colleges filled with students who were once in your shoes. Find someone who is in college, just graduated from the school you want to go to, or someone who studies what you are interested in. Schedule an informational interview with them. It doesn't have to be crazy long or anything, just a casual meet up. You can meet safely in person if it's someone you already know, a phone call, or a video chat for 20 or so minutes. Come up with some questions for them like what extracurriculars did you do in high school? What types of classes do you take in college? What do your days consist of? Keep it short and sweet. People love to talk about themselves and they've been where you are. This can be a huge help to you and provide clarity if you are unsure of your major.
9. Ask for Help
Never be afraid to ask for help from those around you. I know it can be very scary to ask for help, but everyone needs help sometime. It's a great idea to have parents, older siblings, mentors, english teachers, or counselors look over your essays or application. You certainly don't have to take any of their suggestions, but it can be helpful to have constructive feedback to see if your message is clearly reading to your audience the way you want it to.
10. Trust the Process
Everything happens for a reason and you will end up exactly where you are meant to be. Sometimes where we are meant to end up isn't our first choice or in our plans at all. Just like the way we trust the creative process, we have to trust the application process. Everything is going to be more than ok even if we can't see it right now.
Of course there are only so many seats in the incoming class of 2026 and institutions can't take everyone who applies, but don't let that discourage you or be the reason you don't take a chance. Why can't one of those seats be yours? You never want to be left with regret or a mind filled with thoughts of what could have been if only you had tried. You'll never know if you don't try. And an Important thing to remember is that this goes both ways; as much as schools are testing to see if you are a good fit for them, you are evaluating each school to see if they are a good fit for you.