Click Here for More Articles on SPONGEBOB SQUAREPANTS
Songs of SPONGEBOB: How Bikini Bottom Started Singing Long Before Broadway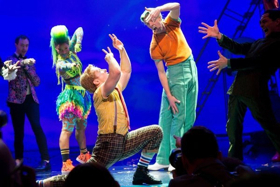 SpongeBob SquarePants on Broadway officially opens tonight, December 4th, at The Palace Theatre.
SpongeBob SquarePants is a one-of-a-kind musical event with original songs by Yolanda Adams, Steven Tyler and Joe Perry of Aerosmith, Sara Bareilles, Jonathan Coulton, Alexander Ebert of Edward Sharpe & The Magnetic Zeros, The Flaming Lips, Lady Antebellum, Cyndi Lauper, John Legend, Panic! At the Disco, Plain White T's, They Might Be Giants and T.I., and a song by David Bowie and by Tom Kenny and Andy Paley. Additional lyrics by Jonathan Coulton. Additional music by Tom Kitt.
Though the citizens of Bikini Bottom will be making their Broadway debuts this season, Spongebob and friends have been singing long before they made their way to the stage.
The TV series SpongeBob SquarePants contains a rather large collection of songs created specifically for the show. Over the years, special guests and songs by popular bands have also found their way into the animated hit. And it's not just the Sponge himself belting them out, the show has also produced original music for his pals Patrick, Sandy, Squidward, Mr. Krabs, and even Plankton!
Songs from the show have proven so popular over the years, Nickelodeon has released several records featuring songs from the show including The Yellow Album and SpongeBob's Greatest Hits, in addition to a full score of music for the feature film of the hit cartoon series.
With all this singing, it's no wonder SpongeBob and company have finally made their way to the Broadway stage! To celebrate SpongeBob's big Broadway opening, check out some of the best songs from the cartoon series below!
The SpongeBob SquarePants cast includes Ethan Slater as SpongeBob SquarePants, Gavin Lee as Squidward Q. Tentacles, Lilli Cooper as Sandy Cheeks, Brian Ray Norris as Eugene Krabs, Wesley Taylor as Sheldon Plankton and Danny Skinner as Patrick Star.
Stakes are higher than ever before as SpongeBob and all of Bikini Bottom face the total annihilation of their undersea world. Chaos erupts. Lives hang in the balance. And just when all hope seems lost, a most unexpected hero rises up and takes center stage. Get ready to dive to all-new depths of theatrical innovation at SpongeBob SquarePants, where the power of optimism really can save the world!
Image courtesy of Nickelodeon.
Related Articles
Follow Alexa on Twitter at https://twitter.com/Alexa_Juno.