Click Here for More Articles on NY Public Library for the Performing Arts
Sing Out, Louise! NY Public Library's Charles Morrow on GYPSY
BroadwayWorld continues our exclusive content series, in collaboration with The New York Public Library for the Performing Arts, which delves into the library's unparalleled archives, and resources. Below, check out a piece by Charles Morrow, Cataloger of the Theatre on Film and Tape Archive at The New York Public Library for the Performing Arts, on: "Sing Out, Louise!"
---
Founded in 1970, the Theatre on Film and Tape Archive (TOFT) holds hundreds upon hundreds of stage performance videos taped on Broadway, Off-Broadway, and in various places around the country, with everything from traditional plays to avant garde pieces to puppet shows. These recordings, created specifically for the archive, can be viewed on site by theater professionals and students at the New York Public Library for the Performing Arts, at Lincoln Center. While it is an unrivaled resource, at times it's hard not to wish that somehow TOFT could have existed decades earlier - technology permitting - thereby granting us a video record of the many fabled productions which predate the archive's founding. One that instantly comes to mind is the original 1959 staging of Gypsy, one of the genuine classics of the musical theater. The premiere production starred Ethel Merman, and was crafted by a truly exceptional creative team: composer Jule Styne, lyricist Stephen Sondheim, librettist Arthur Laurents, and director/choreographer Jerome Robbins.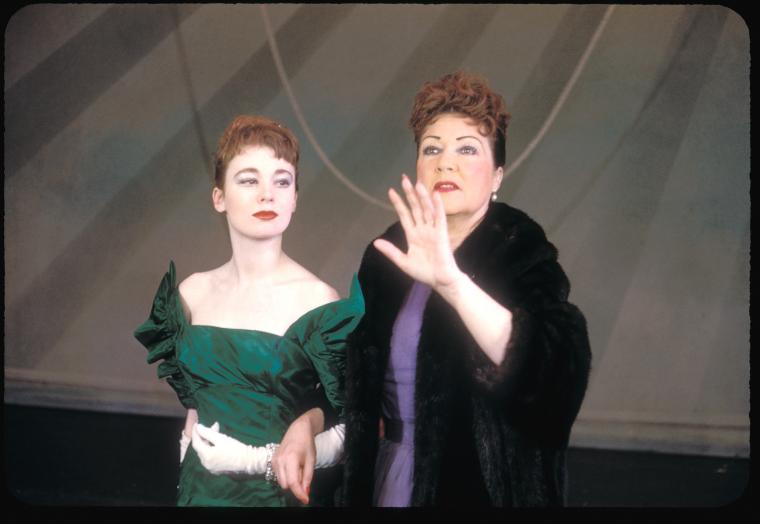 Title notwithstanding, Gypsy is only secondarily about the struggle of performer Gypsy Rose Lee (née Louise Hovick) to assert herself and emerge from the shadow cast by her formidable stage mother, Rose. Primarily this saga is all about Mama, or Madame Rose as she styles herself. Consequently, the role has become a hotly coveted career milestone for many a female performer of a certain age; one might say Rose is the King Lear of musical theater divas.
Although there is no video record of that original 1959 production, TOFT holds four complete productions of Gypsy unique to the archive, as well as a reel of excerpts from an additional production, and two commercially available television adaptations.
The first revival to be preserved for posterity by TOFT is the thirtieth anniversary production which opened at the St. James Theatre in the fall of 1989, under the direction of the show's librettist Arthur Laurents. He and the creative team auditioned a number of prominent performers to play Rose, including Liza Minnelli and Patti LuPone, but stunned the theater community when they chose Tyne Daly - best known at the time for playing a working class cop on the long-running TV series Cagney & Lacey. (Minnelli was said to be "flabbergasted" by the choice.) The production toured a number of U.S. cities before opening on Broadway, and Daly received rave reviews all the way; the Chattanooga Times called her "a gutsy, dynamic entertainer bursting with personality and talent." Would New York critics greet her with similar enthusiasm? They could and did. The show was a solid hit, and Daly won the Tony Award for Best Actress in a Musical. Her performance was recorded for posterity by TOFT on June 20, 1990.
Daly acknowledged at the time that Ethel Merman and Angela Lansbury (who had played Rose in a 1970s revival) were tough acts to follow, but observed that if there were only one permissible interpretation of Hamlet, we would never see that play again. "I love Rose," she told a reporter. "I'm going to own her like Ethel and Angela once owned her. And in another fifteen years, another actress will try it and you're going to say 'Are you kidding? How dare you!'"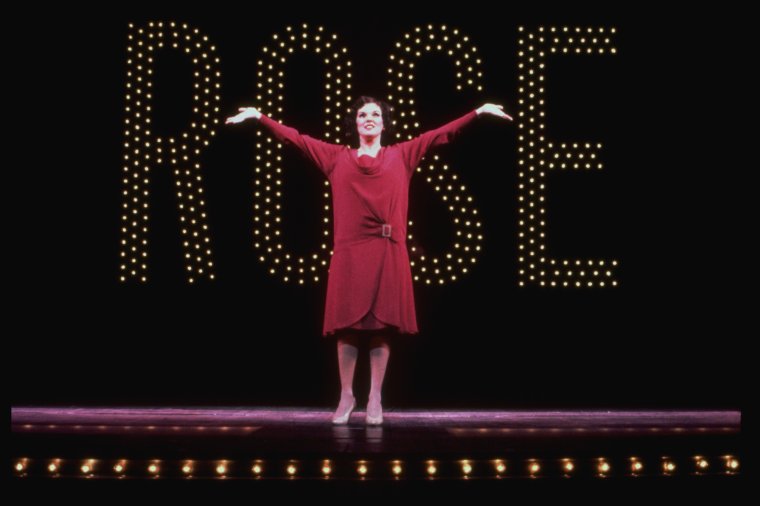 Mathematically speaking, the prediction proved to be very nearly accurate. Fourteen years after Daly's star turn, Bernadette Peters took on the role of Rose. (Once more, Patti LuPone was bypassed for a part she desperately wanted.) Again, the B'way community was surprised by the choice, although for different reasons. Peters was a long established star of musical theater, but never in this kind of role. Even in her 50s the petite Peters was preternaturally girlish, plus she spoke like Betty Boop. Could she successfully convey Rose's demonic force? Laurents, for one, felt she could: "I figured she could be the biggest killer of them all-a killer with a smile." And indeed, most critics greeted Peters' softer, sadder interpretation of Rose with somewhat surprised praise. This revival, which was directed by Sam Mendes, opened at the Sam S. Shubert Theatre in the spring of 2003, scored a box office success, and was taped for TOFT on Sep. 3 of that year.
Meanwhile, Patti LuPone waited in the wings. Only 39 years old when she was rejected in favor of the more matronly Tyne Daly, LuPone's desire to play Rose never waned. But she was blocked from being cast in the 2003 revival at the behest of Mr. Laurents, who was angry with her over a dispute they'd had concerning one of his other plays several years earlier. Undeterred, LuPone took on the role of Rose in a concert version of Gypsy, under the direction of Lonny Price, staged at the Ravinia Festival in Highland, Ill., in the summer of 2006. According to critic Jesse Green she "blew the house down." Not long afterward, LuPone and Laurents made peace in the course of a three-hour phone conversation, which resulted in a new staging of Gypsy, under Laurents's direction, starring LuPone. This took place the following year, as the premiere offering of City Center Encores's new "Summer Stars" series, a fully staged production given a three-week run. (Taped for TOFT on July 18, 2007.) The LuPone/Laurents collaboration was greeted with such enthusiasm, it was subsequently transferred to the St. James Theatre-where the Daly/Laurents revival had played, almost twenty years earlier-and was once more a hit. LuPone, like Daly before her, won a Tony Award for her performance, which was recorded anew for TOFT on Dec. 17, 2008.
Thus, a total of four unique takes on Madame Rose can be accessed in the TOFT screening room (if we include two separate performances by LuPone), but additional versions are available in the archive. Betty Buckley took on the role in the fall of 1998 at the Paper Mill Playhouse in Millburn, N.J. Although no complete videorecording of this revival was made, a 19-minute reel of excerpts, which was donated to TOFT by the producers, gives viewers a taste of Buckley's interpretation. Also available to researchers are two commercially released versions of the show, one starring Bette Midler that was made for television in 1993, the other a 2015 London staging starring Imelda Staunton as the quintessential stage mother.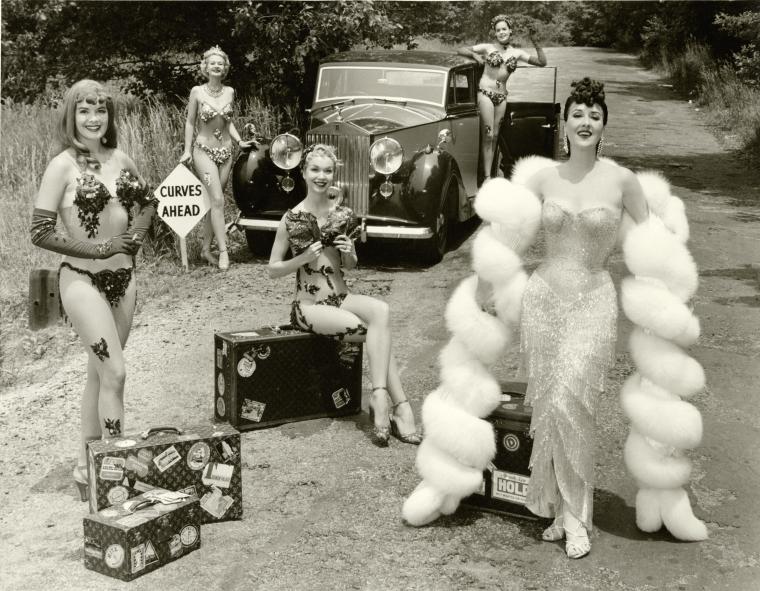 What of the real Gypsy Rose Lee? She can be seen in a series of rare home movies, donated by her son Erik Preminger to TOFT. Happily for posterity, Rose Thompson Hovick acquired a 16mm movie camera early on, during her family's vaudeville days, and often filmed her girls during their travels. Her eldest daughter maintained the home movie habit throughout her life, which means we're left with a treasure trove of fascinating footage: Louise and June as children, Louise-now the famous Gypsy Rose Lee-demonstrating her striptease routine on a Manhattan rooftop, performing at the New York World's Fair of 1939, rehearsing in a Hollywood studio, cavorting with famous friends such as Fanny Brice and Lucille Ball, attending rehearsals for Gypsy with Ethel Merman, Jerome Robbins, and twenty-something "Steve" Sondheim, etc. One person you won't find here, however, is Mama Rose. Her absence suggests that Rose's eldest daughter succeeded in gaining a degree of independence and, ultimately, made a life for herself. Rose may be the star of the musical, but the star of Louise's life, as reflected in these home movies, was the persona she created: Gypsy Rose Lee.
Photos courtesy of the Billy Rose Theatre Division, The New York Public Library