Review: WHO'S AFRAID OF VIRGINIA WOOLF?, Ustinov Studio, Bath
Elizabeth McGovern and Dougray Scott are magnificent as the feuding spouses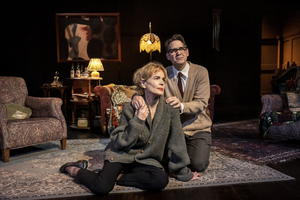 "Violence, violence!" though a drunken utterance, is also entirely on the money. Who's Afraid of Virginia Woolf? is not an easy play to watch, rather a theatrical storm that must be endured with three contempt-filled acts making up a three and a half hour runtime.
Astonishing, if turbulent, just as its brilliance earned it the 1967 Pulitzer Prize for Drama, its abrasiveness and adult themes prompted the accolade's withdrawal. Edward Albee's remarkable writing endures, however, with the play having last been produced in London at the Harold Pinter Theatre in 2017. Almost a decade after playing Bath's Theatre Royal it makes a sly return to the smaller Ustinov Studio and in the space's unavoidable intimacy it becomes a screaming match the audience must watch with voyeuristic intrigue.
The home of University faculty member George and his wife Martha, who happens to be the daughter of the University's president, is the battleground for a night of withering wordplay and drunken deceits. The evidently embittered older couple are hosting a younger one comprised of an ambitious new recruit to the Biology department and his mousy spouse. What follows is a series of insidious and bruising games that will leave none of the four unscathed. Having long attracted great actors to its leading roles, the play's success is determined, as ever, by the casting of its feuding spouses.
Elizabeth McGovern is utterly magnificent as Martha, nimbly avoiding the pitfall of beginning too snidely and curdling with resentment. The brilliance of her Martha is an ever-present playfulness, her steely eyed gaze often pared with an irrepressible grin that betrays a vicious glee. She instantly discards any air of haughtiness, walking unevenly in a single high heeled shoe and taking breaks from chain smoking to nurse a drink held in the same hand as her lit cigarette, the other picking at leftovers. In the play's devastating final act, she offers a triumphant breakdown culminating in the kind of blood curdling scream for which the phrase was coined.
While McGovern arrives simmering, her sparring partner George, played by Dougray Scott, is more slowly brought to a boiling point. His initial weariness soon giving way short-temperedly to a vindictive fury, Scott creaks in disparate octaves and laughs with the malice of a classic horror villain. The play's middle act is dominated by Scott entirely as he turns moving raconteur, recalling stories that both his young colleague and the audience taste with a tentative dubiousness as his eyes gently begin to tear behind the lenses of George's puzzlingly obligatory horn-rimmed glasses.
But for George and Martha this is a well-practiced game, and more interesting is the transformation of their guests. Charles Aitken plays the Midwestern Biology professor Nick and characterises him with an early standoffishness. Watching on in dismay as the adversarial hosts turn collaborators, his disintegrating bravado is excellently conceived. As his delicate young wife, meanwhile, Gina Bramhill is utterly delightful, with tipsy asides that guarantee giggles amidst the emotional turmoil. Often the most undersung of the quartet, Bramhill works wonders in making this tormented young innocent astonishingly compelling.
Lindsay Posner directs, a careful orchestrator of Albee's calculated chaos. Posner's staging is subtly expert, the younger couple pinned to a central sofa, arriving as an incompromisable unit and watching their hosts exchange barbs like a malevolent tennis match. Later, when Nick finds himself slouched in the same armchair George spent much of the earlier acts broodishly melting into, we can glimpse the depths of melancholy he has sunken to.
In many ways a textbook revival of the piece that neither looks nor sounds particularly different to its predecessors, this blistering production knows the value of adhering closely to a winning recipe when preparing a classic dish.
Who's Afraid Of Virginia Woolf? is at Ustinov Studio, Bath until 11 February
Photo Credit: Johan Persson
---
Shop BroadwayWorld

Shop this season's new musicals! Get dressed up for a night at the theatre, or just a night at home, with merch from some of Broadway's biggest hits including SOME LIKE IT HOT, KIMBERLY AKIMBO, and more!
---
Related Stories