Click Here for More Articles on REVIEW ROUNDUP - TV
Review Roundup: What Did Critics Think of Disney's ALADDIN Live-Action Remake?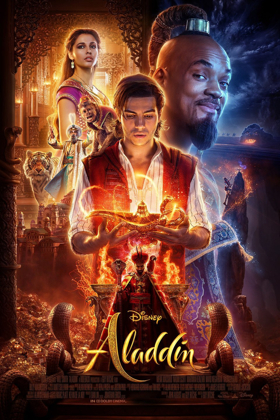 Disney's newest live-action remake is Aladdin, and ahead of its release this Friday, May 24, critics are sharing their thoughts on the adaptation of Disney's 1992 classic. The film is the exciting tale of the charming street rat Aladdin, the courageous and self-determined Princess Jasmine and the Genie who may be the key to their future. Directed by Guy Ritchie, "Aladdin" is written by John August and Ritchie based on Disney's "Aladdin."
The film stars Will Smith; Mena Massoud; Naomi Scott; Marwan Kenzari; Navid Negahban; Nasim Pedrad; Billy Magnussen; and Numan Acar. "Aladdin" is produced by Dan Lin, p.g.a., and Jonathan Eirich, p.g.a., with Marc Platt and Kevin De La Noy serving as executive producers. Alan Menken provides the score, which includes new recordings of the original songs written by Menken and lyricists Howard Ashman and Tim Rice and new music written by Menken and songwriters Benj Pasek and Justin Paul.
BroadwayWorld is updating live as new reviews come in, so keep checking back to read what the critics think of Aladdin!
---
Peter Debruge, Variety:
In the 27 years since the cartoon was first released, Disney's "Aladdin" has been reinvented once before as a live-action Broadway musical (a natural, considering the cartoon's show-tunes-powered format). Ritchie's approach benefits from that adaptation. Reteaming with composer Alan Menken, who's assisted here by "La La Land" lyricists Benj Pasek and Justin Paul, the director borrows many of the ideas from the stage version and ports them back over into the iconic visual world of the animated film - adding an over-the-top Bollywood-style spin to the film's biggest production numbers.
Frank Scheck, The Hollywood Reporter:
Massoud, who possesses the requisite lithe physicality and toothy grin, and Scott, who sings gorgeously, display a winning chemistry and charm that make the central love story fully engaging. Smith, faced with the impossible task of living up to Robin Williams' iconic voice performance, easily makes the role his own. His infectious personality shines throughout, and he even manages to infuse his martini-swilling Genie with moving emotional moments. Unlike the blubbery animated version in the original film, however, the CGI-rendered character here is so distractedly muscled and buff that you wonder how he was able to hit the gym so often while trapped in a lamp.
Chris Nashawaty, Entertainment Weekly:
The new Aladdin is hardly the folly that the advance bad buzz prepared us for. The candy-colored costumes and production design are stunning, Alan Menken's songs are as infectious as ever, the dance numbers have an electric Bollywood flair, and some of the bazaar chase sequences have a Young Indiana Jones sense of rollicking, Rube Goldberg fun. But mostly it all feels too dutiful, too familiar. This is where we are in 2019. The ever-quickening half-life of pop culture has gotten so short that we've now officially entered the era of diminishing returns. It's the new normal. What's old is new again - but not quite as good as you remembered it. Aladdin is...fine, but it has no real reason for being beyond, you know, capitalism. A whole new world, it's not.
Steve Rose, The Guardian:
On the whole, Ritchie's adaptation wisely does little except add human flesh to the bare bones of what was always one of Disney's strongest stories (if you need a plot summary you must have been living in a cave for the last 1,000 years). It still holds up as a tale whose central couple's deceptions and entrapments and self-discoveries have a pleasing symmetry to them, and whose "it's what's inside that counts" morals are in the right place. That's really all anyone wanted out of a new Aladdin: not a whole new world, just a slightly updated old one.
Geoffrey Macnab, The Independent:
Production and costume design are extraordinarily lavish. Whether in the Cave of Wonders or in the Palace itself, every frame of the film is crammed with glittering visual detail. There are some impressively apocalyptical effects and locations range from the desert to the frozen limits of what appears to be Antarctica. The ending feels formulaic and a little anti-climactic. Disney's storytellers aren't able to add too many news twists to a story told countless times before. This, though, is an Aladdin made with tremendous verve. What could have been a cynical exercise in repackaging an old hit turns out to be an invigorating ride.
Sean Keane, CNET:
Each character's choices feel more organic and logical than they did in the animated movie -- it's clear screenwriters Ritchie and John August reverse-engineered their motivations and developed them. Jasmine's expanded role is a complete success, to the point the movie feels shallow when she's not the focus. She adds a strong message about equality that's underscored by Speechless, a new song that fits seamlessly with the classic setlist.
| | | |
| --- | --- | --- |
| | Donations | Arts Orgs |
Related Articles