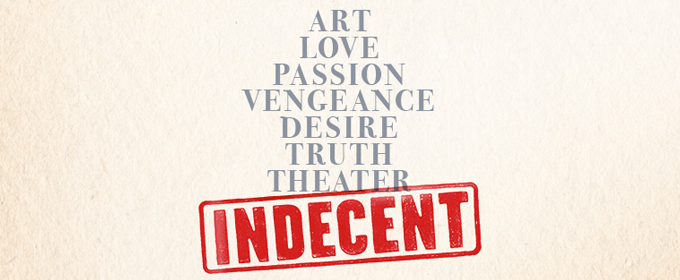 Click Here for More Articles on INDECENT
Review Roundup: Paula Vogel's INDECENT Opens on Broadway - All the Reviews!
Indecent, the newest work by Pulitzer Prize-winner Paula Vogel (HOW I LEARNED TO DRIVE), opens tonight, April 18, at the Cort Theatre (138 West 48th Street, between Sixth and Seventh Avenues).
A new play with music, written by Paula Vogel, created by Ms. Vogel and Rebecca Taichman, and directed by Ms. Taichman (STAGE KISS, HOW TO TRANSCEND A HAPPY MARRIAGE), Indecent is inspired by the true story of the controversial 1923 Broadway debut of Sholem Asch's THE GOD OF VENGEANCE.
Indecent charts the journey of an incendiary drama and the artists who risked their lives to perform it. Set at a time when waves of immigrants were changing the face of America, Indecent is a riveting look at an explosive moment in theatrical history and comes to Broadway from its critically acclaimed, sold-out run at the Vineyard Theatre.
Let's see what the critics had to say...
---
Ben Brantley, The New York Times: ..."Indecent" arrives on Broadway as one of the season's most respectable - and respectful - plays. Yes, that notorious scene that never made it to the main stem, even in the licentious Jazz Age, is fully rendered here...The dominant note of this erotic encounter isn't prurience, though; it's piety...What's more, "Indecent" delivers not only a history of styles of theater and their political contexts but also a portrait of Asch...as he progresses from youthful enthusiasm to embittered old age. This is achieved by a tight ensemble of chameleon performers...glowing with devotion to their craft and its possibilities.
Adam Feldman, Time Out NY: I was deeply moved by the play when it was at the Vineyard Theatre last year. On Broadway, with the same wonderful ensemble cast, it fills a much larger space without losing its essential intimacy. The script is Vogel's, the staging Taichman's, but the two are so lovingly intertwined as to be almost inseparable. The seven actors...weave multiple roles into a seamless whole. The same is true of the music that flows through the show...Rich in sympathy and humor, Indecent is as captivating the second time as the first...An elegant tribute to things that vanish in the blink of a historical eye, Indecent is a memorial that feels like a blessing.
Marilyn Stasio, Variety: Thanks to Taichman's impressionistic direction and David Dorfman's stylized choreography, a troupe of long-slumbering Yiddish actors rise from the ashes and stiffly come to life to play their parts in this drama...This is not a linear production, so scenes in real time bleed into times past and future, and backstage scenes echo scenes within the play...We already know the outcome of their professional arguments. But such is the tension of the production, you want to stand up and warn this brave little troupe to catch that ship before it sails.
Linda Winer, Newsday: After Paula Vogel's extraordinary play...burst open at the Vineyard Theatre last year, the sad and strange and wonderful piece landed on many annual best-play lists. Yet it was hard to imagine how its specialness...might hold up in a big Broadway house with broad commercial expectations. It is a thrill to report that this 105-minute, multilingual...adventure is a natural fit. It's a gripping and entertaining show with laughter and tears and a real rainstorm in which two women from the marvelous 10-member cast re-enact what, in 1921, had been the first lesbian kiss on an American stage...In her program note, Vogel writes, "I believe the purpose of theater is to wound our memory so we can remember." "Indecent" does that, but it also enchants.
Joe Dziemianowicz, New York Daily News: There was a time when a smooch shared by two women on stage could be deemed smutty enough to shutter the production. Yes, that happened. "Indecent," the heart-stirring and haunting play created in tandem by author Paula Vogel and director Rebecca Taichman offers a dramatic reminder of that - and of the power of art...Vogel...and Taichman - each in an impressive Broadway debut - tell the story in vibrantly theatrical fashion. The ace ensemble breathes life into more than three dozen characters...Be prepared for precipitation to fall from your own eyes.
Jeremy Gerard, Deadline: It's humbling, not to say near-impossible, to fully convey the thrumming resonance of Indecent, the evanescent shimmer of a show that arrived on Broadway tonight following its New York debut last spring at the Vineyard Theatre. But I'll give it my best and hope that you'll set aside any argument touting its importance - because Indecent ain't just spinach - and instead make haste for the Cort Theatre simply to share the astonishing power of this new play with music about a delicious ancient Broadway scandal that pulses through the decades to our own time.
Dave Quinn, NBC New York: With a company of seven actors rising from the ashes of history to tell the story of those lost before them, a literal stream of gray ash pouring from their sleeves as they move around the stage. Frankly, I would have been crying too like many of those around me, but I was holding my breath instead - stunned by the sheer beauty and sadness of it all. Director Rebecca Taichman...has many more gems like that throughout her beautiful and arresting staging...It would be hard to find a weak link among the cast...Playing a handful of roles each, you'll marvel as they lose and gain costume pieces, accents and mannerisms to bring the many voices involved in this play's past to life. A standout is the graceful Katrina Lenk...The "Once" alum will break your heart with her fragility and passion, especially as the show reaches its tragic end.
Jesse Green, Vulture: ...a second viewing of the play, now pumped up and retuned for Broadway, only makes its problems more obvious. Happily, its good qualities are enhanced as well, including an imaginative staging by Rebecca Taichman, beautiful klezmer-inspired music by Lisa Gutkin and Aaron Halva, and, most fundamentally, the depth of its engagement with a recalcitrant subject...Indecent gets one thing perfectly right. The rain scene between the two girls, which we also see repeatedly, is still, after 107 years, something shocking and sacred - and character-driven. Most history is.
Robert Hofler, TheWrap: I'm a total sucker for plays, movies and books about little known events that completely shake up our sense of history...Lesbian love was glorified in a popular Yiddish play in the early 20th century? Vogel tells her complicated, sprawling story with urgent economy. She uses the rain scene, enacted by Katrina Lenk and Adina Verson, as a leitmotiv. The words remain the same (and they're pretty graphic), but the meaning keeps changing, growing.
Christopher Kelly, NJ.com: Of course, this brand of theater -- Broadway by way of a PBS documentary -- can be very tricky to pull off, not without drowning an audience in exposition...But Vogel...and director Rebecca Taichman have created a fast-moving yet lucid drama whose short scenes convey a tremendous amount of information and a surprising amount of feeling. The creators use a full array of theatrical tools...to lend a sense of poetry, spectacle and scale to what might otherwise have been a too-modest tale.
Chris Jones, Chicago Tribune: Nonetheless, there is no questioning the force and sincerity of Vogel's determination to elevate the biography and artistic contribution of a little-known playwright whose early 20th-century work suffered the discrimination widely faced by the Yiddish theater, and by the immigrant artists whose stories it represented. As Vogel tells it in a highly skilled, clearly personal and deftly structured piece - co-conceived and directed by Rebecca Taichman - Asch was the near equal of such famed masters of the nascent American theater as Eugene O'Neill, and certainly a writer with even more courage.
Elizabeth Bradley, Broadway News: A new play based on real events, "Indecent"...finds the writer in both familiar and exemplary form...Telling a tale that spans many decades against the backdrop of history on two continents is an ambitious assignment. Taichman uses almost every Brechtian device at her disposal (supertitles, direct address narration, musical scoring and cabaret interludes among them,) creating some beautiful stage pictures along the way...Cumulatively, the many elements of the staging affords us the scope to think as well as feel. Vogel and Taichman provide the audience with many signposts to navigate and much to ponder, so much so that we can become preoccupied with tracking the morphing of the characters, as opposed to investing emotionally in their singular inner lives.
Elysa Gardner, Entertainment Weekly: Vogel and co-creator Rebecca Taichman make the journey from there to the mid-20th century vividly theatrical and overtly political, suggesting other artists from that period - Bertolt Brecht, especially - while appealing to a world famished, once again, for tolerance and compassion...The larger focus of Indecent, and it couldn't be a timelier one, is the plight of the outsider or other, of anyone whose identity can be twisted into an easy target under tough circumstances...In our own troubled century, there's at least some encouragement to be found there. A-
Tim Teeman, The Daily Beast: The play, for Vogel and Taichman who created it together, is an interrogation of the many definitions and interpretations of "indecency"...Indecent can feel a little cluttered in its staging. Actors scurry this way and that. It is not always clear who is who, and who is speaking. Yiddish when spoken and sung has a translation projected on to the back wall. This uneven structure and pace can feel a little like casting an eye over a dense thesis with too many footnotes. But Indecent's roving eye, its busy-ness, its insistence to be about everything-homophobia, censorship, freedom of expression, tyranny-is as fascinating and genuine as it can be frustrating to watch.
Photo Credit: Carol Rosegg