Click Here for More Articles on JAGGED LITTLE PILL
Review Roundup: JAGGED LITTLE PILL Opens On Broadway - See What The Critics Are Saying!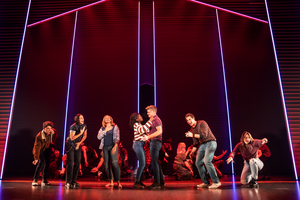 Following its record-breaking, sold-out world premiere at American Repertory Theater last summer, Jagged Little Pill the musical celebrates opening night tonight, December 5, at the Broadhurst Theatre.
JAGGED LITTLE PILL is an exhilarating new musical inspired by the themes and raw emotions laid bare in Alanis Morissette's seminal album of the same name. The Healys appear to be a picture-perfect suburban family - but looks can be deceiving. When the cracks beneath the surface begin to show, they must choose between maintaining the status quo or facing harsh truths about themselves, their community, and the world around them. "Urgent, wildly entertaining, and wickedly funny in all the right places" (The Boston Globe), this original story is ignited by Morissette's groundbreaking music - including such hits as "You Oughta Know," "Head Over Feet," "Hand In My Pocket," and "Ironic" - plus brand-new songs written for the show. Hailed by The New York Times as "a big-hearted musical that breaks the mold," Jagged Little Pill "takes on the good work we are always asking new musicals to do: the work of singing about real things."
Drama Desk Award nominee Elizabeth Stanley (On the Town), Sean Allan Krill (Honeymoon in Vegas), Derek Klena (Anastasia), and newcomer Celia Rose Gooding, and star as The Healy Family (Mary Jane, Steve, Nick, and Frankie, respectively), alongside Lauren Patten (Fun Home) as Jo, Kathryn Gallagher (Spring Awakening) as Bella, Antonio Cipriano as Phoenix, and Logan Hart as Andrew, all of whom reprise their roles from the musical's world premiere engagement. Completing the company are Annelise Baker, Yeman Brown, Jane Bruce, John Cardoza, Ken Wulf Clark, Laurel Harris, Zach Hess, Max Kumangai, Heather Lang, Ezra Menas, Kelsey Orem, Yana Perrault, Nora Schell, Kei Tsuruharatani and Ebony Williams.
Let's see what the critics have to say!
---
Jesse Green, The New York Times: The great news for "Jagged Little Pill," and for us, is that its creative team, led by the director Diane Paulus, did more than just fiddle with a show that, though blurry, was already entertaining. The overhauled version that opened on Thursday at the Broadhurst Theater is fully in focus: clear in its priorities, rich in character, sincere without syrup, rousing and real. It easily clears the low bar of jukebox success to stand alongside the dark original musicals that have been sustaining the best hopes of Broadway in recent years.
Michael Dale, BroadwayWorld: Paulus, who has one of the strongest directorial hands working today, does her usual fine work of presenting vivid pictures, the one misstep being an out of place gag involving a character's exit through the audience. Tom Kitt's orchestrations expand Morissette's indie sound into something more theatre-textured. No doubt Jagged Little Pill will excite fans whose prime interest is to hear a beloved song catalogue performed by terrific Broadway singers. If Alanis Morissette ever decides to write an original musical score for the stage, the news will excite this theatregoer as well.
David Cote, Observer: A more positive way to spin the situation is to say, Jagged Little Pill is an embarrassment of riches, just heaped in an ungainly pile. In many areas, it is. The cast is enormously appealing, with Stanley doing outstanding work as a mother who can be narcissistic, shallow, and horrid, but whose journey to the bottom is truly heartbreaking. How an actor so healthy and fresh can grow gaunt and haggard on command is a marvel. Gooding, as the brash, no-wave feminist in search of herself, is pure charisma with a pop belt to die for. Patten (whose DNA was clearly spliced from Laurie Metcalf and Bebe Neuwirth) is an instant star. Klena and Krill have less to do, but they do it quite well.
David Finkle, New York Stage Review: Paulus and Cherkaoui have the six principals on their toes throughout, each of whom is impressively committed to his or her role. While they nail every moment, there is one performance that threatens to dislodge the Broadhurst roof: Lauren Patten giving Morissette's "You Oughta Know" all the sizzle that a Peter Luger steak used to have.
Jesse Oxfeld, New York Stage Review: The musical, which opened tonight at the Broadhurst Theatre, is, like the album, surpassingly excellent, if also slightly flawed. What makes it so good? It's the ideal exemplar of a certain sort of jukebox musical, one that hangs an artist's catalogue onto a fictional story, often to laughable result.(See: Everyone from the lovelorn Spring Breakers of Escape to Margaritaville to the wandering cowboy of Ring of Fire.) Here, in the hands of Oscar-winning screenwriter Diablo Cody, Jagged Little Pill fashions a story with characters that are actually compelling: A modern, seemingly all-American, upper-middle-class family, in which all the members have their own problems. A cynical theatergoer, weary of this kind of jukeboxer, might well find himself surprised to be emotionally engaged in the story.
Terry Techout, Wall Street Journal: All of which brings us to the Broadway transfer of "Jagged Little Pill," which originated at the American Repertory Theater in Cambridge, Mass., and whose marquee declares it to be "inspired by" Alanis Morissette's grunge-flavored pop album about teenage love and life. Most of the songs, co-written by Ms. Morissette and Glen Ballard, come from the album, whose release in 1995 led Rolling Stone to dub Ms. Morissette "Queen of Alt-Rock Angst." The stage version, by contrast, is a cliché-prone chronicle of suburban spiritual emptiness whose book is by Diablo Cody ("Juno") and whose characters include a "perfect" mother ( Elizabeth Stanley ) who is secretly addicted to opiates and her black, bisexual adopted daughter ( Celia Rose Gooding ), who is...well, angst-ridden. The results play like a cross between "American Beauty" and "Next to Normal," and if that notion appeals to you, then you might enjoy "Jagged Little Pill." Me, I found it leaden with earnestness. Teen angst, lest we forget, isn't all that interesting when seen from the outside, which explains why the best fictional portrayals of the pain of adolescence have been satirical comedies like "Daria" and "Heathers." And while Ms. Cody's issue-of-the-week book might work as a teleplay, it gains nothing from being used as a dramatic Christmas tree on which to hang the songs.
Robert Hofler, The Wrap: Cody makes her Broadway debut with the book for "Pill," and the "Juno" screenwriter gives Mary Jane enough trauma to trigger a dozen somber musicals, much less one bad flashback. She's called Mary Jane because otherwise Morissette's song "Mary Jane" from the album wouldn't fit into the stage show. No matter that the song is about marijuana and that a woman born to clueless parents in the late 1960s would have shortened it to Mary to avoid all those inevitable jokes about guys wanting to smoke her stash. Jonathan Deans' sound design for "Pill" is so mushy you won't be able to understand the lyrics (by Morissette and Glen Ballard) anyway. Do remember, every character in "Pill" has a lot of crap to get off his, her or their chest.
Alexis Soloski, The Guardian: But turn that record over. On Broadway, Jagged Little Pill harnesses the hyperemotionalism of its source to shake off the cynicism and formulaic strictures of the typical jukebox musical. Yes, its plot is shaky and contrived, its songs - and there are so, so many of them - histrionic. It seizes on enough hot-button issues - sexual assault, the opioid epidemic, internet addiction, workaholism, misogyny, sex and gender identity, and OK, sure, gun violence, too - to singe the first row. It is, indisputably, too much and that too muchness is what makes it so watchable.
David Rooney, The Hollywood Reporter: The aggressive bid for now-ness is both a blessing and a burden in this overwrought, over-stuffed but ultimately affecting show. Wearing its woke sensibility on its sleeve with no hint of cynical calculation but instead with a sincerity that sometimes borders on cringey, the musical addresses a whole curriculum of hot-button bullet points - climate change, opiate addiction, gender and racial identity, white privilege, rape culture, social media-shaming and repressed sexual trauma, just for starters.
Marilyn Stasio, Variety: Right from the start, the audience feels under attack by the fierce hormonal energy of angsty adolescents and the unfocused anxiety of their parents. Unsurprisingly, "All I Really Want" is right up there, close to the top of the show, with the entire company articulating their inexpressibly painful needs. The spastic movements devised by choreographer Sidi Larbi Cherkaoui provide a brilliantly crazed energy that smartly reflects their raging hormones and unfocused outrage. Even Emily Rebholz's rag-bag costumes contribute to the disjointed adolescent emotions that overflow the stage.
Greg Evans, Deadline: With Tom Kitt's attractively amped-up arrangements and performances by an impeccable cast of fine singers (even if they're too often guided to shout-sing from the lip of the stage), Morissette's angry, street-poetic dispatches from a fiercely singular artist mostly withstand the out-of-context placement in this troubled-family saga. And what troubles. Packed to bursting with hot-button issues as bluntly conveyed as the many hand-painted protest signs toted by its idealistic young characters, Jagged Little Pill front-loads its fictional family with enough problems, secrets and cliches to fuel three years of Lifetime movies.
Rafer Guzman, Newsday: You'd be surprised. "Jagged Little Pill" is no blast-from-the-past jukebox musical but an urgent, rock-driven slice of modern life that tackles nearly every issue of the day: sexual identity, opioid addiction, racial tension, rape. As its writer, Oscar winner Diablo Cody ("Juno"), has readily admitted, just about anything with a hashtag is in here. What makes "Jagged Little Pill" work so well is its multigenerational storyline, a self-aware sense of humor and Morissette's surprisingly sturdy songs. (The production includes selections from other albums and two new numbers by Morissette.)
Jerry Portwood, Rolling Stone: Because, of course, it's Morissette's music that saves the day. After the floodgates open with "You Oughta Know," the star of the show, MJ (a stunning Elizabeth Stanley), takes over, writhing on her sofa in the grips of an opioid overdose, singing the Grammy-winning "Uninvited," with a doppelgänger dancer-demon mimicking her agony. "Hand in My Pocket" brings a grin. "Head Over Feet" is adorable. "Ironic" gets big laughs because it's set amid a high-school creative-writing workshop and invokes all the criticisms that have been launched at the song's quirky lyrics: It's not ironic, y'all! And the sublime movement by Belgian choreographer Sidi Larbi Cherkaoui (who also choreographed sequences in Beyoncé and Jay-Z's "Apeshit" video) recalls the spastic, emotive motion you'd recognize from a Sia music video.
Matt Windman, amNY: Even if Diablo's script feels overstuffed (a few uncomfortable sequences could probably be cut) and derivative (especially of the 2009 Pulitzer-winning musical "Next to Normal"), it is character-sensitive and willing to delve into difficult and timely cultural issues such as opioid addiction, #MeToo, racial and gender identity and victim shaming. It also contains a lot of humor, such as when an English class debates the lyrics of "Ironic."
Johnny Oleksinski, The New York Post: More social issues are addressed in "Jagged Little Pill" than at a Democratic presidential debate. Opioid addiction, race, bisexuality, sexual assault - the Alanis Morissette musical, which opened Thursday night on Broadway, has got 'em all. But, like trying to shove Elizabeth Warren's entire platform into a single evening, nearly every topic gets short shrift.
Chris Jones, The New York Daily News: And if you want a quick lesson on just how much our culture has coarsened since then, you'll find one at the Broadhurst Theatre, where lean songs that bled with poetry and irony and fear and rage have been turned into a moralistic musical so over-stuffed and simplistic, so predictable in its hashtags and heroes and villains, as to rip almost all the complexity from the organic and unfiltered human material that provided the source.
Peter Marks, Washington Post: "Jagged Little Pill," the humorlessly banal new musical fashioned out of Alanis Morissette's agonized songbook, belongs to that burgeoning category of musical theater that cynically imagines any cycle of pop melodies can be repurposed for Broadway with the addition of a serviceable story.
Melissa Rose Bernardo. Entertainment Weekly: Along the way, we go through protests, marriage counseling, back-alley opioid scores, bitchy Connecticut coffee klatches, an overdose, and an extremely bad breakup. That's when Jo discovers Frankie in bed with another classmate, Phoenix (Antonio Cipriano) - "He was wearing dog tags with no shirt like a douche," Jo yells - and vents with "You Oughta Know." Patten starts the first halting words in almost a whisper: "I want you to know / That I'm happy for you." But as the song builds in volume and intensity, it's clear she's not simply singing; she's trying to pull the love out of her body. It's an emotional exorcism - and a performance that leaves her, and the audience, exhausted and exhilarated after its rock-concert-level conclusion.
Tim Teeman, The Daily Beast: It's a double Christmas miracle. Broadway has a new star-Lauren Patten-and a jukebox musical that really is different and sets a standard for others to aspire to the same; and one that is as provocatively written as it is beautifully performed.
Joe Dziemianowicz, Theater News Online: A dose of Jagged Little Pill, the Alanis Morissette jukebox musical on Broadway about a dysfunctional American family, delivers desirable jolts to the head and heart thanks to vibrant performances and hits like "Ironic," "Head Over Feet" and "Hand in My Pocket," songs that have been capably threaded into storylines. But this Pill also produces unwanted side effects. At the Broadhurst Theatre, home of the musical drawn from the Canadian singer-songwriter's angsty megahit 1995 album, they include but are not limited to: Prolonged itching for a focused, impactful plot; dulled senses from familiar situations and characters; and ear strain due to efforts to comprehend drowned-out lyrics. Is there a script doctor in the house?
Jeremy Gerard. Theater News Online: Songs from Jagged Little Pill, augmented by others from Morrisette's back catalogue and two new ones written for the show, are folded into the story. The numbers themselves, spiky with adolescent angst and a more pronounced sense of outrage over how the female of the species is abused regardless of age, have lost none of their power. (I say this as someone who must have been AWOL when the album was released, but who found the songs as pungent and on target as if they'd been written today.) That doesn't save JLP from a bit of Mamma Mia-itis, which is what happens when a story is meant to frame a song list (there's also additional music by Morrisette and Glen Ballard), but the songs don't always quite fit, requiring a slather of narrative mortar.
Adam Feldman, Time Out New York: But Next to Normal has a strong focus on a single story, and an original score created to support that focus. Morissette's songs, most of them cowritten with Glen Ballard, weren't designed for that work. Cody has found clever places for some of them-"Ironic" is framed, self-deprecatingly, as a high school student's gangly attempt at writing poetry-but the balance is off. Two of Morissette's definitive numbers, "Hand in My Pocket" and "You Oughta Know," are assigned to the side character of Frankie's sort-of-girlfriend, Jo (a first-rate Lauren Patten); the latter is a bona fide showstopper, but it's too big a moment for its place in a romantic subplot. And the show's defining incident-the sexual assault of Nick's friend Bella (Kathryn Gallagher) at a house party-is fleshed out much less fully, with a generic rich-white-jock predator as the villain. At a certain point, it starts to feel like several after-school specials crammed into one.
Roma Torre, NY1: "Jagged Little Pill," much like "Next To Normal" and "Dear Evan Hanson," is concerned with the collateral damage inflicted on us by family and social pressures. And given Morissette's empowering lyrics, in this #MeToo era, the entire show becomes a moving anthem of our time.