Click Here for More Articles on Hamilton
Review Roundup: HAMILTON Tour Opens in Los Angeles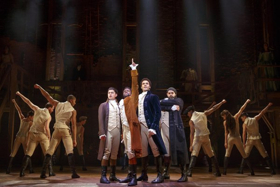 Few things have been as highly anticipated as the national tour of the sweeping hit Hamilton, which made its second stop in Los Angeles at the Pantages Theatre last night.
HAMILTON is the story of America's Founding Father Alexander Hamilton, an immigrant from the West Indies who became George Washington's right-hand man during the Revolutionary War and was the new nation's first Treasury Secretary. Featuring a score that blends hip-hop, jazz, blues, rap, R&B, and Broadway, Hamilton is the story of America then, as told by America now.
Let's see what the Los Angeles critics had to say...
Photo credit: Joan Marcus
---
Dino-Ray Ramos, Deadline: Fifteen years ago, the idea of a hip-hop musical on Broadway about one of our founding fathers would have sounded like a horrible history lesson from the lamest high school teacher. It would have been the antithesis of cool. But in 2017, Miranda has managed to make it an unforgettable musical that not only lives up to the hype, but subverts the landscape of storytelling and encourages diversity and inclusion on stage and off.
Jeffrey Fleishman, Los Angeles Times: "Hamilton" symbolizes the rebel spirit and democratic ideals that stitched 13 new colonies into a country that would stretch between two oceans. With a cast far more racially mixed than the European-descended men who penned the Constitution, the play's power is that promises of equality made in the 1700s should never be forsaken. The American dream, the play suggests, belongs to all, not to the resentful and narrow vernaculars reverberating through red and blue state battles.
Yvonne Condes, MomsLA: My expectations for Hamilton were very high. So high that the day of the show I decided that there was no way it could possibly live up to what I imagined during the year and a half since I bought the tickets and I would inevitably leave disappointed, cursing myself for spending the money. Ten minutes into the show, I knew it was worth it. Soon after that I had tears in my eyes.