Review Roundup: Critics Weigh-In on CAROUSEL on Broadway, Starring Jessie Mueller and Joshua Henry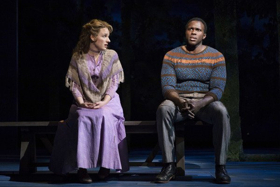 Rodgers & Hammerstein's classic musical Carousel, under the direction of three-time Tony Award winner Jack O'Brien and choreography by Justin Peck, opens officially tonight!
Set in a small New England factory town, Rodgers & Hammerstein's timeless musical Carousel describes the tragic romance between a troubled carnival barker and the young woman who gives up everything for him. Elevated to an epic scale with a sweeping musical score that features some of the most beloved numbers in the American songbook, and incandescent ballet sequences, this story of passion, loss, and redemption introduced Broadway to a new manner of musical drama and would captivate theatergoers for generations to come.
The cast for this first new production in over 20 years is led by Tony Award nominee Joshua Henry as Billy Bigelow, Tony Award winner Jessie Mueller as Julie Jordan, and Renée Fleming, in her first appearance in a Broadway musical, as Nettie Fowler. They are joined by Lindsay Mendez as Carrie Pipperidge, Alexander Gemignani as Enoch Snow, Margaret Colin as Mrs. Mullin, John Douglas Thompson as the Starkeeper, Amar Ramasar as Jigger, and Brittany Pollack as Louise.
The creative team of this new production of Carousel includes four-time Tony Award winner Santo Loquasto (Scenic Design), Tony and Academy Award winner Ann Roth(Costume Design), five-time Tony Award winner Brian MacDevitt (Lighting Design), Tony Award winner Scott Lehrer (Sound Design), Tony, Grammy, Emmy, and Academy Award winner Jonathan Tunick (Orchestrations), and Andy Einhorn (Musical Supervision and Direction).
Let's see what the critics had to say...
Ben Brantley, The New York Times: The tragic inevitability of "Carousel" has seldom come across as warmly or as chillingly as it does in this vividly reimagined revival. As directed by Jack O'Brien and choreographed by Justin Peck, with thoughtful and powerful performances by Mr. Henry and Ms. Mueller, the love story at the show's center has never seemed quite as ill-starred or, at the same time, as sexy.
Matt Windman, amNY: Someone with no prior exposure to or familiarity with "Carousel" is more likely to appreciate this misguided production. But speaking as someone who knows "Carousel" inside and out, sitting through it was a disappointing, bewildering and frustrating experience.
Adam Feldman, Time Out New York: Carousel's sumptuous new Broadway revival plows steadily through the show's darker currents. Director Jack O'Brien invites us to admire the show as an exemplar of classic American musical theater, lovingly emphasizing its virtues. Prime among them is Rodgers and Hammerstein's innovative and varied score, repolished by orchestrator Jonathan Tunick and sterlingly sung by the cast; Henry offers a powerful account of Billy's long and winding first-act finale, "Soliloquy," and opera star Renée Fleming-though too grand in manner for the role of Julie's kindly cousin-adds elegant vocal luster to the stirring "You'll Never Walk Alone." The gorgeous choreography, by New York City Ballet's Justin Peck, is danced with aplomb by a very fine ensemble led by NYCB's Brittany Pollack and Amar Ramasar. Santo Loquasto's set, Ann Roth's costumes and Brian MacDevitt's lighting are first-class.
Greg Evans, Deadline: Let's state the obvious. Carousel is a masterpiece, a sublime piece of 20th Century musical theater that includes among its abundant treasures a song, "If I Loved You", that ranks among the most beautiful ever written for the stage (I'd say the most beautiful but I'm not on a barstool). Jack O'Brien's revival, at the Imperial Theatre and Broadway's first in more than 20 years, superbly sung by Joshua Henry, Jessie Mueller and Renée Fleming, is ravishing, as lovely as anything you'll see and hear this season.
Joe Dziemianowicz, The Daily News: "Carousel" has such a glorious score that the music always shines bright - even in a revival as wobbly as the one now on Broadway at the Imperial Theatre. You know something is off when the lead roles are supplanted by secondary characters and endless dancing. Moreover, director Jack O'Brien ("Hairspray") hasn't discovered anything fresh and exciting in Richard Rodgers and Oscar Hammerstein's 1945 classic that introduced such indelible songs as the plaintive "If I Loved You" and jaunty "June Is Bustin' Out All Over."
David Rooney, The Hollywood Reporter: A remarkable aspect of O'Brien's production - and of Henry's staggering, soulful performance, which is this revival's smoldering core - is that even in our current moment of heightened attention toward mistreatment of women, in which a hot-tempered man like Billy might seem an automatic villain, there's a tormented helplessness to this doomed, rootless transient that makes you understand Julie's surrender. Even when she swallows her shame and makes excuses for his reprehensible behavior; it's almost as if in choosing to love him she has chosen to be an outsider like him too.
Breanne L. Heldman, Entertainment Weekly: Director Jack O'Brien's new revival of Rodgers & Hammerstein's 1945 smash stars several of the hottest actors currently gracing the Great White Way (Jessie Mueller and Joshua Henry, for starters), features the work of a hot young choreographer in Justin Peck, and includes a number of classic songs, but none of that can make up for the show's one key problem: The story is Just. Plain. Bad.
Tim Teeman, The Daily Beast: The current Broadway production, which opens Thursday night directed by Jack O'Brien, does not stint on the darkness of the source material, and it doesn't resolve or make easy for a modern audience one of its most pronounced storylines-the violence Billy Bigelow (Joshua Henry, who will surely be Tony-nominated for a third time for his excellently sung performance) shows to his wife, Julie Jordan (the Tony-winning Jessie Mueller), and his repeated lack of repentance for it.
Barbara Schuler, Newsday: Jack O'Brien directs a stunning cast of vocal masters, led by Mueller's beautiful portrayal of Julie Jordan, a vulnerable mill worker who falls quickly - too quickly, really - for Billy Bigelow, intensely played by Henry as a bitter man unable to face his failures. His "Soliloquy," the introspective song in which he anticipates the birth of his child, stabs you in the heart. Throw in Lindsay Mendez, whose Carrie Pipperidge provides much needed comic relief, and opera's Renée Fleming as Nettie Fowler, taking your breath away consoling Julie after Billy's suicide with the haunting "You'll Never Walk Alone."
Chris Jones, Chicago Tribune: But despite there being so very much here to love - truly - for the show to work at its peak prowess, you have to see what she first thinks she sees in Billy, the man who persuades her to give up so much. Here, that is difficult. Some of the issue comes from a lack of connection between these two gifted lead performers, but it mostly flows from Henry's yet-unmet need to embrace his character's belief that he could do better. That is why he sings the great "Soliloquy," which Henry renders in bravura fashion, but that lacks even a flash of optimism.
Robert Hofler, The Wrap: It took real guts for the lead producers and director Jack O'Brien to revive Rodgers and Hammerstein's "Carousel," which opened Thursday at the Imperial Theatre. Theatergoers still speak with hushed reference about Nicholas Hytner's phenomenal "Carousel" revival, imported from the National Theatre to Lincoln Center Theatre in 1994. The good news is that we don't have to choose which version is more perfect. Enjoy the memory of Hytner's show and make sure you don't miss O'Brien's.
Roma Torre, NY1: It's been nearly 25 years since Rodgers and Hammerstein's "Carousel" has come around on Broadway. And good reason... the last production featuring a young Audra McDonald set the bar pretty high. And while the current revival doesn't measure up in some ways, it makes up for it in others - starting with that glorious score.
Marilyn Stasio, Variety: Audiences encountering Joshua Henry's electrifying performance as the charismatic but star-cursed Billy Bigelow will long remember the experience. In this new Broadway revival of Rodgers and Hammerstein's "Carousel," Henry shows off the exceptionally beautiful voice of a genuine actor-singer, a voice that while warm and mellow, can also soar with joy and tremble in despair.
Elysa Gardner, New York Stage Review: This Carousel may not have the raw, startling immediacy that distinguished the last Broadway production, by Lincoln Center Theater in 1994. But under Jack O'Brien's expert direction, with new choreography by ballet wunderkind Justin Peck, it fully serves the overwhelming beauty and boldness of material that, 73 years after the show's premiere, remains as subversive as ever in its compassion and its keen awareness of the contradictions that make us human.
Michael Sommers, New York Stage Review: The latest rendition of Carousel is scarcely so revelatory. It is smudged visually. Yet, as briskly staged by veteran director Jack O'Brien, this production for the greater part proves satisfying. It is beautifully sung, exuberantly danced and ardently performed.
Christopher Kelly, NJ.com: So where did this handsome, but fundamentally inert production of "Carousel" go wrong? One way is that, instead of approaching the story of Julie Jordan (Mueller) and her doomed romance with Billy Bigelow (Henry) with a fresh, contemporary point-of-view, O'Brien has doubled down on the nostalgia factor, giving us a "Carousel" that -- save for the darkish lighting scheme and the absence of an actual onstage carousel -- looks and feels like something from 70 years ago. (The set design here is by Santo Loquasto; Brian MacDevitt did the lighting.)
Terry Teachout, Wall Street Journal: Of the musicals by Richard Rodgers and Oscar Hammerstein II that continue to hold the stage, "Carousel" is-up to a point-the strongest. That point arrives toward the end, when the ghost of Billy Bigelow, the show's romantic antihero, returns to earth, watches his daughter graduate from high school and is escorted back to the Pearly Gates by an angel as the company sings a reprise of "You'll Never Walk Alone," the stickiest song that Rodgers and Hammerstein ever wrote (though the competition is stiff).
To read more reviews, click
here
!