Review Roundup: Critics Weigh-In On Carey Mulligan in GIRLS & BOYS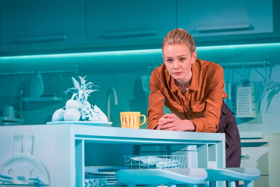 BAFTA Award winner and Academy & Tony Award nominee Carey Mulligan (Skylight, An Education) opened tonight in Girls & Boys, the shattering new play by Dennis Kelly (Matilda The Musical, Taking Care of Baby) and directed by Olivier Award winner Lyndsey Turner (Machinal, Chimerica).
They met at an airport and fell for each other. But in time, they would meet their fate as it all falls apart. A pulse-pounding new play from Tony Award-winning playwright Dennis Kelly takes you on a journey that is at once hilarious, gripping and heartbreaking.
Let's see what the critics had to say...
---
Ben Brantley, The New York Times: Because this woman is portrayed with unswerving focus by Carey Mulligan, one of the most compelling stage actresses of her generation, there is never any question of her not succeeding in this mission. For the more than 100 uninterrupted minutes that make up Dennis Kelly's "Girls & Boys," in which Ms. Mulligan is the entire cast, you are unconditionally hers.
Isaac Butler, Vulture: Girls & Boys, meanwhile, is intelligently designed, with a gorgeously clever set, and crisp lights from Es Devlin and Oliver Fenwick, respectively. It's sensitively directed by Lyndsey Turner and features a haunted, lived-in, and often quite funny turn from its lone onstage performer.
Joe Dziemianowicz, The Daily News: Words couldn't truly capture just how thrilling, shattering and simply phenomenal Mulligan is. Seeing is believing.
Frank Scheck, The Hollywood Reporter: New York City offers plenty of excellent acting courses, but there is no finer master class currently available than the one being presented eight times a week at the Minetta Lane Theatre. It's there that Carey Mulligan delivers an unforgettable performance in Dennis Kelly's one-person play Girls & Boys. For anyone interested in the art of stage acting, attendance is mandatory.
David Cote, Observer: I admit, the sole character in Dennis Kelly's exhilarating and brutal Girls & Boys is all too credible. As played to aching, bruised perfection by Carey Mulligan, the unnamed Woman takes us on a journey into darkness that we hope will turn out to be an elaborate lie-but know is not.
Both writing and acting are superb, in perfect sync thanks to Turner's clinical direction and spare but effective choreography. Kelly writes with delectable relish and gusto, not scanting on cascading profanity or visceral imagery (in a job interview the Woman declares that she will "keep banging my head against the wall until the wall breaks or until my neck is a bloody stump"). As for Mulligan, she's magnificent. This may be her toughest role-certainly the most demanding and intense, nearly two hours of delicate comic timing as she ratchets up the emotional tension. A decade ago, Mulligan's limpid Nina was the best thing in an otherwise forgettable Seagull on Broadway. If you missed her soulful-sorrowing performance opposite Bill Nighy in David Hare's Skylight, now's your chance to make it up. Gentle yet steely, girlish yet tough as nails, Mulligan beautifully blends the gender traits that, when they run amok, can lead to so much heartbreak.
Robert Hofler, TheWrap: What's most disturbing about "Girls & Boys" is that the play comes to New York from London's Royal Court Theatre, as does The Public Theater's just-opened production of "Cyprus Avenue." Back to back, these two plays contain more mayhem, dramatized or spoken about, than any theatergoer needs to witness in one year, much less one week.
To read more reviews, click
here
!