Regional Roundup: Top New Features This Week Around Our BroadwayWorld 9/14 - PHANTOM, LEGALLY BLONDE, and More!
BroadwayWorld presents a comprehensive weekly roundup of regional stories around our Broadway World, which include videos, editor spotlights, regional reviews and more. This week, we feature THE PHANTOM OF THE OPERA, LEGALLY BLONDE, AVENUE Q and More!
Check out our top features from around the BroadwayWorld below! Want more great global content? Check out our "Around The World" section!
---
Norway: Contributor Christian Ranke reviews THE PHANTOM OF THE OPERA - A Phantastic Phantom at Folketeatret, writing "After seeing the original production countless times over the years, it can be hard to see a new version of this masterpiece. "Phans" of this musical also feel a certain ownership to the piece, which can sometimes be an obstruction seeing an all-new version. And while some of the choices Stephen Barlow and his team have made left me bewildered, there are many aspects of this production to rejoice."
---
Boston: Contributor Nancy Grossman reviews THE BLACK CLOWN World Premiere at A.R.T., writing "Director Zack Winokur has played a strong hand in the development of The Black Clown and his staging is both simple and stunning. In several scenes, lighting designer John Torres casts giant shadows on a scrim, lit from behind, and makes dramatic use of overhead and sweeping spotlights, footlights, and bright bulbs fully surrounding the proscenium arch. Carlos Soto does double duty as both scenic and costume designer, employing a minimalist aesthetic in the former, while using a two-stage plan for the latter. At the start of the show, the cast is attired in evening wear and party clothes, but later, they all change into more comfortable everyday, modern dress. Sound designer Kai Harada provides a perfectly balanced mix between the orchestra and the vocals."
---
Cincinnati: Contributor Kate Elliott reviews FLY BY NIGHT at Ensemble Theatre Cincinnati, writing "The tour de force, however, is Nathan Robert Pecchia as the Narrator (and a dozen peripheral characters). At first, I was perplexed by how many different personas he was expected to assume, wondering if it was too much for both actor and audience. But well before halfway through the first act, I was in the palm of his hand. He masterfully dropped in and out of characters, without making any one too outlandish-but just out-there enough. Shoutout to Reba Senske's costume design for showing us the endless uses of a handkerchief. In addition, Pecchia's singing voice was rich and resonant, and his Narrator was charming, impish, and eager for us to leave the evening with warm hearts."
---
Nashville: Contributor Jeffrey Ellis reviews AVENUE Q writing "Shouse directs the riotously funny and uproariously entertaining Avenue Q with imagination and wit (her deft updating of various pop culture references in the script land solidly among the audience who reward her efforts with deafening laughter and remarkable applause - not to mention, audible gasps), infusing the already terrific piece with more magical moments in which the audience becomes complicit in the story being told and the "acts" being performed onstage. Shouse keeps the action moving along at a veritable breakneck pace - sure, there are moments when you can catch your breath, but they are quickly followed by more hilarity and more scandalous escapades (jeez, your neighborhood theater critic sounds like a 1930s movie matron a la Margaret Dumont in some Marx Brothers vehicle - sorry!) to keep you on your toes and on the edge of your seat. Who knew shoving your fist up some guy's bum and making him talk for you could be so invigorating and so breathlessly life-changing? Get your minds out of the gutter - you know what I mean, don't you, gentle readers?"
---
Orlando: Contributor McKenzie Lakey reviews IN THE HEIGHTS, writing "Speaking of actors who are light on their feet, this show wouldn't be the same without the little vignettes of the life of our Piragua Guy, portrayed by the fun and high-spirited Bert Rodriguez. While the subtext of his character represents the overall theme of the show and serves as a microcosm of American franchises impeding on local businesses-and therefore, represents the looming change and gentrification of immigrant communities-he keeps the energy high at all times with his enthusiasm. However, that's looking at his role with a magnifying glass and at the end of it all, Rodriguez simply brings a smile to the faces of everyone around him, audiences included."
---
Chicago: Contributor Emily McClanathan reviews LEGALLY BLONDE at Paramount Theatre, writing "The creative team, under the direction of Trent Stork, finds clever ways to update the setting to present-day America, although the loud colors and flashy visuals of early 2000s Greek culture don't require much alteration for the class of 2018. Jeffery D. Kmiec's set centers around four imposing pillars, which seamlessly transition between a UCLA sorority house, a Harvard classroom, and a courtroom. Nick Belley's lighting bathes the elegant, off-white set in various bold pastels, neon accents, and rock-concert effects. Mike Tutaj's projections lend the most obviously modern aspect to the design, with a giant smartphone that periodically descends center stage to depict a group chat (complete with emojis and gifs), a FaceTime conversation, a Lyft ride, a YouTube fitness video, and more. With the Delta Nu sisters sipping pumpkin spice lattes and snapping selfies (yes, there is a selfie stick), the picture of a modern college campus is complete. LEGALLY BLONDE isn't exactly a tale as old as time, but it's a fun, girl-power story that makes the transition from screen to stage-and from 2001 to 2018-remarkably well."
---
Phoenix Metro: Contributor Herbert Paine reviews WEST SIDE STORY writing "Speaking of stars...James Gish and Joy Del Valle are captivating as Tony and Maria, the star-crossed lovers-at-first-sight. In fact, they are tremendous. The chemistry of the two is enhanced by their full and sonorous voices, angelic and sublime in tone and range. When they combine for Tonight or One Hand, One Heart, they leave no soul untouched, so honest and credible are their overall performances.
---
Regional Editor Spotlight: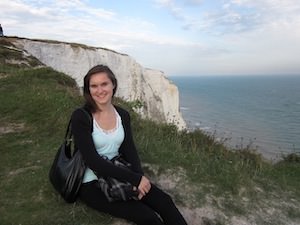 Emily McClanathan
Chicago Contributing Editor
Emily McClanathan works in theater administration in Chicago and holds a Master of Arts in Modern History from King's College London. She is a trained pianist and violinist, and her hobbies include reading, traveling, binge-watching British TV series, and tracking down the perfect cup of tea.
---
Join Team BroadwayWorld! Interested in joining our team, but not exactly sure what we do? All of your questions are answered, along with every open position from guest and student bloggers, Regional Editors, and more! Find out where we have open positions available here!
Related Articles