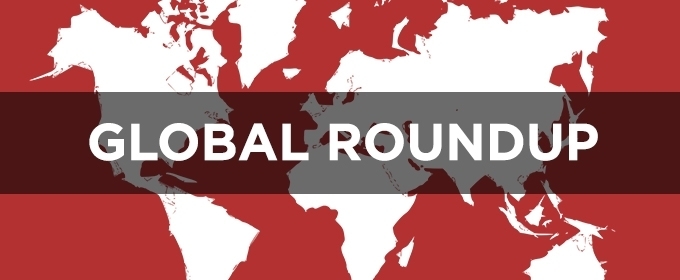 Regional Roundup: Top New Features This Week Around Our BroadwayWorld 11/24 - EVITA, ANNIE, AIDA, and More!
BroadwayWorld presents a comprehensive weekly roundup of regional stories around our Broadway World, which include videos, editor spotlights, regional reviews and more. This week, we feature EVITA, ANNIE, AIDA and More!
Voting is also open for the BroadwayWorld Awards all accross North America!
Voting is also open internationally for
---
Chicago: Contributor Rachel Weinberg reviews THE MINUTES at Steppenwolf Theatre Company. She writes "Under the helm of Artistic Director Anna D. Shapiro, THE MINUTES is one of the finest exercises in ensemble acting that I have ever seen, and all involved are superbly cast. As mentioned, Petersen hits all the right notes as Mayor Superba. Chamberlain finds a great balance between earnestness and curiosity as Mr. Peel. Sally Murphy's impeccable timing and humorous delivery highlight all the eccentries of her character Mrs. Matz. Kevin Anderson is rightfully unsettling as Mr. Breeding, a council member who is disgustingly ignorant and far from politically correct. As Mr. Assalone, Jeff Still gives a performance torn between determination (as he consistently reminds the council clerk how to pronounce his name correctly) and general disengagement when it comes to the actual issues at hand. As Mr. Blake, James Vincent Meredith gives a solid and entertaining performance that I have come to expect from him, making the most of a character that Letts could yet further develop. As the council clerk Ms. Carp, Brittany Burch is undeniably excellent and helps raise the stakes and tension in THE MINUTES with her character's surprising revelations. Overall there is not a weak link in this cast, and they all work together so collaboratively and each find moments to take the spotlight."
---
Washington DC: Contributor Charles Shuwbow reviews ANNIE at the Olney! He writes "You will fall in love with the children, known as the "RED" cast which includes the terrific Annie (Noelle Robinson), an adorable Molly (Kylee Hope Geraci), and rest of the orphans played by Anais Killian, Sofia A. Cruz, Ella Coulson, Emily Scholl, Avery Daniel, and Katherine Ford. They are all so talented but to quibble, (isn't that what critics do?) some seemed too old for their part. It was easy to spot some of the orphans who were as tall as the person who runs the orphanage Ms. Hannigan (played by the talented Rachel Zampelli). Wait till you see her sing "Little Girls"!"
---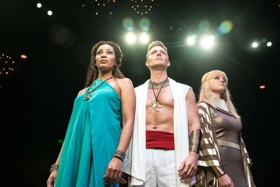 Salt Lake City: Contributor Tyler Hinton reviews AIDA at the Hale Centre. He writes "Director Dave Tinney, lighting designers Michael Gray and Danna Barney, costume designer Jennifer Stapley Taylor, choreographer Jennifer Hill Barlow, and aerial choreographer Ramsi Nia Stoker have all created incredibly strong work here, as has set designer and technical director Kacey Udy. The detail that went into the scenery evoking ancient Egypt is astonishing and beautiful."
---
Arizona: Contributor Herbert Paine reviews THE RIVER BRIDE at Arizona Theatre Company. He writes "Against this backdrop and along the pier from which she feeds the fish, one sister, Helena (Sarita Ocón), goes with the flow, modestly and self-effacingly submitting to the quotidian rituals of village life but nevertheless indulging in romantic flights of fancy. In contrast, Belmira (Paula Rebelo) swims against the current of convention and trusts that a loveless marriage to Duarte (Sean Burgos) will be her ticket to the good life. Playing the role of the dutiful mother, Senora Costa, who wants only the best for both, is Dena Martinez. Enter Moises (Hugo Carbajal), rescued from the river by the girls' father, Señor Costa (Leandro Cano), and whose attentions are immediately (and with an urgency appropriate to the boto's schedule) directed to Helena. All bets are off as envious Belmira, for whom no blessings are ever enough, considers Moises a better catch, even if it's at the expense of her sibling's good fortune."
---
Baltimore: Contributor Daniel Collins reviews THE LION KING at The Hippodrome. He writes "The magic lies in the incredible costumes, which are less costumes and more state-of-the-art marionettes, as costume/mask/puppet designer Julie Taymor and her colleagues find a way to create elephants, giraffes, gazelles, flying birds, cheetahs, hyenas, that are about as close to the real thing as you can get. Just watching the actors become one with their characters, moving like the animals they are playing (right down to the cheetah stretching and washing its paw) is worth the price of admission."
---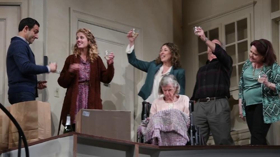 Pittsburgh: Contributor Greg Kerestan reviews THE HUMANS at Pittsburgh Public. He writes "The plot, at surface level, is simple: Brigid Blake (Valeri Mudek) and her slightly older boyfriend Richard Saad (Arash Mokhtar) have just moved into a promising duplex in New York's Chinatown. Brigid's family comes to visit for Thanksgiving: frazzled father Erik (J. Tucker Smith) and religious mother Dierdre (Charlotte Booker), promising attorney and lesbian Aimee (Courtney Balan), and Momo (Cecelia Riddett), the family's matriarch, now riddled with dementia. Their day together goes through predictable ups and downs of the "dysfunctional white family" genre, with money, sexuality, generation gap politics, religion and family secrets coming to the forefront."
---
Sarasota: Contributor Carolan Trbovich reviews EVITA at Asolo Rep! She writes "Costume Designer Brian C. Hemesath was careful to dress Eva as the dignitary with sass while minding the roles of each cast member and fitting them with appropriate attire. Paul Tate DePoo III's masterful sets included a towering staircase that transformed into the balcony from which Eva sings the famous "Don't Cry For Me Argentina". Projection Designer Alex Basco Koch had his work cut out and he was up to the task providing everything from crowd scenes to images on Eva's dresses that were suspended in the air. Lighting Designer Paul Miller and Lighting Programmer Jackson Miller provided ambient lighting that beautifully elevated or toned down the feel of each scene."
---
Regional Editor Spotlight:
Rachel Weinberg
Chicago Contributing Editor
Native Chicagoan Rachel Weinberg has been one of the most frequent contributing critics for Broadway World Chicago over the past three years. She is currently pursuing a Masters in Integrated Marketing Communications from the Medill School of Journalism at Northwestern University. Rachel previously worked on the digital marketing team at Goodman Theatre and spent a season as a Marketing Apprentice for Roundabout Theatre Company in New York City. She earned her undergraduate degree in Communication and Spanish from the University of Pennsylvania. You can find her online at RachelWeinbergReviews.com and follow her on Twitter @RachelRWeinberg.
---
Join Team BroadwayWorld! Interested in joining our team, but not exactly sure what we do? All of your questions are answered, along with every open position from guest and student bloggers, Regional Editors, and more! Find out where we have open positions available here!