Photo Flash: THE PLAY THAT GOES WRONG Kicks Off Holiday Season with Pie From Master Baker Ellen Gray
Nationally acclaimed pie maven Ellen Gray knows a thing or two about pies, and she shares that knowledge and expertise from the helm of one of New Jersey's most popular bakeries, while also teaching, blogging and more on "No More Mr. Nice Pie." As someone always seeking to share the comfort of the perfect pie, on Wednesday, November 15, 2017, Ellen delivered an assortment of all the right pies to the cast and crew of Broadway's The Play That Goes Wrong, at the Lyceum Theatre in Manhattan (149 W. 45th St., New York, NY).
"The manager of the Lyceum Theatre, Heidi Giovine, is a friend of mine who is constantly doing kind things for others," comments Ellen Gray. "I wanted to do something to express my thanks, and to show my support for the rigors of helping to stage eight shows a week. Also, this is one of my favorite shows-the perfect cure for whatever ails you. It's not star-driven, it is a true ensemble. How refreshing is that?" To help provide a little sunshine, Ellen offered to bring some pre-Thanksgiving pie cheer between the matinee and evening performance this week, and the answer was a resounding yes!
Ellen then brought an assortment of pies to the cast and crew of The Play That Goes Wrong at the Lyceum Theatre, between the matinee and evening performance on Wednesday. The Play That Goes Wrong was written by Henry Lewis, Jonathan Sayer and Henry Shields, directed by Mark Bell, and with Original Music by Rob Falconer. Ellen's pie recipients included the show's cast (Ashley Bryant, Clifton Duncan, Mark Evans, Jonathan Fielding, Amelia McClain, Harrison Unger, Akron Watson, Preston Boyd, Ned Noyes, Ashley Reyes, and Katie Sexton), as well as its crew and front of house staff, including Matty DiCarlo (PSM), Mike Taustine (Box), Rhianna Bryceland (Box), Shari Teitlebaum (Box), Mark Diaz (House Carp), Paul Davila (House Elec), and Leah Nelson (House Props).
To treat the whole company and its 45 members, Ellen baked up half a dozen delicious homemade pies. In keeping with the theme of The Play That Goes Wrong, she baked a few mouthwatering traditional Fall seasonal pies (Apple and Tipsy Pumpkin), along with a few other delicate and delicious combinations including Wild Nut and Rhubarb/Cherry. "There's something terribly wrong about rhubarb and cherries in November," admits Ellen. "But there was also something refreshing about a touch of spring in autumn. It also helps that I came across some fresh rhubarb this week at a local farmers market!"
The Play That Goes Wrong was the perfect choice as recipient for Ellen's pie-delivery, since for Ellen, the hilarious comedy perfectly mirrors Thanksgiving week in the bakery! In The Play That Goes Wrong, the 'Cornley Polytechnic Drama Society' struggles amidst a series of near-derailments to present their 1920s murder mystery to an eager audience. Meanwhile, "in the bakery, we are challenged with unforeseen and unplanned obstacles as well, even as we forge ahead to meet our Thanksgiving deadlines!" Ellen points out. "Work in a bakery is often strenuous and extremely deadline-driven. Luckily, The Play That Goes Wrong provides an escape, through laughter, from reality and everyday stress! And, much like the company in The Play That Goes Wrong, we are an ensemble in the kitchen, constantly taking our cues from each other."
Ellen's pie delivery to The Play That Goes Wrong wasn't her first Broadway pie delivery. In 2016, she also provided pies to the cast of Hamilton on March 14, 2016, on "Pi Day" when Lin-Manuel Miranda was still performing with the show. She delivered a baker's dozen of pies to the Hamilton company, in celebration of both Pi Day and the anniversary of March 14, 1776, when Alexander Hamilton was appointed captain of the 1st battalion, 5th Field Artillery Unit of the United States Army. (As a bit of trivia, this unit is the oldest still existing today, and the only one remaining from the Revolution.)
"I have always tried to squeeze in a donation of pies to a food bank or charity during the holiday season," adds Ellen. "It's a tiny gesture but it forces me to stop and think about the world outside the bakery. My passion for pie baking is driven by a passion for sharing. It is incredibly rewarding to reach out, beyond the retail-driven work environment. I always think of pie baking as a relatively humble skill-I'm not doing anything remarkable, but it is extremely gratifying."
For Ellen's next outreach to the Broadway community, she is hoping to make a donation to Broadway Cares/Equity Fights AIDS as well, hopefully during the Christmas season, and is also currently looking for the opportunity to further contribute to a suitable soup kitchen within the arts community, in addition.
About Pie Expert Ellen Gray:
Ellen Gray knows a thing or two about pies, as she commands confectionary perfection from the helm of one of New Jersey's most popular bakeries. Today, even as the holidays approach, Ellen's pies are flying out the door faster than ever before. But she's not just baking. She also teaches baking and pie-making classes, creates new recipes, and continues to post tips, travelogues, recipes, and seasonal Pie-kus on her popular blog, "No More Mr. Nice Pie" (http://www.nomoremrnicepie.com).
Photos courtesy of THE PLAY THAT GOES WRONG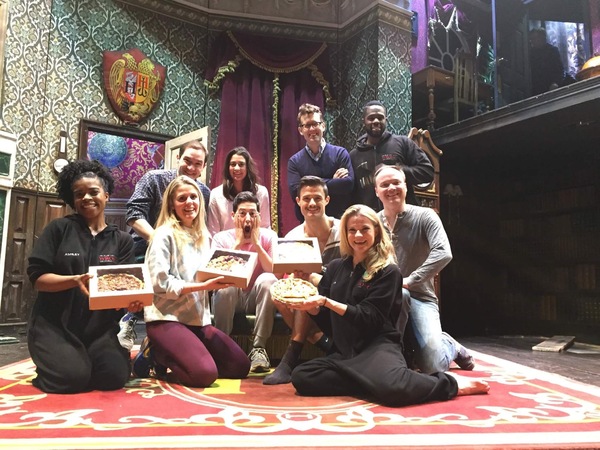 Pies for the cast and crew of the show!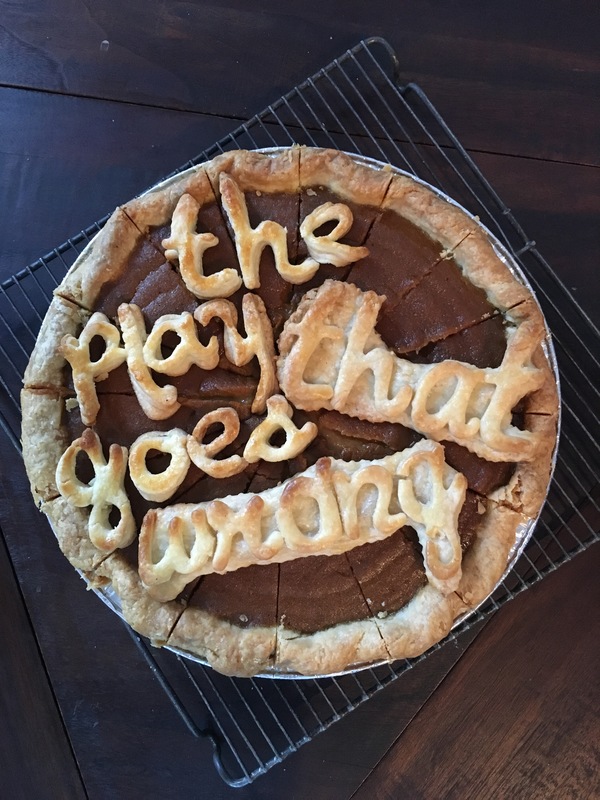 The Pie That Went Right for The Play That Goes Wrong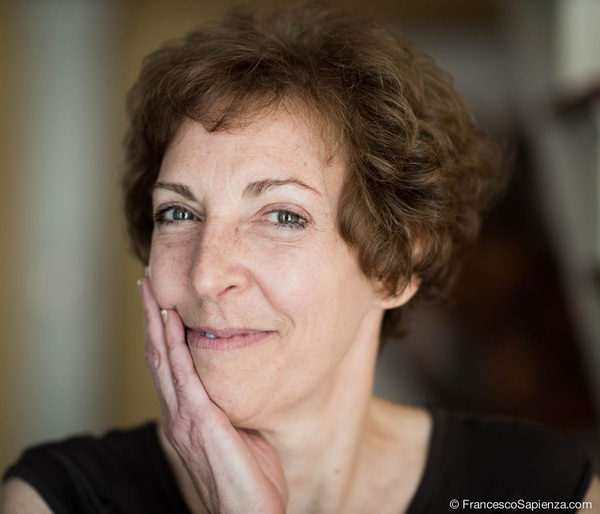 ElLen Gray, pie expert; Photo credit: Francesco Sapienza
Featured This Week on Stage Door
Shoutouts, Classes, and More from Your Favorite Broadway Stars
Related Articles
More Hot Stories For You
NYTW Gala To Celebrate 25th Anniversary Of RENT Featuring Original Cast Members Anthony Rapp, Adam Pascal, Idina Menzel, and More!
Today marks the 25th Anniversary of RENT's first performance at New York Theatre Workshop. The NYTW has announced that its 2021 Annual Gala will celeb...

Final Lineup Announced For SAVE BIRDLAND: A Celebration Of Music, History, And Community
The fundraising campaign for Birdland Jazz Club will conclude on January 24th with a free streaming concert titled Save Birdland: A Celebration of Mus...

VIDEO: Broadway Jumps on the BRIDGERTON Musical Bandwagon
The new Netflix series Bridgerton has been gaining popularity since its premiere in December of 2020. Part of that popularity comes from the clever mi...

VIDEO: Chita Rivera, Bebe Neuwirth, and More Perform 'All That Jazz' During SAVE BIRDLAND Fundraiser
Notables from President Bill Clinton and Whoopi Goldberg to musicians Wynton Marsalis and Sting joined together on Sunday, Jan 24th to "Save Birdland"...

VIDEO: On This Day, January 24- Happy Birthday, Daveed Diggs!
For his performance in Hamilton, Daveed won the 2016 Tony Award for Best Featured Actor in a Musical, as well as a 2016 Grammy Award for the cast albu...

RENT Original Cast and Crew Members Reflect on the Show's Premiere and Losing Jonathan Larson, 25 Years Ago Today
On January 25, 1996, Rent premiered at the New York Theatre Workshop. Earlier that morning, the show's writer and creator, Jonathan Larson, died of an...