Photo Flash: Paula Leggett Chase Helps Leman Manhattan Prep Students Rehearse for DAMN YANKEES
Broadway stage actress Paula Leggett Chase has been working with middle and high school students at the Léman Manhattan Preparatory School in Lower Manhattan as they prepare for the school's spring production of DAMN YANKEES. Paula will make three visits to the school to work on vocals and choreography with the students. Check out the photo below of her choreographing the song, "Shoeless Joe"!
After working with the kids three times, Paula will return to brush up the choreography before opening night. In addition, she met with the entire cast to talk to them about her career journey, perform a song and answer questions that the students had about working as an actor/performer.
"Paula challenges our students and inspires them to do their best work at every rehearsal," said Lisa Nowicki, Director of Fine Arts at Léman. "It's amazing what she has done with our kids in such a short amount of time and it has been very gratifying to witness their excitement and progress from week to week." Nowicki continued, "This is a really great opportunity because even though we're in New York City and the students can go to shows any time they want, they rarely get an opportunity like this to actually work with a Broadway professional."
"Working with Paula was very inspirational and gave me insight into what a professional experience is like," said Louis Harrison, grade 12, who will be attending the American Musical and Dramatic Academy as an acting major in the fall.
DAMN YANKEES will run April 3 & 4 at the Léman Manhattan Preparatory School Theater, 1 Morris St. in the Financial District. It will be directed by Mariah Sanford-White (the Upper School Performing Arts Teacher). Meena Jahi (Upper School Music and Chorus Teacher) and Ryan John are the Music Directors. The show will feature 6th through 12th graders.
Photo Credit: Veronica Norton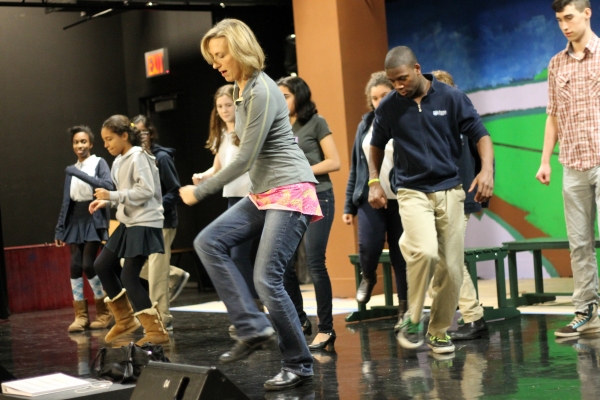 Paula Leggett Chase working with middle and high school students at the Leman Manhattan Preparatory School in Lower Manhattan