Photo Flash: Clubbed Thumb's Summerworks 2009 Fest Of New Plays
Obie-Award winning Clubbed Thumb proudly presents Summerworks 2009, their 14th annual festival of new plays, from June 3 to 27, 2009, at the Ohio Theatre, located at 66 Wooster Street (between Spring & Broome) in Soho, NY.
The festival's three shows will run consecutively, Sundays-Saturdays at 8pm (no shows on Wednesdays). punkplay [sic], written by Gregory Moss and directed by Davis McCallum, plays June 7 - 13, Precious Little, written by Madeleine George and directed by Hal Brooks, plays June 14 - 20 and Telethon, written by Kristin Newbom and directed by Ken Rus Schmoll, plays June 21 - 27. Tickets are $18 for adults and $15 for students and can be purchased online at http://www.TheaterMania.com or by calling 212-352-3101. For more information about Clubbed Thumb call 212-802-8007 or visit http://www.ClubbedThumb.org.
A raucous opening night theatrical celebration entitled 'O*H*I*O!' will take place on Wednesday, June 3 from 8pm to 11pm. Susan Bernfield, David Herskovits, Melanie Joseph, Robert Lyons, Kristin Marting and more will toast (and roast) a beloved institution and home. Free admission for all.
punkplay (June 7, 8, 9, 11, 12, 13)
Written by Gregory Moss (2006-2007 Lucille Lortel Playwriting Fellowship) and directed by Davis McCallum (Queens Boulevard--Signature, Back Back Back--The Old Globe, Elliot: A Soldier's Fugue--2007 Pulitzer Finalist). Featuring Michael Zegen, Alex Anfanger, Matt Burns and Elena Chang.
It's morning in America in the 1980s. Mickey, a thirteen-year-old suburbanite, meets angry runaway Duck and the two boys attempt to reinvent themselves through punk rock. A snapshot of Reagan-era America, punkplay is a mix tape tribute to the excesses and energy of adolescence.
Precious Little (June 14, 15, 16, 18, 19, 20)
Written by Madeleine George (founding member of 13P) and directed by Hal Brooks (Obie Award Winning No Child, Thom Pain--Pulitzer Finalist, What Then--Clubbed Thumb). Featuring Emily Ackerman, Randy Danson and Kelly McCreary.
When Brodie, a gifted professor of linguistics and a lesbian, learns the child she's carrying may have a genetic abnormality, she returns again and again to the zoo, where she finds unexpected comfort sitting at the cage of a strange, compelling gorilla. A play that looks at the limits of language -- and what lies beneath its surface.
Telethon (June 21, 22, 23, 25, 26, 27)
Written by Kristin Newbom and directed by Obie winner Ken Rus Schmoll (Telephone--Foundry Theatre, The Internationalist--Vineyard, Amazons and Their Men--Clubbed Thumb). Featuring Obie winner Birgit Huppuch, Greg Keller, Christina Kirk, Debargo Sanyal and Andrew Weems.
After each of their seasonal ad-hoc fundraising drives, the staff and patients of a group home for the disabled meet at Dunkin' Donuts to celebrate, detox, squabble and flirt. Out of their savage camaraderie, something like a family begins to emerge.
Clubbed Thumb commissions, develops and produces funny, strange, and provocative new plays by living American writers. Since its founding in 1996, the company has earned 4 OBIES and presented plays in every form of development, including over 70 full productions. Clubbed Thumb is an incubator for artists and their work, staging plays to critical acclaim while supporting an ever-growing creative community.
Clubbed Thumb is dedicated to supporting the work of emerging writers and does so by commissioning new work, offering a range of development programs and mounting full productions. Their plays vary in style and content, but are always intermissionless, 90 minutes or under, and previously unproduced in New York City. They feature substantial and challenging roles for both men and women, are questioning, formally inventive, decidedly theatrical and somewhere in the text they contain a sense of humor.
In 2005, they initiated The Clubbed Thumb Biennial Commission, which awards a playwright $15,000 to write a play for Clubbed Thumb. In May 2001, Clubbed Thumb was awarded an OBIE grant, Off-Broadway's highest honor, in recognition of their body of work. At the 2006 OBIES, Clubbed Thumb's production of What Then was honored twice: Meg MacCary received an OBIE for her performance and Rinne Groff received an OBIE grant as an emerging playwright. In 2007, Playscripts published Funny, Strange, Provocative, an anthology of plays produced by Clubbed Thumb. In 2008, Rebecca Wisocky won an OBIE for her performance in their production of Amazons and their Men by JorDan Harrison.
Trains: R, W to Prince St. or 6, C, E to Spring St.

All photos by Carl Skutsch

Alex Anfanger (on floor) and Michael Zegen

Alex Anfanger and Michael Zegen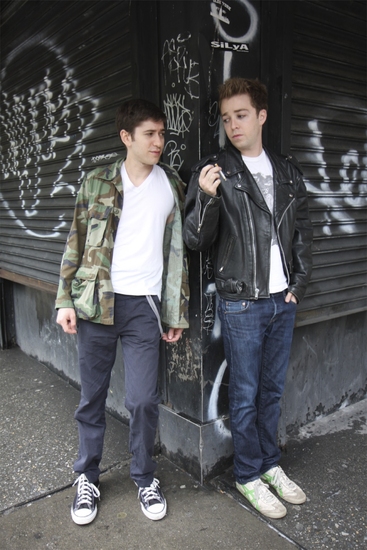 Alex Anfanger and Michael Zegen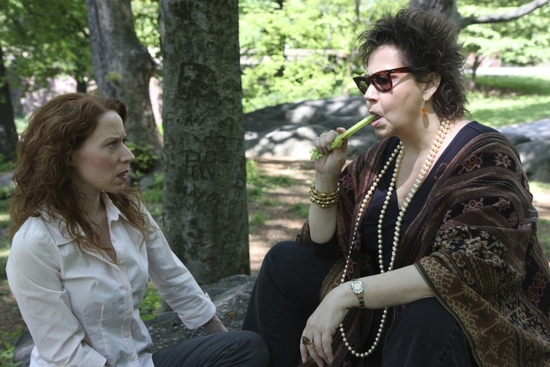 Emily Ackerman and Randy Danson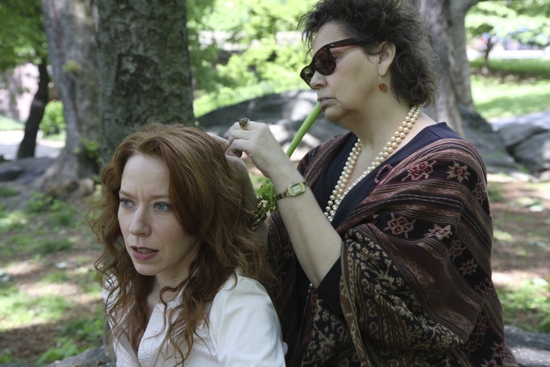 Emily Ackerman and Randy Danson

Emily Ackerman and Randy Danson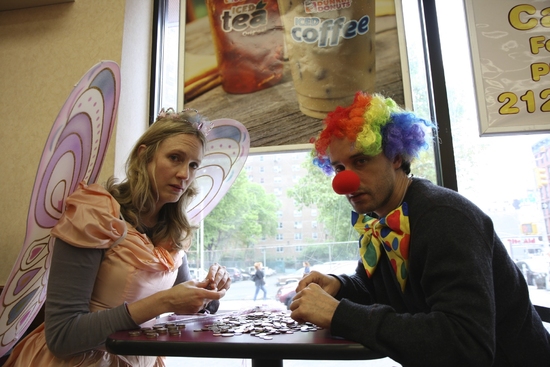 Christina Kirk and Greg Keller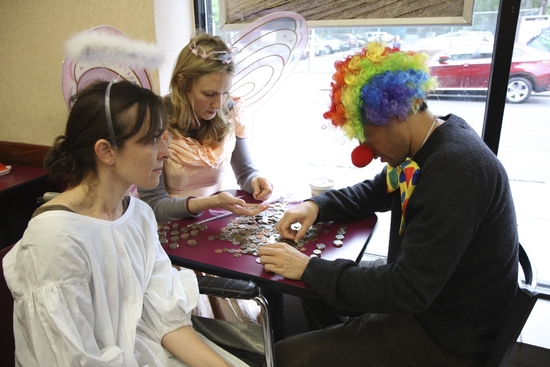 Birgit Huppuch, Christina Kirk and Greg Keller

Birgit Huppuch, Christina Kirk and Greg Keller