Click Here for More Articles on PUFFS
PUFFS Will Offer Digital Download, Script And Performance Rights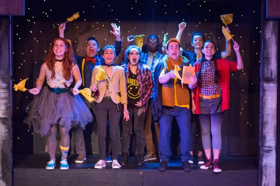 PUFFS or: Seven Increasingly Eventful Years at a Certain School of Magic & Magic, New York's long-running comedy, has announced that the play be available for licensing and the script will be available for purchase on Friday, November 22, the same day that fans can download PUFFS: Filmed Live Off Broadway on iTunes, Amazon and other digital platforms.
PUFFS: Filmed Live Off Broadway, which originally premiered with a two-day national screening from Fathom Events, can also be streamed via BroadwayHD, which marks the first time in theatrical history a show can be seen online while simultaneously running in New York. Bonus material includes a conversation with members of the cast and creative team about conceiving the magic onstage. For information on purchasing the script, licensing the show and downloading the filmed version, in addition to purchasing tickets to the New York production, please visit www.PuffsthePlay.com.
PUFFS, currently enjoying a record-breaking run at New World Stages (340 West 50th Street), recently celebrated its landmark Two Years Anniversary as an Off Broadway hit by putting a new block of tickets on sale through September 29, 2019. From its origins at the Peoples Improv Theater in 2015 to its official Off-Broadway opening at the Elektra Theater in 2016, and now entertaining over 100,000 audience members worldwide, PUFFS continues its remarkable journey. As its international profile and audience response has exploded, the Australian debut of PUFFS - the show's first-ever global expansion - made history by becoming Melbourne's longest running play of the last century.
PUFFS - presented by Tilted Windmills Theatricals (John Arthur Pinckard & David Carpenter) - takes a hilarious second look at everyone's favorite world of wizards through the eyes of the Puffs, a lovable group of magical misfits. After the transfer to New World Stages last summer, the sold-out sensation was hailed as "funny and affectionate," by Time Out New York, which added "there's heart as well as humor here." The New Yorker says "the audience nearly weeps with joy." According to the SYFY Channel, "to say Puffs is a lot of fun just might be an understatement. You'll laugh a lot, but the show has its heartfelt and slightly serious moments too." It was called "a fast paced romp" by The New York Times. Mugglenet recently exclaimed: "Go buy a ticket immediately. I promise you will not regret it." The Wall Street Journal called it "an alternate narrative from the underdog." PUFFS is written by Matt Cox and directed by Kristin McCarthy Parker.
When PUFFS opened at the Elektra in 2016 after its original run at New York's Peoples Improv Theater, it immediately started gaining national media attention. The show was praised by Entertainment Weekly as "packed with knowing winks to its source material and a heart all its own" and by The Huffington Post for its "rip-roaring staging, wit and delightful theatrical craft." MTV News called it "equally laugh-out-loud funny and achingly tender." Hypable said "come prepared to laugh, but also to cry. The draw is Matt Cox's brilliant script and the cast's comedic chops." According to Nerdist, "As surprised as I was by how much I laughed at Puffs, I was all the more surprised at how it actually moved me."
For seven years a certain boy wizard went to Wizard School. This, however, is not his story. This is the story of The Puffs... who just happened to be there too. This is a play for anyone who has never been destined to save the world. Puffs, or: Seven Increasingly Eventful Years at a Certain School of Magic & Magic is a Potter inspired comedy for anyone who has ever felt like a secondary character in someone else's story. The play gives you a new look at a familiar adventure from the perspective of three new heroes just trying to make it through magic school.
The full company currently features Lacy Allen, Michael Axelrod, Madeleine Bundy, Jessie Cannizzaro, Nick Carrillo, Broderick Clavery, Anna Dart, Kullan Edberg, Alex Haynes, Criena House, Reginald Keith Jackson, Jake Keefe, Sonia Mena, Andy Miller, Zac Moon, Keith Rubin, Stephen Stout, Leanne Velednitsky and Harry Waller. PUFFS has production and costume design by Madeleine Bundy, lighting design by Herrick Goldman, sound design by Matt Cox and original music by Brian Hoes. Daniel Kuney/KGM Theatrical serves as general manager.