New York Theatre Barn Honors Sheilah Rae With A Lifetime Achievement Award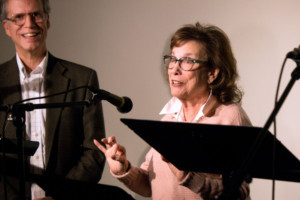 New York Theatre Barn announced it is honoring its co-founder, Sheilah Rae, with the company's first Lifetime Achievement Award. The award recognizes her exceptional contributions to musical theatre as a writer, composer, lyricist and performer for over 50-years, and her co-founding and outstanding service and vision for New York Theatre Barn (NYTB) for more than a decade. Joe Barros, artistic director of NYTB, and Rob Wyse, board president of NYTB, made the announcement at the February 4th New Works Series. Each noted her deep understanding of the journey from page to stage.
Ms. Rae's extraordinary achievements include the following: cast member in the original Broadway productions of Applause and Fiddler on the Roof, bookwriter/lyricist of the all-female musical I Married Wyatt Earp produced Off-Broadway by New York Theatre Barn and Prospect Theater Company at 59E59 Theatres (written with Michele Brourman and Thomas Edward West), bookwriter/lyricist of The Belle of Tombstone produced by New York Theatre Barn at the Museum of Jewish Heritage (revised version of I Married Wyatt Earp), created special New York Theatre Barn events as fundraisers - the most impactful: A Conversation With Barry Manilow, instrumental in securing annual funding for NYTB's Choreography Lab, and co-bookwriter/lyricist of Funny, You Don't Look Like A Grandmother (published by Samuel French, written with Lois Wyse and Robert Waldman and based on Wyse's New York Times Best-Selling Book).
Her contributions to New York Theatre Barn have most recently culminated with the Choreography Lab presentation of Sheilah's newest musical, The Helena Project, a true story celebrating the life and achievements of a Holocaust survivor saved by dance, co-written with Debra Barsha.
Sheilah's friend Barry Manilow said, "No one deserves a lifetime achievement award more than my dear friend Sheilah Rae. Sheilah and I have been friends for many years. She's one of the most talented people in my life. She's a true artist; always coming up with great ideas, interesting stories and wonderful lyrics. All of us who have worked with her know what a great, generous and kind collaborator she is. But most of all she's a wonderful friend. My deepest congratulations go to Sheilah with my everlasting love."
New York Theatre Barn will honor Ms. Rae at a celebration ceremony on May 6th, 2019. More details to be announced soon on New York Theatre Barn's website: www.nytheatrebarn.org.
Now in its 12th season, New York Theatre Barn is a Manhattan-based non-profit theatre company dedicated to incubating, investigating, and producing new musicals that tell untold stories. Theatre Barn's core programs include the New Works Series - exclusive pre-premieres incubating new musicals, the Choreography Lab - the only platform where choreographers and writers collaborate on movement for new musicals during incubation, and unique residency opportunities which recently resulted in a developmental production of the musical Sam's Room, and a reading of the musical Eastbound which is performed in English and Mandarin. For more information: www.nytheatrebarn.org.