Click Here for More Articles on NY Public Library for the Performing Arts
NY Public Library's Annemarie van Roessel on Rare Portraits from the Golden Age of Circus
BroadwayWorld continues our exclusive content series, in collaboration with The New York Public Library for the Performing Arts, which delves into the library's unparalleled archives, and resources. Below, check out a piece by Annemarie van Roessel, Assistant Curator of the Billy Rose Theatre Division of The New York Public Library for the Performing Arts, on: Rare Portraits from the Golden Age of Circus.
---
Early this summer, I pulled down an unfamiliar old portfolio from a corner of the oversize special collections shelves in the Billy Rose Theatre Division. To my astonishment, it contained 46 extraordinary large-format photographs-- what I affectionately call family portraits--of twenty differeNT American circus troupes, each photo meticulously identified by company and location, by exact day, all dated between 1928 and 1936. The timing of this discovery, just a few weeks after the final performance of the Ringling Bros. and Barnum & Bailey Circus right here in New York seemed especially poignant. Our Division has always had a small but strong collection of American circus-related materials and I was captivated by this unheralded collection.
Neither I nor my colleagues had ever seen these photos before, and, of course, the questions started unspooling: Where did this collection come from? Who took these photographs? Were they catalogued? What I soon pieced together from a close reading of the images, the call number, and a vintage NYPL stamp on the back of each image, was that these photographs were a gift to The New York Public Library's Theatre Collection in 1944, as a part of our much larger Harry Baugh circus collection.
My research suggests that these photographs might be one of the largest-known public collections of rare circus photographs taken by a very important photographer named Edward J. Kelty. We are fortunate to have in our collection a wonderful 2002 exhibition catalog on Kelty's work, Step Right this Way: the photographs of Edward J. Kelty, edited by Allen Siegel and Miles Barth, who called Kelty the "Cecil B. DeMille of still photography." With that background and some additional historical research, the collection is beginning to come into focus.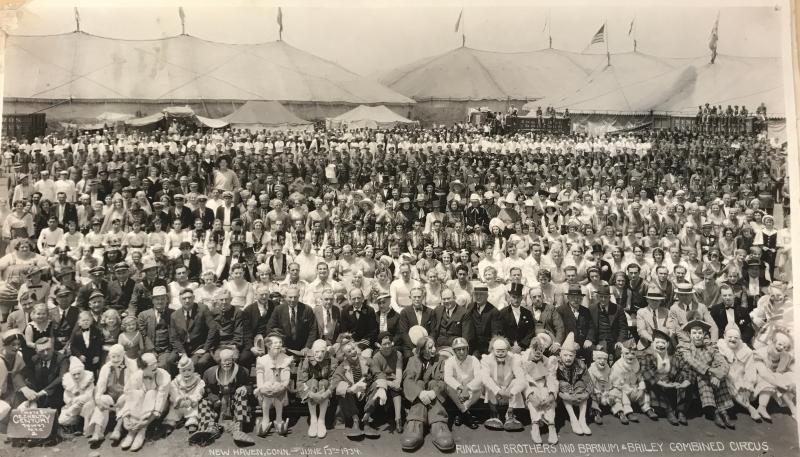 After World War I, Kelty made his main living taking traditional banquet and party photographs for his Century Flashlight Photographers Company, based in Midtown here in New York City. But when spring turned to summer, he'd pack his custom-made large-format camera and portable darkroom into the back of a truck and chase circus troupes around the East Coast and Midwest, taking some of the most vivid photographs known to circus historians. One of our photographs shows the entire cast and crew of the Ringling Bros Barnum and Bailey Combined Circus stretching far into the distance-- a master feat of people-wrangling.
As I looked more closely, I began to appreciate the spirit of community that was so apparent in these portraits. So often I saw kids, clowns, and dogs in the front row, lovely trapeze artists, contortionists, and strongmen in the middle, the band and the porters in the back, with ticket sellers, animal trainers, cowboys and Native Americans, bearded ladies and giant men, all side by side. I find these itinerant circus families--diverse in so many ways and living outside the norms of society--deeply compelling.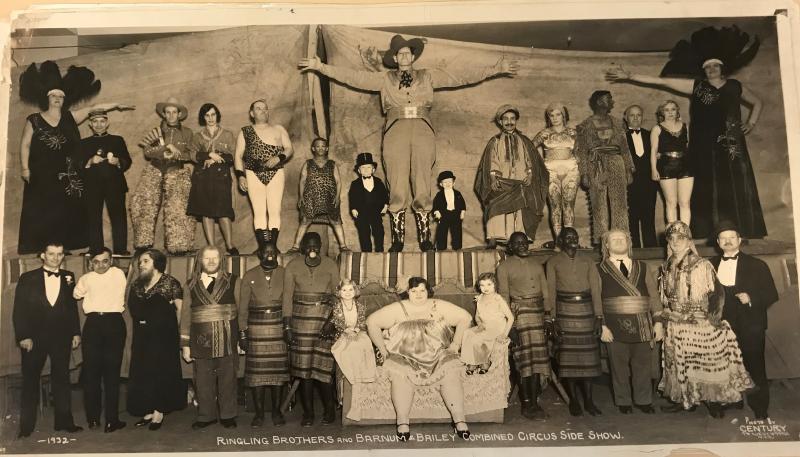 Along with the Ringling Bros. family, I also encountered the names of other important troupes: the Hagenbeck-Wallace Circus, the Sells-Floto Circus, Sam B. Dill's Circus, the Robbins Brothers Circus, the Cole Bros.-Clyde Beatty Circus, the Milliken Bros.Circus, and many others.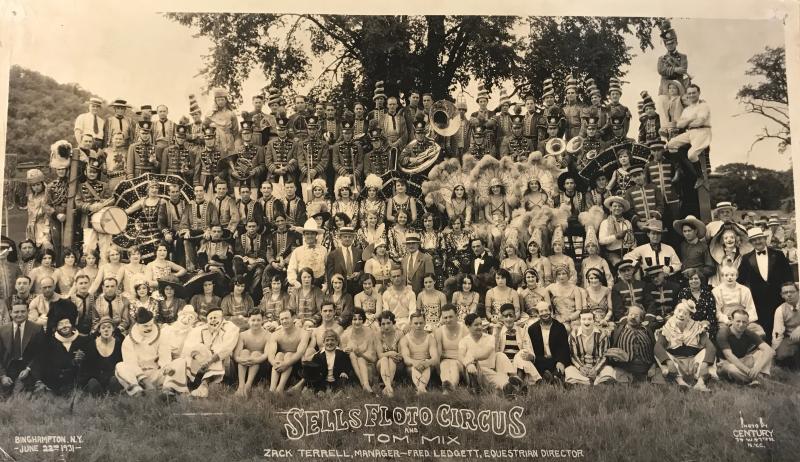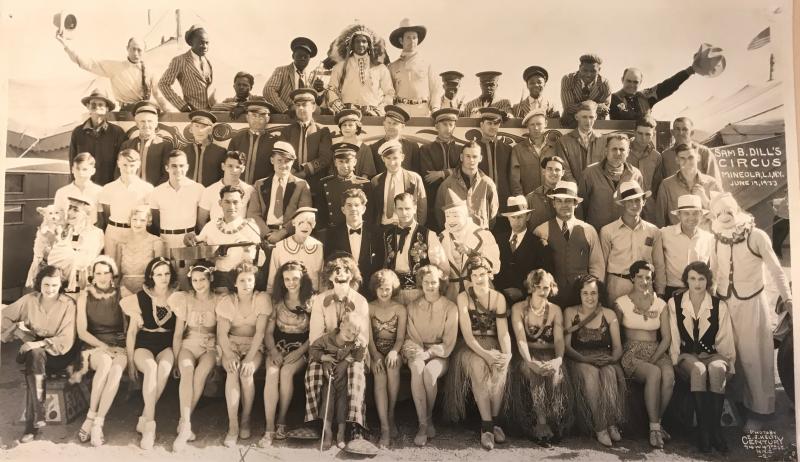 When I first discovered these photos, word got out and I had colleagues stopping by, asking to take a look, and everyone had a favorite performer. Each time I look at one of these images, I notice a new face, a new detail, and I admired the pride, dignity and camaraderie. I wonder about the stories they suggest: how did these people come together, what were their relationships like, and what happened to them in the years after these portraits were taken, especially those photographed during the depths of the Great Depression?
Sadly, shell shock from service in World War I, a struggle with alcohol, a split from his family in 1933, and hardships of the Depression took a terrible toll and by the early 1940s, Kelty had sold off his cameras and negatives. He died in obscurity in Chicago in 1967, never taking another professional photograph. So now his rare photographic prints, which exist in scattered private collections and institutional archives and museums, are his great legacy.
We are still trying to solve the last big riddle: how did these photos come to be in Harry Baugh's collection? Baugh spent much of his life in the circus world and must certainly have met Kelty that way. Perhaps he bought these particular photos to help Kelty financially when times were getting tough? We have more research ahead of us.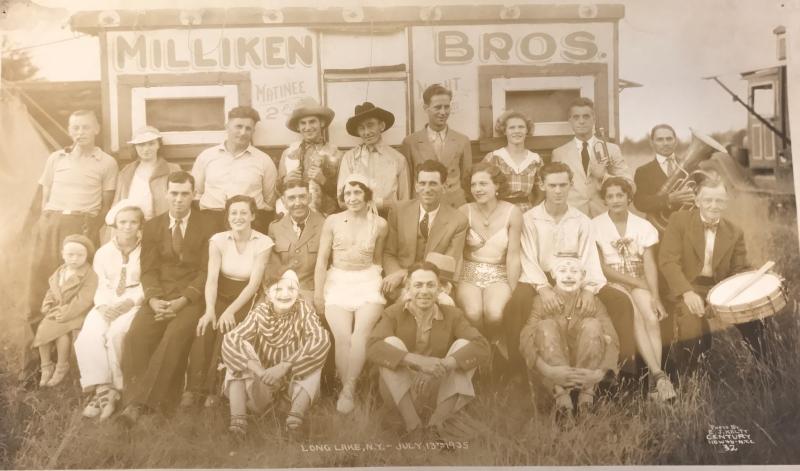 Meanwhile, we are working hard to show this collection some love. Not only are the images now carefully arranged by troupe and date, foldered and boxed, but they are in the capable hands of our photograph conservator for much-needed repair and cleaning. I've also added the collection to our online library catalog so it can be found by our patrons. We have hopes to exhibit these photographs at the library when they're back from conservation, knowing they'll be of enduring interest for circus fans, and other researchers and curators. We are so delighted to bring this collection back into the limelight.
Photos courtesy of The New York Public Library for the Performing Arts