Martha Graham Dance Company Presents NEXT@Graham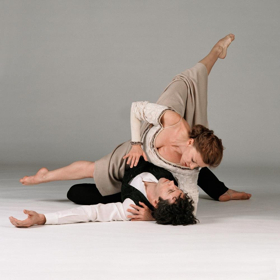 The latest addition to the dynamic Martha Graham Studio Series showcases the work of Graham Family members, including emerging and established Graham alumni choreographers. NEXT@Graham is curated by former Graham Company principal dancer Tadej Brdnik. Performances will take placeWednesday and Thursday, May 2-3, at 7pm, at the Martha Graham Studio Theater, 55 Bethune Street, 11th floor, in Manhattan.
Wednesday, May 2 / 7pm
Eliot Smith Dance / Maggie Boogaart (England/France)
Myers Choreography (NY)
Kanopy Dance Company (WI)
Karen Opper and Richard Oaxaca (OH)
Dance Works / Darshan Singh Bhuller (NJ/England)
Thursday, May 3 / 7pm
Caterina Rago Dance Company (NY)
Dance Theatre (NY)
Kanopy Dance Company (WI)
Budge Dance (NY)
Dance Works/Darshan Singh Bhuller (NJ/England)
The May 3 program also includes Sospiri by 2018 Featured Guest Artist Jacqulyn Buglisi/Buglisi Dance Theatre, performed by Virginie Mécène and Kevin Predmore.
Tickets are $25 in advance/$30 at the door (students $15 in advance/$20 at door), and can be purchased online at marthagraham.org/nextatgraham or by phone at 212-229-9200.
About Jacqulyn Buglisi (Buglisi Dance Theatre) - 2018 Featured Guest Artist
In her four decade career as a choreographer, artistic director, dancer, and master teacher, Jacqulyn Buglisi has made an indelible impact on the field of dance. Using literature, poetry, and heroic archetypes, Buglisi crafts socially relevant dances that reveal the visceral strengths, humor, and exquisite vulnerabilities of the individual.
The award-winning Buglisi Dance Theatre (BDT) is renowned for multi-disciplinary dances that promote awareness of social issues and embolden audiences to recognize their own humanity. Now celebrating its 25th anniversary, BDT was co-founded in 1993 by artistic director Jacqulyn Buglisi, Terese Capucilli, Christine Dakin, and Donlin Foreman, who performed together as principal dancers of Martha Graham Dance Company. BDT is known to New York audiences for its seasons at The Joyce Theater, New York Live Arts, Ailey Citigroup Theater; and its public school residencies; its tours to the Kennedy Center, Jacob's Pillow, Vail International Dance Festival, and at the Melbourne State Theater, Prague International Dance Festival, and the Rovereto Festival, Italy, among others. The company's repertoire of more than 100 original works is archived in the Jerome Robbins Dance Division of the New York Public Library for the Performing Arts, and has been performed by such companies as Alvin Ailey American Dance Theater and Richmond Ballet. Governor Andrew Cuomo and Mayor Bill de Blasio have awarded BDT proclamations for uniting the community through the Table of Silence Project 9/11, an annual performance ritual for peace at Lincoln Center seen in 129 countries via livestream. buglisidance.org
About the Martha Graham Dance Company
The Martha Graham Dance Company has been a leader in the development of contemporary dance since its founding in 1926. Today, the Company is embracing a new programming vision that showcases masterpieces by Graham alongside newly commissioned works by contemporary artists. With programs that unite the work of choreographers across time within a rich historical and thematic narrative, the Company is actively working to create new platforms for contemporary dance and multiple points of access for audiences.
Since its inception, the Martha Graham Dance Company has received international acclaim from audiences in more than 50 countries throughout North and South America, Europe, Africa, Asia, Russia, and the Middle East. The Company has performed at the Metropolitan Opera, Carnegie Hall, the Paris Opera House, Covent Garden, and the John F. Kennedy Center for the Performing Arts, as well as at the base of the Great Pyramids in Egypt and in the ancient Herod Atticus Theatre on the Acropolis in Athens. In addition, the Company has also produced several award-winning films broadcast on PBS and around the world. www.marthagraham.org.
Photo by Kristen Lodoen Linder
Related Articles

More Hot Stories For You
VIDEO: Jennifer Hudson Performs 'Bridge Over Troubled Water' as Tribute to John Lewis
Jennifer Hudson was one of the stars who took part in CBSa??s John Lewis: Celebrating a Hero TV special, which aired on Tuesday at 10 p.m. ET....

Check Out the Original Broadway Cast of HAMILTON's Latest Projects
What have the original cast members, ensemble members, swings, and standbys of Hamilton been up to lately? Check out their latest projects!...

Disney Employee Pulls the Curtain Back on What it is Like to Work at Disney World During the Pandemic
Rolling Stone has reported on a conversation they had with one Disney World employee, pulling the curtain back on issues of safety, whether social dis...

VIDEO: On This Day, August 6- HAMILTON Opens On Broadway!
On this day in 2015, Hamilton officially opened on Broadway at the Richard Rodgers theater!...

Disney's Live-Action MULAN Will Be Released on Disney+ This September for an Extra Fee
As BroadwayWorld previously reported, the release of Disney's live-action Mulan has now been delayed several times, but a new plan for its arrival has...

Zach Braff Shares Tattoo Tribute to His Friend, Nick Cordero
Zach Braff is remembering his friend, the late Nick Cordero, in a special way. Tattoo artist Doctor Woo shared a photo of his depiction of Nick in Bul...