Lucie Arnaz, Robert Klein to Benefit The Actors Fund with Reunion Concert of THEY'RE PLAYING OUR SONG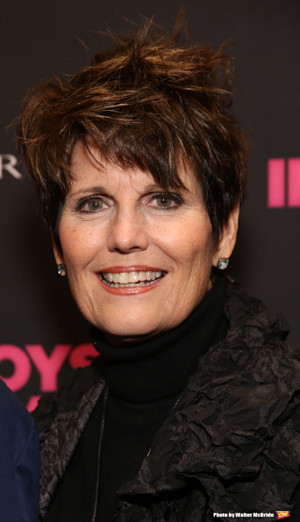 The Actors Fund announced today a 40th Anniversary reunion benefit concert of the 1979 hit Broadway production of They're Playing Our Song. The concert will be held on Monday, February 11th at 7:30 pm at the Music Box Theatre (239 West 45th St.) and will star the Broadway cast members Lucie Arnaz as "Sonia Walsk" and Robert Klein as "Vernon Gersch".
Featuring a book by three-time Tony Award winner Neil Simon and a score by Academy Award winners Marvin Hamlisch and Academy Award winner Carole Bayer Sager, They're Playing Our Song was one of the biggest hit musicals, playing for over 1000 performances on Broadway at the Imperial Theatre before touring the country and the rest of the world. The concert will take place 40 years to the day of the original Broadway opening.
The concert-directed by veteran award-winning director/choreographer Chet Walker and featuring a full orchestra under the musical direction of Larry Blank-will be a benefit for The Actors Fund.
"To be asked to revisit one of the best theatrical memories of my career, and get a chance to have those Neil Simon words come out of my mouth again and bring Marvin and Carole's unforgettable music back to the stage was just too good an invitation to turn down," said Lucie Arnaz. "The original cast forty years after its Broadway opening? Truly rare. Maybe even historic. Best of all we will be packing the house to benefit The Actors Fund, especially Song's original 'keyboard fingers' Fran Liebergal. Robert Klein and I do laugh, though, that instead of the love story of Marvin Hamlisch and Carole Bayer Sager, we're now playing Cy Coleman and Dorothy Fields. Ha! And I can't wait."
"I'm thrilled to be reuniting with Lucie to step back into this show which has meant so much to us, especially for such a great cause, The Actors Fund," said Robert Klein. "To sing the wonderful songs of Marvin Hamlisch and Carole Bayer Sager and to say the great lines of Neil Simon is a thrill. Still fresh after 40 years."
The concert will be produced in association with Robert Greenblatt, who is currently Chairman of NBC Entertainment and a force behind all of the network's live musicals; he is also a Tony-winning producer with credits that include Tootsie (opening in 2019), The Inheritance, Mean Girls, Dear Evan Hansen, Something Rotten!, A Gentleman's Guide to Love and Murder and 9 to 5 The Musical.
Neil Simon wrote They're Playing Our Song based on the real-life relationship between his collaborators Hamlisch and Sager. Vernon Gersh is a successful wisecracking composer who teams up with quirky Lyricist Sonia Walsk. This mismatched pair go through a variety of hurdles, personal and professional, before falling in love.
"This will be a legendary night of world-class talent," said Actors Fund Chairman Brian Stokes Mitchell. "I'm both honored and humbled that the producers, creative team and original cast are coming together to help those in need in our community."
They're Playing Our Song was originally produced on Broadway by Emanuel Azenberg.
Tickets will go on sale soon. For updates, visit www.actorsfund.org/PlayingOurSong. For Sponsorship opportunities, contact Douglas Ramirez at 917.281.5921 or dramirez@actorsfund.org.
The Actors Fund is a national human services organization that fosters stability and resiliency, and provides a safety net for performing arts and entertainment professionals over their lifespan. Through offices in New York, Los Angeles and Chicago, The Fund serves everyone in film, theater, television, music, opera, radio and dance with programs including social services and emergency financial assistance, health care and insurance counseling, housing, and secondary employment and training services. Visit www.actorsfund.org.
Lucie Arnaz has had an extremely diversified career spanning more than 50 years in show business. She has starred on the New York stage in They're Playing Our Song (Theatre World, LA Drama Critics and Outer Critic's Circle Awards), Lost in Yonkers, Dirty Rotten Scoundrels, Pippin and Grace and Glorie; in the London premiere of The Witches Of Eastwick; in the Coconut Grove Playhouse premieres of Once Removed and A Picasso; in national tours of Pippin, Seesaw, Whose Life Is It Anyway?, Social Security and My One And Only (Sarah Siddons Award); and in regional theatre productions of Wonderful Town, Master Class, Cabaret, The Guardsman, Annie Get Your Gun, I Do! I Do!, Educating Rita, Vanities, and Mack And Mabel, to name just a few. Lucie has appeared on television in The Lucie Arnaz Show, Sons And Daughters, The Black Dahlia, The Mating Season, Who Gets The Friends?, Washington Mistress, Death Scream and six seasons of Here's Lucy; on the big screen with Neil Diamond and Sir Laurence Oliver in The Jazz Singer (Golden Globe Nomination), Down To You, Second Thoughts, Billy Jack Goes To Washington, The Pack, Wild Seven and has lent her voice to the new animated fantasy about the NY Yankees, Henry And Me. Lucie has performed the opening number on the Academy Awards (1981) and at The White House several times. She was Executive Producer of the I Love Lucy 50th Anniversary Special (Emmy nomination), and Lucy & Desi: A Home Movie (Emmy winner 1993). She produced two CD ROMS. She recorded her first album for Concord Jazz, "Just In Time," and her newest CD, "Latin Roots," is a celebration of just what the title says. Lucie has been traveling the country and the world with her various concerts for over 20 years. With her brother, Desi, she manages Desilu, too, LLC. With her husband, actor Laurence Luckinbill, she manages five grown children. Lucie invites you to visit her online at luciearnaz.com.
Robert Klein. For more than forty years, Robert Klein has entertained audiences, and he continues to have an acclaimed career in comedy, on Broadway, on television, and in film.
He's appeared on "Madame Secretary" starring Tea Leoni on CBS, "Sharknado 2: The Second One" and "Sharknado 3: Oh Hell No!" starring Ian Ziering, on SyFy. Most recently, he guest starred as Laura Diamond's grouchy but loveable father, Leo, on NBC's "The Mysteries of Laura" starring Debra Messing. He is also the subject of a documentary, "Robert Klein: Still Can't Stop His Leg". Born in the Bronx, he was a member of the famed "Second City" theatrical troupe in Chicago. He was nominated twice for Grammy Awards for "Best Comedy Album of the Year" for his albums "Child of the Fifties" and "Mind Over Matter." He received a Tony Award nomination for Best Actor, and won a Los Angeles Drama Critics Circle Award for his performance in the hit Neil Simon musical, They're Playing Our Song. In 1993, Klein won an Obie and the Outer Critics Circle Award for Outstanding Performance by an Actor in Wendy Wasserstein's, The Sisters Rosensweig. In 1975, Klein was the first comedian to appear in a live concert on Home Box Office. He has gone on to do nine one-man shows for HBO and received his first Emmy nomination for Outstanding Music and Lyrics in 2001 for Robert Klein: "Child in His 50's." His special for HBO, "Robert Klein: Unfair and Unbalanced" earned him a second Emmy nomination in 2011 for Outstanding Original Music and Lyrics. Among dozens of starring and guest-starring roles on television, he co-starred in the hit NBC series, "Sisters," has a recurring guest-starring role on "Law and Order" and has guest starred on "The Good Wife" and "Royal Pains." He regularly appeared on talk shows, making more than 100 appearances on "The Tonight Show" and "Late Show with David Letterman." Klein has also appeared in many notable films including, Hooper, The Owl and the Pussycat, Primary Colors, People I Know, Two Weeks Notice, and How to Lose a Guy in 10 Days, and The Back-Up Plan with Jennifer Lopez. "The Amorous Busboy of Decatur Avenue," his first book for Simon & Schuster, is an affectionate coming-of-age memoir about growing up in the '50s and '60s before embarking on a show business career. In it he recounts his journey from an apartment in the Bronx, developing his talent in Chicago and the beginning of his show business stardom. The book is pure Robert Klein: witty, honest, self-questioning and always contagiously funny. Publishers Weekly wrote: "...he unfurls an array of captivating anecdotes, writing with wry wit and honesty." Robert, a lifelong New Yorker, makes his home in Westchester and New York City.
Photo Credit: Walter McBride / WM Photos