Kenneth Mosley, Trenyce, Matt Manuel and Justin Reynolds to Lead MOTOWN THE MUSICAL National Tour; Cast Complete!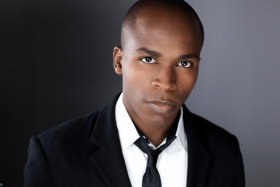 Work Light Productions has announced the complete cast for the National Tour of MOTOWN THE MUSICAL.
Leading this new tour will be Kenneth Mosley as Berry Gordy (pictured, left), Trenyce as Diana Ross, Matt Manuel as Marvin Gaye, and Justin Reynolds as Smokey Robinson, with Kai Calhoun and Chase Phillips portraying Berry Gordy's boyhood counterpart and the roles of young stars Michael Jackson and Stevie Wonder.
MOTOWN THE MUSICAL will also feature Nick Abbott, Tracy Byrd, Arielle Crosby, Devin Holloway, Quiana Holmes, Kayla Jenerson, King David Jones, EJ King, Brett Michael Lockey, Jasmine Maslanova-Brown, Rob McCaffrey, Trey McCoy, Alia Munsch, Erick Patrick, Eric Peters, Isaac Saunders Jr., Eran Scoggins, Ayla Stackhouse, Nya Trysha, Cartreze Tucker, Dre' Woods, Jamari Johnson Williams, and Nazarria Workman.
Directed by Charles Randolph-Wright, MOTOWN THE MUSICAL is the true American dream story of Motown founder Berry Gordy's journey from featherweight boxer to the heavyweight music mogul who launched the careers of Diana Ross, Michael Jackson, Stevie Wonder, Smokey Robinson, Marvin Gaye and so many more.
Featuring more than 50 classic hits such as "My Girl" and "Ain't No Mountain High Enough," MOTOWN THE MUSICAL tells the story behind the hits as Diana, Smokey, Berry and the whole Motown family fight against the odds to create the soundtrack of change in America. Motown shattered barriers, shaped our lives and made us all move to the same beat.
MOTOWN THE MUSICAL features staging by Schele Williams, choreography re-created by Brian Harlan Brooks, with original choreography by Patricia Wilcox (Blues in the Night) and Warren Adams (Toy Story), scenic design by David Korins (Bring It On: The Musical,Annie), costume design by Tony Award nominee Emilio Sosa (The Gershwins' Porgy and Bess, "Project Runway"), lighting design by Tony Award winner Natasha Katz (Once, Sister Act), sound design by Tony Award nominee Peter Hylenski (Rock of Ages, The Scottsboro Boys), projection design by Daniel Brodie (Aladdin), hair and wig design by Charles LaPointe (Memphis) and casting by Wojcik | Seay Casting.
MOTOWN THE MUSICAL's arrangements and orchestrations are by Grammy and Tony Award nominee Ethan Popp (Rock of Ages), who also serves as music supervisor in reproducing the classic "Sound of Young America," with co-orchestrations and additional arrangements by Tony Award nominee Bryan Crook ("Smash") and dance arrangements by Zane Mark (Dirty Rotten Scoundrels).
For full performance schedule and details, visit MotownTheMusical.com.
MOTOWN THE MUSICAL was originally produced by Tony Award-winning producer Kevin McCollum (Rent, In the Heights, Avenue Q), Chairman and CEO of SONY Music Entertainment Doug Morris and Motown Founder Berry Gordy.
ABOUT THE ARTISTS:
Kenneth Mosley (Berry Gordy) is thrilled to be a part of the Motown family! Theatre: CMT: Sister Act (TJ), The Little Mermaid (Sebastian U/S) & Children of Eden (Lead Storyteller), MTW: Memphis (Gator). Television: "Grace & Frankie", "Ten Days in the Valley", "Black-ish", "Pitch", "Game Shakers", "Crazy Love". New web comedy, "NTB"+music, "Destiny Fufilled" in October. Bachelor's degree in broadcast journalism: SMU. KennethMosley.com @KenMos
TRENYCE (Diana Ross). Grammy nominated Singer/actress from American Idol Season 2 who's career includes shows such as Ain't Misbehavin', Vagina Monologues, Love in the Nick of Tyme w/ Morris Chestnut, Thriller Live West End, "Taboo China", and "Marvel's Kick Ass 2." Follow on Instagram & Twitter @trenyce1/@trenyce
JUSTIN REYNOLDS (Smokey Robinson) was recently seen headlining in Vegas! The Showon the LV Strip. He has toured 85 countries while performing on Silversea, Princess Cruises and The Young Americans. Many thanks to Mr. Gordy, Wojcik|Seay Casting, and WLP for making his SMOKEY dream come true in his National Tour debut with Motown!
MATT MANUEL (Marvin Gaye) is a Singer/Actor/model from the Detroit area. In 2013, he was a contestant on American Idol. He was the male vocalist for the Simone Vitale Band. In 2016, he played the role of Benjamin in the short film "Akoma".
KAI CALHOUN (Young Berry Gordy/Young Stevie Wonder/Young Michael Jackson) is excited about his first appearance with Motown. He is in 7th grade and can usually be found making videos for his YouTube channel. Kai is grateful for his Mom, his older brothers, his Papa and family. He is very grateful for Mrs. Frost and Vincent for encouraging his love of acting.
CHASE PHILLIPS (Young Berry Gordy/Young Stevie Wonder/Young Michael Jackson) is excited about his first national tour! As a native of Louisville, KY he's had roles performing with Lincoln Performing Arts School, Actors Theatre and The Youth Theatre Troupe of Louisville. Chase feels blessed to have the support of his family, church and friends.
WORK LIGHT PRODUCTIONS (Producer). Dedicated to creating and producing live entertainment. CurreNT Productions: Rent 20th Anniversary Tour, Cinderella, Mamma Mia!, White Christmas. Currently developing Clue, a new stage play based on the Paramount movie. Upcoming: 2016 Olivier Award winning production of Jesus Christ Superstar. Produced Julie Andrews, The Gift of Music at The Hollywood Bowl and London's O2 Arena. Other recent touring productions include the Tony Award-winners American Idiot, In the Heights and Avenue Q. WLP is led by founding partner and President Stephen Gabriel and Vice President Nancy Gabriel. Visit www.worklightproductions.com.