Judy Kaye, Julia Murney, James Snyder and More Set for 2017 BROADWAY'S GOT GUTS Benefit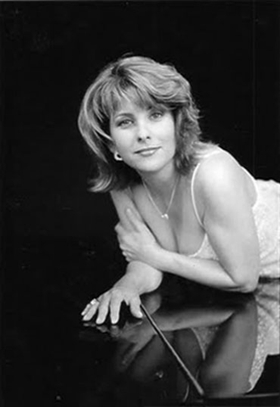 Judy Kaye, Julia Murney, James Snyder, Erin Mackey, Mara Davi, Nicholas Barasch, Lauren Molina, Alexandra Silber, Ryan Vona, Peter Saide, and other surprise guests are scheduled to perform at the third annual Broadway's Got Guts benefit in honor of the late, great Nancy Lamott (pictured, left).
Nancy Lamott, who died in 1995, was a longtime Crohn's sufferer. The benefit will be held on October 16th at Merkin Hall, 129 W 67th St., NYC. All proceeds will go to the Crohn's & Colitis Foundation. To order tickets, click here.
David Friedman, Nancy's producer and main songwriter, is the co-producer, along with Peter Yawitz, Marc Eliot, Toby Ellen Sarna, and Sarissa Michaud. Peter Yawitz, the Nightlife and Bistro Award-winning songwriter and humorist, will host.
Event co-chairs are multiple Tony-winning Broadway producer Wendy Federman ("Hello, Dolly!," Dear Evan ") & Robert Federman, DDS, Judy & Joel Bauer, MD, Wendy & Robert Federman, DDS, Susan & Michael Kerr, Kara & Daniel Kuelzow, Carmella & Peter Tully, and Carol Phethean & Peter Yawitz.
The annual "Got Guts" award will be presented to Alexis Sherman, RN, BSN, CWOCN.
The Crohn's & Colitis Foundation is a non-profit, volunteer-driven organization dedicated to finding the cures for Crohn's Disease and ulcerative colitis, and to improving the quality of life of children and adults affected by these diseases. Visit www.crohnscolitisfoundation.org for more information.
Related Articles
More Hot Stories For You
VIDEO: MOULIN ROUGE! Drops Music Video for 'Come What May' with Aaron Tveit and Karen Olivo
Moulin Rouge! has released a music video, filmed live on stage, for Come What May from the Broadway production....

Eddie Perfect Releases BEETLEJUICE - THE DEMOS! THE DEMOS! THE DEMOS! for Halloween
Ghostlight Records has announced that the new album from Eddie Perfect, Beetlejuice – The Demos! The Demos! The Demos! will be available as a Hallowee...

Actors' Equity Releases Statement on Walt Disney World Layoffs
Actors' Equity Association has released a statement after signing a memorandum of understanding with Walt Disney World regarding layoffs of most of th...

VIDEO: THE TODAY SHOW Hosts Reveal Their 'Best of Broadway' 2020 Halloween Costumes
The Today Show hosts always put together a great Halloween costume theme and this year they're showing Broadway some love!...

VIDEO: David Hyde Pierce, Carolee Carmello, Liz Callaway, and Most Perform in BRING BACK BROADWAY: A VOTE BLUE VIDEO
The video stars Cameron Amandus, Bryan Batt , John Bolton, Liz Callaway, Carolee Carmello, Taylor Crousore, Jackie Hoffman, Chris Anthony Giles, Jason...

How Em Jaccs' RATATOUILLE Musical Became Theatre TikTok's Latest Trend
We got to chat with TikTok creator Em Jaccs, whose Ratatouille musical number has inspired an entire show that TikTok fans are demanding to bring to B...