Jonathan G. Galvez' SKYLAR, Premieres At Fringe 2018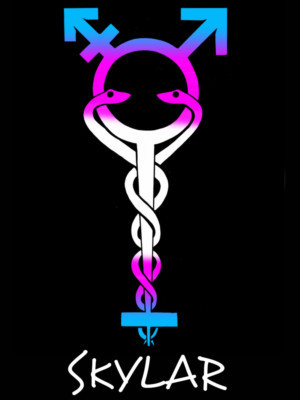 Theatrical Gems Presents Jonathan G. Galvez' SKYLAR, presented as part of the 2018 New York International Fringe Festival, performing at the new Fringe HUB Theatre, 685 Washington Street, NYC, on Tues Oct 16 @ 8:15pm; Sunday, Oct 21 @ 12:00pm; Thursday, Oct 25 @ 7:00pm; Saturday, Oct 27 @ 4:00pm; Sunday, Oct 28 @ 4:30pm. Tickets are $22, with discounts for groups. SKYLAR is also part of FringeHigh, a group of plays directed toward teen and young adult audiences. A talk-back with the cast & creators will follow the Sunday, Oct 21st showing at noon. More info can be found at www.fringenyc.org
SKYLAR, the latest entry in Jonathan G Galvez's ambitious "Bridge" series of 16 plays, concerns a trans high school student clinging to life after being attacked at a school dance. Their girlfriend, father, and teacher meet in the waiting room and consider the events that led them there.
Led by queer director, Kristen Keim, the cast features Sam Lopresti as David, Skylar's teacher; Kaitlyn Gill as Pamela, Skylar's activist girlfriend; Eric Novak as Adam, Skylar's religious father, Dana Scurlock as the Nurse, Mark Levy as Vice Principal Gonzalez, Ashton Garcia as Scott, a football player, and Eli Denson as the titular Skylar, a trans teen. It should be noted that not only is Skylar portrayed by trans-gender-queer actor, Denson, but also role of Scott, a traditionally cis-gendered (identifying with the sex they were born as) role, being portrayed by trans-masculine actor, Garcia.
Celebrated playwright, Jonathan G Galvez's, works have received acclaim at the Fringe Festival, Manhattan Repertory Theatre, Planet Connections Theatre Festivity (mention award), and at William Paterson University, where he was winner of the 10th annual New Jersey Playwrights Contest. For additional information, visit www.TheBridgeSeries.org.
The New York International Fringe Festival has served as host for many of Galvez's Bridge Series, including Thirty Minutes or Less, The Girl With Her Hands in the Sand, The Call of the Siren, and A Life TBD.