How Sweet the Sound! Broadway's AMAZING GRACE to Launch National Tour in Washington, D.C.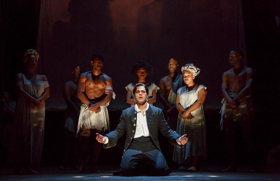 The Broadway musical AMAZING GRACE will take its inspirational message on the road as it launches a 23-week national tour, kicking off with an eight-week run at the Museum of the Bible in Washington, DC, as it inaugurates the new museum's state-of-the-art, 472 seat theatre. The DC run will begin on November 17 through January 8, 2018, opening on November 20.
AMAZING GRACE is an "unforgettable musical saga" depicting the conversion of John Newton, the composer of "hymn of hymns" Amazing Grace, from a brutal slave trader to a committed Reformer and Christian who would ultimately pen the "hymn of hymns."
John Newton, a willful and musically talented young Englishman, faces a future as uncertain as the turning tide. Coming of age as Britain sits atop an international empire of slavery, he finds himself torn between following in the footsteps of his father - a slave trader - or embracing the more compassionate views of his childhood sweetheart. Accompanied by his slave, Thomas, John embarks on a perilous voyage on the high seas. When that journey finds John in his darkest hour, a transformative moment of self-reckoning inspires a blazing anthem of hope that will finally guide him home. Brimming with emotion and adventure, AMAZING GRACE is an unforgettable musical saga that captures the spirit of history's sweetest and most powerful sound: freedom
Directed by Gabriel Barre, Amazing Grace is written by Christopher Smith(with book, music and lyrics and book) and Arthur Giron (book) and will feature the choreography of Christopher Gattelli, and music direction of Keith Levenson. It is produced by Alex Rankin/ Continental Productions with artistic consultant Carolyn Rossi Copeland/ CRC Productions.
The upcoming national tour will be the first production of the musical in North America since its pre-Broadway opening in Chicago and subsequent engagement on Broadway at The Nederlander Theater in 2015.
The cast includes: Michael Burrell as John Newton (Oklahoma!, Legally Blonde, Evita), Russell Rinker as Captain Newton (Blue Man Group - Las Vegas, NYC, Boston, Chicago, North American Tour, South Pacific) along with Isaiah Bailey as Thomas/Pakuteh (Moses, Dreamgirls, Big Fish) and Newton's childhood sweetheart, Mary Catlett, played by Eleanor Todd (NYMF: Beyond Words, Parade, Big Fish), they will join Monique Elinor Barnes(Regional: TreeMonisha), Kelli Blackwell (National Tour: Chicago), Wyn Delano (Regional: Oklahoma), Shannan E. Johnson (National Tour: Ghost the Musical), Jennifer Lyons Pagnard (Regional: Parade, Floyd Collins), David Sanborn (Regional: The Miracle), Joshua Simon (Regional: James and the Giant Peach), David Socolar, James Tarrant (Regional: Grease, Annie Get Your Gun), Kanysha Williams (Regional: The WIZ), Jordan Campbell,Colleen Clancy (Regional: Sweet Charity), Nicki Elledge (Regional: A Little Night Music), Dion Montéz Jarrett (Regional: Ragtime, Showboat), Da'Von Moody (Regional: Avenue Q, BatBoy), Briana Gibson Reeves (Regional: A Midsummer Night's Dream), Morgan Scott, and Andrew Tarquinio (Regional: The Circle of Life: The Songs of Tim Rice).
On the creative team are: Kenny Seymour (Orchestrations), Edward Pierce & Eugene Lee (Set Design), Toni-Leslie James (Costume Design) Shannon Slaton (Sound Design), Ken Billington (Lighting Designer), Robert- Charles Vallance (Wig Designer), and David Leong (Fight and Movement).
TOUR SCHEDULE:
Nov 15 - Jan 7 The Museum of the Bible, Washington D.C.
January 19 - 21 The Shubert PAC, New Haven, CT
January 23 Emens Auditorium, Muncie, IN
January 24 The Ohio Theater, Columbus, OH
January 25 Civic Theater, Akron, OH
January 26 The Carolina Theater, Greensboro, NC
January 27 Humanities & Fine Arts Center, Wilmington, NC
January 28 Crown Theatre, Fayetteville, NC
January 30 RP Funding Center, Lakeland, FL
January 31 Mathis Auditorium, Valdosta, GA
February 1 The Miller Theater, Augusta, GA
February 2 Alabama Theatre, Myrtle Beach, SC
February 3 The Civic Center, Savannah, GA
February 4 Sunrise Theatre, Ft. Pierce, FL
February 5 TBD
February 6 Flagler Auditorium, Bunnell, FL
February 7 Mahafey Theater, St. Petersburg, FL
February 8 SFCC Theatre for the Performing Arts, Avon
February 9 Van Wezel Performing Arts Hall, Sarasota, FL
February 10-11 Grand Opera House, Macon, GA
February 13-14 Heritage Center, Dubuque, IA
February 15 TBD
February 16 Conexus Arts Center, Regina, SK
February 17 TCU Place, Saskatoon, SK
February 19 TBD
February 20 Keith Albee, Huntington, WV
February 21 Tivoli Theater, Chattanooga, TN
February 22 Classic Center, Athens, GA
February 23 Marina Civic Center, Panama City, FL
February 24 Oxford Performing Arts Center, Oxford, AL
February 25 Moran Theater, Jacksonville, FL
February 26 TBD
February 27 TBD
February 28 Honeywell Theatre, Wabash, IN
March 1 Connor Place, Cleveland, OH
March 2 Kentucky Center, Louisville, KY
March 3 The Civic Center, Peoria, IL
March 4 Blue Gate Theater, Shipshewna, IN
March 5 TBD
March 6 The Aronoff Center, Cincinnati, OH
March 7 Rialto Square Theater, Joliet, IL
March 8 North Iowa Community College Auditorium, Mason City, IA
March 9 The Sonheim Center, Fairfield, IA
March 10 The Peabody, St. Louis, MO
March 11 The Carson Center, Paducah, KY
March 12 The Sondheim Center....
March 13 Givens PAC, Pembroke, NC
March 14 Lyric Opera House, Baltimore, MD
March 15 The Kirby Center, Wilkes-Bare, PA
March 16 Tillis Center, Greenvale, NY
March 17 Proctors Theater, Schenectady, NY
March 18 The Kirby Center
March 19 LIU
March 20 The Paramount, Aurora, IL
March 21 Civic Center, Des Moines, IA
March 22 Topeka Performing Arts Center, Topeka, KS
March 23-24 The Lied Center, Lincoln, NE
March 25 Husby PAC, Sioux Falls, SD
March 26 TBD - University Of Nebraska
March 27
March 28 Convention Center, Redding, CA
March 29 - April 1 The Harris Center, Folsom, CA
April 2 TBD
April 3 California Performing Arts Center, San Bernardino, CA
April 4 Spencer Theater, Alto, NM
April 5 Civic Center, Abilene, TX
April 6 Bass Hall, Austin, TX
April 7 Rudder Auditorium, College Station, TX
April 8 The Majestic Theater, San Antonio, TX
April 9 The Long Center/ TBD
April 10 Texas A&M/ TBD
April 11 Lutcher Theatre for the Performing Arts, Orange, TX
April 12 Bass Hall, Ft. Worth, TX
April 13 Selena Auditorium, Corpus Christi, TX
April 14 Grand Opera House, Galveston, TX
April 15 The Saenger, New Orleans, LA
April 16 TBD
April 17 Juanitas Hammons Hall, Springfield, MO
April 18 Perot Theater, Texarkana, TX
April 19-20 Eisemann Center, Richardson, TX
April 21 Wagner Hall, Midland, TX
April 22 Plaza Theater, El Paso, TX
For more information on the cast and tour dates, visit www.amazinggracemusical.com.
ABOUT THE ARTISTS:
Gabriel Barre (Director) is an internationally acclaimed director. Broadway: Amazing Grace. Off Broadway: MTC's The Wild Party, Son of a Gun, Summer of '42, Stars in Your Eyes, Honky-Tonk Highway, john & jen and Almost, Maine. National Tours: Amazing Grace, Pippin, Cinderella. Regional: Memphis, North Shore Music Theatre, Theatreworks; Sweeney Todd, Finian's Rainbow and many other new musicals at Goodspeed Opera House; and Kander & Ebb's, All About Us at Westport Playhouse. International credits include the recent Mexican premiere of Billy Elliot, and the Japanese premiere of The Scarlet Pimpernel, along with numerous shows in Korea, China and the Czech Republic. As an actor, he has been nominated for a Tony Award as Best Actor in a Musical and appeared Off-Broadway last season in Cyrano de Bergerac, which he also directed.
Christopher Smith (Book, Music, and Lyrics) Amazing Grace is Chris' first work of professional writing. He is the concept creator, composer, lyricist, and co-author of the book. Chris is entirely self-taught. The show was born while Chris was working as a police officer and Youth Outreach and Education Director in Montgomery County, Pennsylvania. Chris thanks his best friend and wife Alana; his children Joshua, Alana, and Alexandra; his parents; investors; and, above all, God, who made this whole impossible dream a reality.
Arthur Giron (Book) His 15 plays are performed in the U.S. and abroad. Among them, Emilie's Voltaire played recently in America, Portugal and Australia. Alfred Molina and Jessica Chastain starred in L.A. Theatre Works' Moving Bodies. The New York Times said A Dream of Wealth is "filled with passion and ample compassion". The Metropolitan Opera Guild commissioned him to write a libretto. Arthur headed Graduate Playwriting at Carnegie Mellon University. He is a founder of Ensemble Studio Theater in New York, where he lives with his wife Mariluz.
Christopher Gattelli (Choreographer) was awarded the 2012 Tony, Drama Desk, and Outer Critics Circle Awards for his choreography in Newsies.(As choreographer) Broadway: South Pacific (Tony and Outer Critics Circle nominations), Casa Valentina, Sunday in the Park With George, Women on the Verge.., Godspell, The Ritz, Martin Short :Fame Becomes Me, 13, High Fidelity.Off Broadway: Dogfight (Lortel Award), Altar Boyz (Lortel Award, Callaway Award, Drama Desk Nom.), Bat Boy: The Musical (Lortel Award), tick,tick...BOOM! Chicago: Jungle Book - The Goodman.
CRC Productions - is a full-service producing and general management company. Founded by Carolyn Rossi Copeland, she brings 30 years of experience producing plays and musicals. She was the Founding Producer of the award-winning Lambs Theatre Company in the heart of Times Square, and served as vice president of Creative Affairs for Radio City Entertainment and Madison Square Garden Productions. She has been a Creative Consultant to Gaylord Entertainment-Ryman Auditorium and has produced special events for New York State. She currently serves as Executive Producer for Strouse IP, the company that manages the business and career of the great American composer, Charles Strouse. Visit crcproductions.org/about.php for more.
Photo Credit: Joan Marcus
Related Articles
More Hot Stories For You
Photo Flash: First Look at Roger Bart, Olly Dobson, and the Cast of BACK TO THE FUTURE in Action!
We've got your first look at the all new musical adaptation of BACK TO THE FUTURE!... (read more)

BWW Exclusive: Thomas Schumacher Reveals Next Steps for HERCULES, AIDA & More!
As BroadwayWorld previously reported, a new North American tour of Elton John and Tim Rice's Tony-winning Broadway smash Aida will premiere at Paper M... (read more)

WHAT THE CONSTITUTION MEANS TO ME Will Be Filmed For Future Release; Submit to Be in Live Audience!
As BroadwayWorld previously reported, What the Constitution Means to Me is in the process of being recorded for eventual future release. BroadwayWorld... (read more)

Video: CITY OF ANGELS Stars Theo James, Hadley Fraser and More Gear Up for Their West End Run
The West End will welcome a transfer of the hit Donmar Warehours production of City of Angels. Check out some video from inside rehearsals as the cast... (read more)

SING STREET Box Office Opens This Week with Special 1982 Pricing!
The Lyceum Theatre box office opens Thursday, February 27 at 10am (EST) for the new Broadway musical SING STREET starring the cast of the critically a... (read more)

Photo Flash: Go Inside Rehearsal for CAROLINE, OR CHANGE on Broadway, Starring Sharon D. Clarke, Caissie Levy, Chip Zien and More
Roundabout Theatre Company presents the Broadway revival of Tony Kushner & Jeanine Tesori's Tony Award nominated and Olivier Award winning musical Car... (read more)