Click Here for More Articles on Debut of the Month Features
Debut of the Month: Storm Lever Brings 'Hot Stuff' to SUMMER: THE DONNA SUMMER MUSICAL!
Storm Lever makes her Broadway debut as 'Duckling Donna' in Summer: The Donna Summer Musical. The musical chronicles Donna Summer's rise to stardom and reveals the risks she took to break through barriers to become the icon of an era and the inspiration for every music diva who followed her. Today the talented triple threat speaks to BWW about making it the mission of her Broadway debut to honor Donna Summer and make the Disco Diva proud.
[NOTE: BroadwayWorld's fabulous photographer Walter McBride captures images of the Broadway stars profiled in our monthly column in a special photo shoot. Check out the pics of Ms. Lever throughout the feature!]
---
Were you familiar with Donna Summer's music prior to this show and if so, when and how were you first introduced to it?
Yes, I was very familiar with her music. I grew up listening to a lot of Donna Summer because my mother had wonderful taste in music! In our entire show there's probably only two songs that I wasn't familiar with. Growing up, we had a long commute from where we lived to my schools, so my mom would always put on a different album in the car and Donna Summer was often on repeat play. And Saturday mornings when we cleaned up we'd also listen to her. She was really the soundtrack for all those mundane activities that you needed to do in your life, and the way we made those activities fun and enjoyable.
You portray Summer during her youth, the years that most of us were unfamiliar with. How do you think this period of her life ultimately affected her as a person?
Oh goodness, well it's so fascinating. I love that we spend time on this part of her life and I love the way that we do the treatment of the show, where we separate her into these three different parts. You get to see that this is a girl who started out very religious and very conservative with not that much confidence, and you also get to see the woman that this industry turned her into, which was quite the opposite image. She was very over-sexualized, she was known as a queen, as this glamorous, fabulous woman, but that is not how she ever viewed herself growing up. And in the show we touch on the abuse that happened to her when she was growing up. She got her start in the church and I found out through research and through speaking to people in her life that what happened was her pastor approached her and said, 'I don't often give these opportunities to girls your age. I usually have a feature vocalist who is older, but you're such a talent I would like to feature you and if I"m going to do this I'm going to want something in return.' And what he asked for in return was this inappropriate relationship that they had that went on for years. But that is how she got her start. And so you can see how at age 11 she made that choice and when she was older and was asked about it in interviews, she would explain that even back then she wanted to sing, that was her priority, it was her first love. She knew that what was going on was wrong, and it wasn't until she was older that she realized how wrong it was, but singing was her priority. And she owned that later in her life. And I think it was important for her to own it but also important to look back and see that this was a woman whose career got out of her hands a little bit and her image was then manipulated and formed by how people wanted to over-sexualize her and make her into this queen.
And her story is now more relevant than ever in the era of the #MeToo Movement.
Oh yes, absolutely. In fact as we've been developing this project it's just been crazy to hear all these different accusations that have come out about all these different people. I've been attached to the project since 2016, a year before the movement really took off, and was researching a lot of this, researching different examples of artists who had these types of relationships happen to them in their early careers and researching how it affected them later in life. And then when we were in La Jolla developing the show for the out-of-town try out, all of a sudden there was this wealth of example after example after example. It almost feels like it happens more often than not, that this is how woman are approached in these situations in order to make it big. So that was horrifying to discover, but also made it even more important to touch on this in the telling of her story. And the way that we make this common situation become not common is by talking about it and saying that it is unacceptable, so men stop thinking, 'oh my gosh I had no idea I was using my power.' Well yes, you were using your power and you have to look at yourself and look at who you're dealing with and look at the position that you're in and ask permission.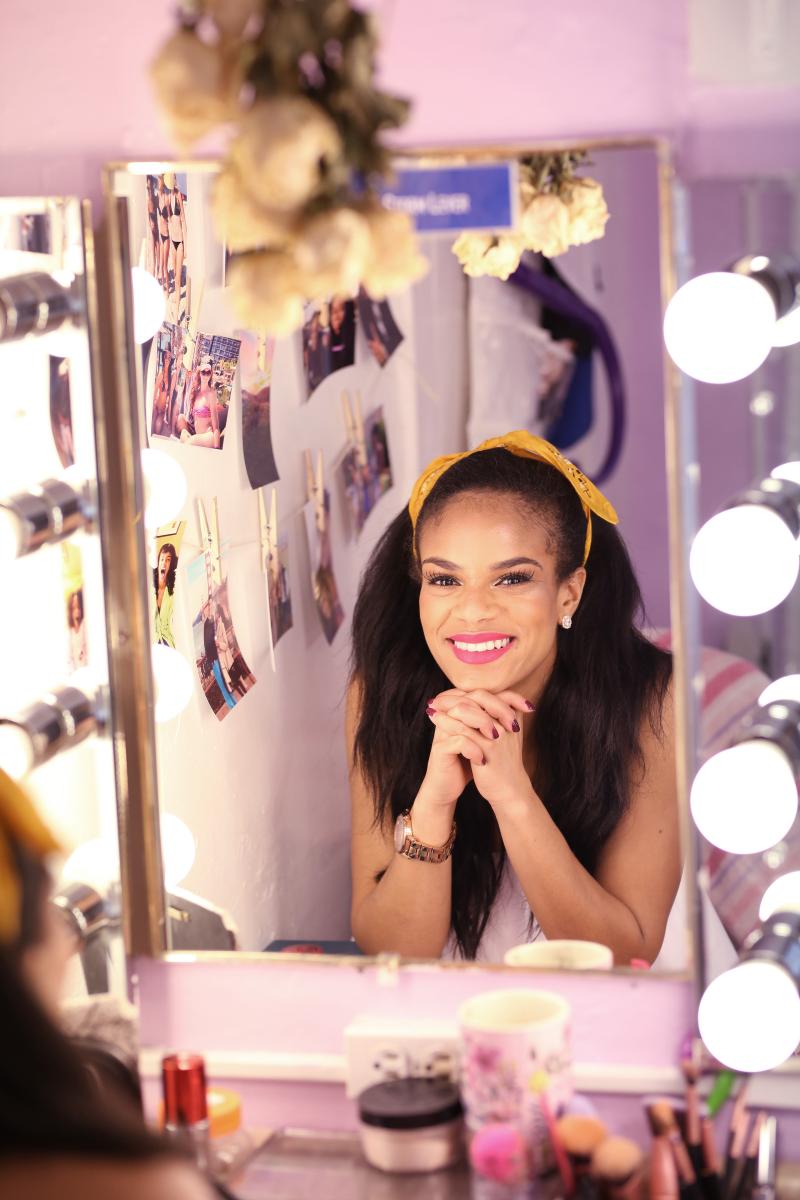 Are there aspects of Donna's early years that you can personally relate to and that you bring to your portrayal of her?
Oh my goodness, yes! What's so wonderful about the casting of this project from Diva Donna to Disco Donna, is that we are all in the phases of life that the woman we are portraying is in. I am the newcomer, this is my Broadway debut. This show was the first equity job that I had booked when I moved to New York, and that was exactly her experience. A whirlwind of incredible opportunity where you have the privilege that no matter what, you get to perform and you get to sing. So the journey that I get to take on in this show is this girl living out this fantasy of wanting to one day be seen by hundreds of people filling stadiums, filling out a Broadway house, and I am getting to live that. So I really don't have to act any of those moments because I am truly living out a fantasy I've had since I was little. And that's so wonderful to portray because it's just so honest.
As you mentioned, three of you portray Donna at different stages of her life. Did you all work together to try to create a unified and consistent version of her?
We did. When we first started working on it, our processes were separate. We have this metaphor that we introduce at the beginning of the show about the portraits and the mirrors. Donna had trouble seeing herself in the portraits and the mirrors. And when we were talking about how we were going to approach her, we needed to first focus on the self-portrait; who is the specific Donna that I am trying to portray? What is specific about this version of her and how is it different from the others? And so we went off and developed those characters separately.
Then a couple of weeks into rehearsal in La Jolla, after we had done our own personal character work, we came together and talked about what makes Donna Donna? What are the core things about this woman, what are the different ways that she speaks, the different gestures that she makes, little personal things that she did, and how could we make that consistent throughout all of our performances. And it's something that maybe the audience doesn't even pick up on, but it's something that we know is inherently her. And if we're all going to be her, we have to have these elements of her, these ways of expressing ourselves. And at that point, we talked about the fact that we were done with the phase of each of us focusing on the portraits, now it was time to focus on the mirrors. How do we become a mirror version of each other. And for me personally, that meant spending any time where I wasn't in a scene just sitting on the side and taking notes about Ariana's mannerisms, LaChanze's mannerisms, their way of speaking, their way of moving about the stage, and trying to figure out how I could put that into what I was doing.
Before the show even begins, you can feel the energy and the love for Donna coming from the audience. Does that add an extra degree of pressure to uphold those high expectations?
I get asked that a lot, and I feel badly to say that the answer is 'no', but it is because I didn't enter this project with any bit of, 'this is about Storm's Broadway debut'. No this isn't about me. This is about honoring Donna. And from the start it was about exploring this incredible woman, getting to know as much about her as I possibly could, watching concerts that she's done, interviews that she's done, reading her book, reading any article I could find about her. And if I make this show about honoring this woman, and that's my one mission, then I know that we've made her proud. There's nothing more that you can possibly do, there's nothing to be worried about, to be nervous about. So I have that in the back of my head throughout working on this project, before I enter the stage every night. I have a moment where I look up at her image and have a moment with her and acknowledge her and acknowledge that this is about telling her story, it's about letting these people see her in a different light and get to know her in a different way and celebrate her, because this audience misses her!
Along those lines, what is it like to feel that energy and that excitement coming from the audience, particularly during the finale?
Oh my God! Well, you know we're actors, we're very critical of ourselves. We have moments on stage that work, we have moments that don't work, we have things that we try that fail, we're self-critical throughout our performance. But no matter what happens in that hour and forty minutes on that stage, it all vanishes the second you come up from that lift during the finale and you see the audience on their feet, singing along, joyous. It's a moment that you get to look your audience in the eye, which is rare in theater, you get to break that fourth wall, and celebrate with them. And that's why we come to theater. We are all here because we love this art form, we love music, we just want to be able to sing and celebrate and dance. And you get to do that with a Broadway house, full of wonderful, different people, and we're all sharing that moment. So I love it, it's my favorite part of the show.
This is probably a difficult question to answer, but do you have a favorite Donna Summer song, or a favorite scene from the show?
Oh my gosh, it's like Sophie's Choice - how do you pick a favorite child?! The one that I loved before doing this show and I still love in the show because it's such a different treatment of it, is 'Enough Is Enough.' It's a powerful song, it's a woman finding her voice, taking a stand, taking control. I love that aspect of it and what it celebrates. In the show, the audience is ready to dance and ready to party with that song, but that's not what that song is about in that moment. It's really a time when we learn about the domestic abuse that happened to Donna in her life and you see her have to make a change and not allow this tradition that she has faced since she was little of these men taking advantage of her and her playing the victim. She writes a song about taking control. She writes a song saying enough is enough, this is not okay. And to be able to sing that message and to be able to challenge our audience, who is ready to have this party song, and change their perspective of it, I really enjoy doing that.
Speaking of that classic duet, I read that during that number in the show, Donna picks up Barbra Streisand's coffee table book to use as a weapon against her abuser.
She does! It's a little Easter egg we put in there. It goes by really quickly, but it's our little tribute to Ms. Babs - she's got to get her shout out!
That's great! And finally, what was it like to make your Broadway debut in this show?
It was a really, really special night. How do I even find the words? I had never been fearful or worried about if this would ever happen to me in the sense that I know that I love what I do. I know that I fell in love hard with this industry at a very young age and this art form at a very young age, and knew this was what I wanted to do with my life. And it really didn't matter at what level I was doing it. So to have it confirmed that, yes, you're in the right field, and we're going to let you do what you love in New York City, on a Broadway stage in front of hundreds of people every night, it was just a confirmation that I was in the right place. And I don't Take That for granted for a second. I can see it in the audience's faces that this is truly a blessing that we get to do this and we get to share this and we get to see so many people leave the theater learning something different, leaving happy and feeling excited and uplifted. I mean I get to come into work and that's my job everyday?! It's such an incredible opportunity and truly an incredible gift.
BroadwayWorld congratulates Storm Lever on her Broadway debut in Summer: The Donna Summer Musical. She originated the role of 'Duckling Donna' in the musical's production at La Jolla Playhouse. Her off-Broadway credits include City Center's THE WRINGER. Regional credits include FREAKY FRIDAY (Signature Theater, Alley Theater, Cleveland Playhouse, La Jolla), EMOTIONAL CREATURE (Berkeley Rep), and KANSAS CITY CHOIR BOY (Arsht Center, Miami)