Click Here for More Articles on Debut of the Month Features
Debut of the Month: Chillin' with FROZEN's Jelani Alladin!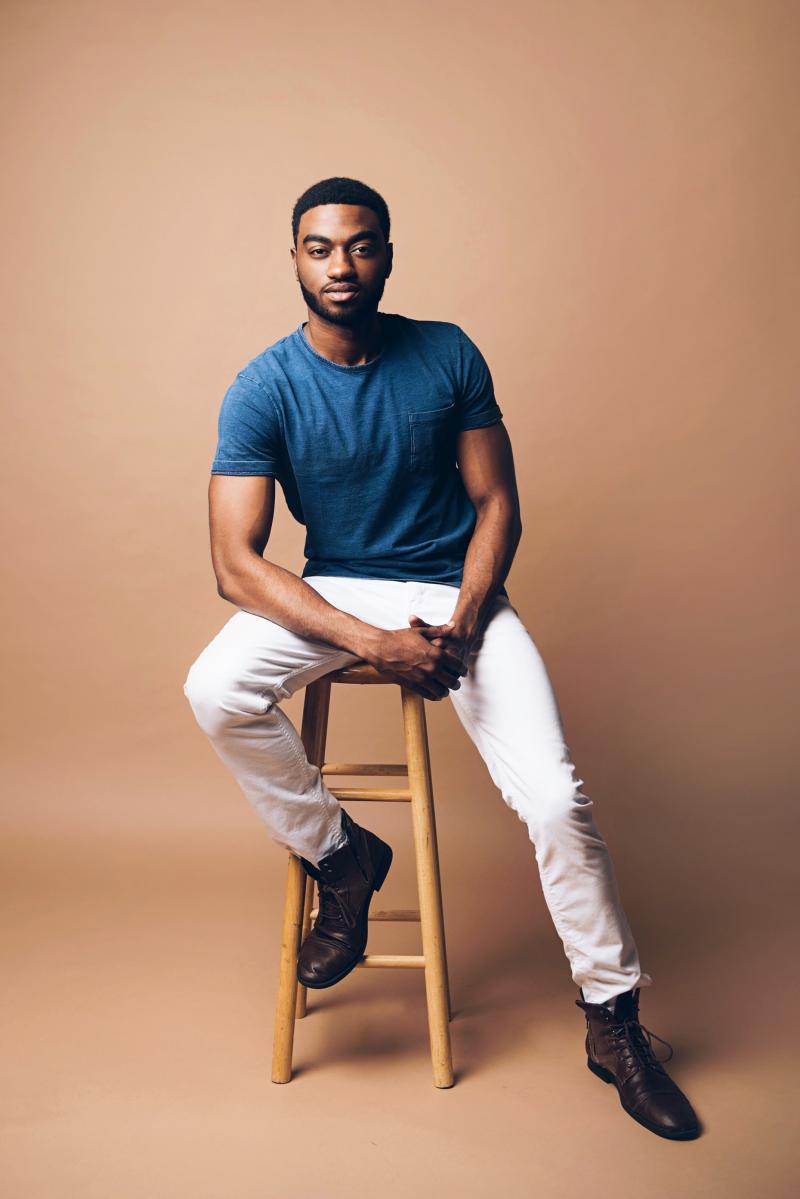 Jelani Alladin makes his Broadway debut as Kristoff in Disney Theatrical's new stage production of the animated hit film Frozen. The musical tells the story of Princess Anna, who sets off on a journey alongside rugged iceman Kristoff, his loyal reindeer Sven, and a naive snowman named Olaf to find her sister Elsa, whose icy powers have inadvertently trapped their kingdom in eternal winter. Today, Jelani speaks exclusively with BWW about making his Broadway debut in Frozen and bringing new twists and turns to this beloved story!
Founded by David Mamet and William H. Macy, Atlantic Acting School offers rigorous training in the acting technique Practical Aesthetics. The mission of the school, affiliated with the award-winning Atlantic Theater Company, is to ensure that graduates master essential analytical and physical disciplines of acting and are empowered for success.
---
When you first saw the animated version of Frozen, did it cross your mind that it would make a great stage adaptation?
It did. When I first saw it I immediately thought, this has to be a musical, because it worked so well as far as a musical structure, the songs really carried the plot forward. So yeah, I said to myself, 'they're going to have to make this into a musical at some point.' Little did I know that I would be involved with it or that it would happen so soon after the movie!
There must have been many challenges in adapting the story to live theater.
Well what's really awesome is that we have Michael Grandage, who is a true visionary director in terms of understanding how the various devices operate and how they can be used. I think what's really great in our show is that you never once lose the sense that you're at the theater, even with all the Disney magic. It's still pretty much about the actors on stage and how they're telling the story, and that is always at the forefront, even in front of these amazing sets and special effects. Michael doesn't believe anything comes to life without the actors, which is amazing because that really breaks the mold and sets it apart from what it was in the movie, and of course, because it would be really difficult to do half the things from the movie on stage!
Well along those lines, how difficult is it for you to act off of your primary co-star, who happens to be a reindeer?
You know in some weird twist of fate, I was cast in an out-of-town tryout for the new musical, JOSEPHINE, about Josephine Baker at Asolo Rep, and when I got there, they asked me if I'd be interested in learning puppeting to be Ethel, the monkey that Josephine always carried around with her. So I ended up being the head puppeteer for that. So when we began Frozen, I really had a good understanding of what it's like to bring a puppet to life. So as an actor, when I'm on stage, there's not one minute when I'm not like, 'okay, let me try to create a moment with Sven here,' so that you are always breathing life into the puppet from the other actors around it. You never want the audience to question that there's a puppet. Greg [Hildreth] does the same thing with Olaf. He's always blinking, always moving his feet, always moving his body to make sure he's always alive, and it only helps when everyone else around you acts as though it's alive as well.
It's almost fate that you had that previous experience, which turned out to be so useful for this role.
Oh my gosh, yes! And truthfully, I hadn't even put that role on my resume! But yes, it was a useful skill that really came in handy. The first time I got into rehearsal with the puppet I was like, okay, I know what this is, I know how to make this scene into a conversation, a dialogue, to make it seem like two living beings are reacting off of each other. Which is why I think the number 'Reindeer(s) Are Better Than People' is so successful.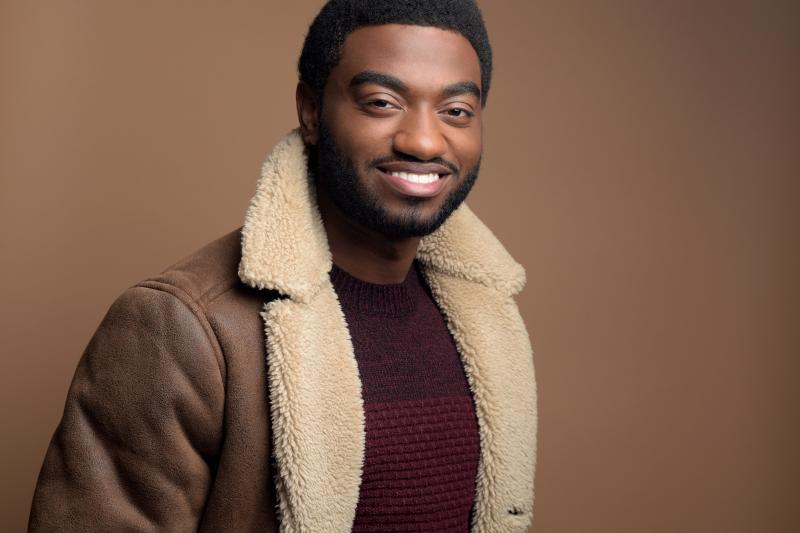 Audience members arrive at the St. James Theatre with a pre-existing adoration for this story, its characters and its music. Does that add a certain amount of pressure on you and your cast mates to meet their expectations?
I think what it adds is a responsibility for me personally to show up and be extremely present every single night. People are coming in with a high expectation as well as a wanting to love it, because they love the film so much. So my job then is, whatever I'm feeling during that day, I have to shake it off, come into that theater, do my job as bang-out as I can for those audience members, people who have kind of created an ownership of Frozen. In some ways, it's more their property than it is ours. So that is the responsibility I feel when I come to work. And I also feel a great joy, in that not only do I get to do this show that is so well known, but I get to break the mold and twist your expectations. When my character first walks out of the gate, people are like, 'oh, that's Kristoff!' you know, they have to take a moment. And I'm glad they have that moment because not only in that moment do they delete their past expectations, they also create a whole bunch of new ones. And that's exactly what we want the show to do.
Do you find that you can relate to Kristoff in some ways?
You know, I do. I think that I am a person with a really warm heart and a really big heart and I am always caring for other people. Even in the staging of the musical, our physical movement coordinator team would be like, 'oh once again here's a note for you, but it's a note because you have to take care of someone else in the play or help with what they're doing.' And I really believe that is just the nature of the character, that's just the nature of what Kristoff's job is. He's always tending to someone else. And I think I got that from my mother who is a very loving, caring person. She always cares for everyone in our family, more so than herself. So that selflessness is a quality that I think I possess.
And Kristoff also has a strength to him that makes you really believe in his philosophies of life and the way he lives his life, and I feel like I too have a huge strength in how I walk through life and the choices I make and the reasons why I make them. And the other thing of course is his physical size, and I had to meet that quality. I now go to the gym six days a week, I had to gain fifteen pounds for the role, so I've really been working to meet him in those aspects.
You share a wonderful new duet with Patti Murin's 'Anna' in which you question whether she really understands what true love is.
Yes, well Michael Grandage often talks about the fairy tale versus the myths in our piece, where Anna is so the fairy tale and Elsa represents the mythical world and the magic. And I feel Kristoff lies right in the middle of the two and is able to dip into both worlds due to his relationship with Anna and then also his relationship with the Hidden Folk, who raised him. So I think in terms of love, he doesn't understand it as a fairy tale thing, he understands it as a real, solid-grounded characteristic, a real solid passion, and he needs Anna to understand that. And I think the Lopezes brought that idea beautifully, they really did a great job with that song. And the words that Anna sassed him with in that number then reprise in the second act and lead her to the revelation that he loves her.
It's a gift as an actor to have all of that, and to have a whole song, "Fixer Upper," where you're hearing what other people think about your character all in one song, all the specifics about the grumpy way he talks, the clumpy way he walks, all these specific things about him. So I was like, 'well, half my job is done now because it's all here in this song. Now I just have to make sure they're true!'
What has it been like to introduce audiences to this new music?
It's absolutely a huge joy for me because the only thing I sing in the show that people have heard before is the half-song "Reindeer(s) Are Better Than People." Everything else that I sing is brand new, so to feel the audience reacting to that and to feel them engaged and energized by the new songs is really, really awesome. Any time you do a new piece you have a nervousness about whether people will accept the moments that you chose to elevate to song. And I think the Lopezes picked the perfect moments to expand their score.
Yes, you can almost picture them watching the animated film and saying, 'now here's a perfect moment for a song!'
Yes, and that's the key to developing a new musical, you have to find the exact moment that you want to musicalize. And I think sometimes in contemporary musicals we tend to over musicalize everything and so the rare, precious moments are lost. But I think in this musical, the way the story is, you really get those tiny, glimmer of isolation moments. Each character has what I would call their 'sotto soliloquy', which gives us a chance to see inside their heart and understand their wants and their needs without distracting from the overall arc of the story.
One of the unique things about this story is that it resonates with people of all ages.
Oh, I mean even when I saw the film as a college student, I was moved, I was like, this is more than a children's movie, and it's certainly a lot of things which we need right now as far as empathy, in terms of connection. Each of these characters has been isolated through no fault of their own and their trying to find a way back to each other. That couldn't be more where we are as a nation right now in terms of our different points of view and how we need to reach out to each other to understand how we live our lives and where we come from and why we make the choices we make. And also have a sense of compassion for people, no matter what walk of life they come from. The message, the themes hit home so hard to people and family. You know Elsa has this line in "Dangerous to Dream" about how secrecy comes at such a cost. When we hold secrets from each other, we're holding so much more than just the secret. And I think in families especially, the more we can learn to communicate, the better.
I agree, the show really does have so much relevancy to today's times.
It does. And to have two bang-out leading ladies and no real leading man in a production! Who needs a leading man? We need these ladies to lead things! To be part of that revolution is an honor for me. I've been asked, 'how's it feel to be in the shadows of the female roles,' and my answer is, we're not in the shadows. We'll never be in the shadows. What we are is uplifting the fact that men don't need to be in the forefront for a musical to be a frontrunner on Broadway. It doesn't need that. What it needs is truth, and honest actors and what we've got is gold with Caissie and Patti!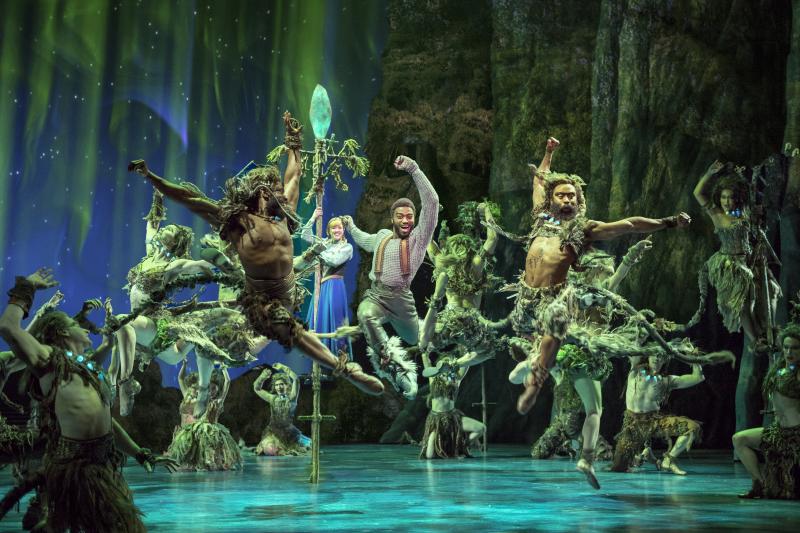 So what was it like to make your Broadway debut in Frozen?
Okay, if you had told me that I was going to make my Broadway debut in Frozen like three years ago I would have laughed in your face! Because I had never seen myself being in a Disney musical. I'm a huge fan of plays, I love that kind of work and what that kind of work feels like as an actor. God bless the day that I decided to walk into the Frozen EPA on a whim, because that's how I began my journey. I went to the EPA after a commercial audition because I was like, 'I feel like singing today.' I had studied musical theater in college but I just fell more in love with plays. And then, I went to the EPA and [casting director] Rachel Hoffman happened to be there in the hour that I went in and I sang, and she was like, 'who are you and why haven't I met you?' And I told her that I'd been doing regional theater for the past year since I graduated from school and that I was ready to be back in New York. And then after a pre-screen the next day I met the whole team and then a final callback and then boom, here I am. It's more than a dream come true. Everyday I wake up and I'm extremely, extremely grateful for the chance to be a part of this amazing moment in time, to be the first interracial couple that Disney has cast in one of their musicals on Broadway. And that is an incredible honor. All my life I've dreamed of being a pioneer. I think of people like Shonda Rhimes, of Issa Rae, Denzel, all these great people and they are all pioneers in what they did and how they broke the mold of this industry. And to be joining that legacy on Broadway is an incredible honor in my Broadway debut. And I am just so excited for the things that are going to come and the things that I have in mind, and the original works that I want to make post-Frozen.
And to work against Patti Murin and Caissie Levy, they are seasoned actors. They have really been around for a while and really know what they're doing. So to work opposite them and to learn things from them has been incredible. And you never stop learning, you never stop learning. So I'm really very excited to just continue learning!
BWW congratulates Jelani Alladin on his Broadway debut in Frozen! The actor's off-Broadway credits include SWEETEE and DON'T BOTHER ME, I CAN'T COP. Regional credits include I AND YOU, CHOIR BOY and THE HISTORY BOYS.
Production photos: Deen Van Meer