Click Here for More Articles on Debut of the Month Features
Debut of the Month: Becca Kotte Is Getting Ready for GETTIN' THE BAND BACK TOGETHER!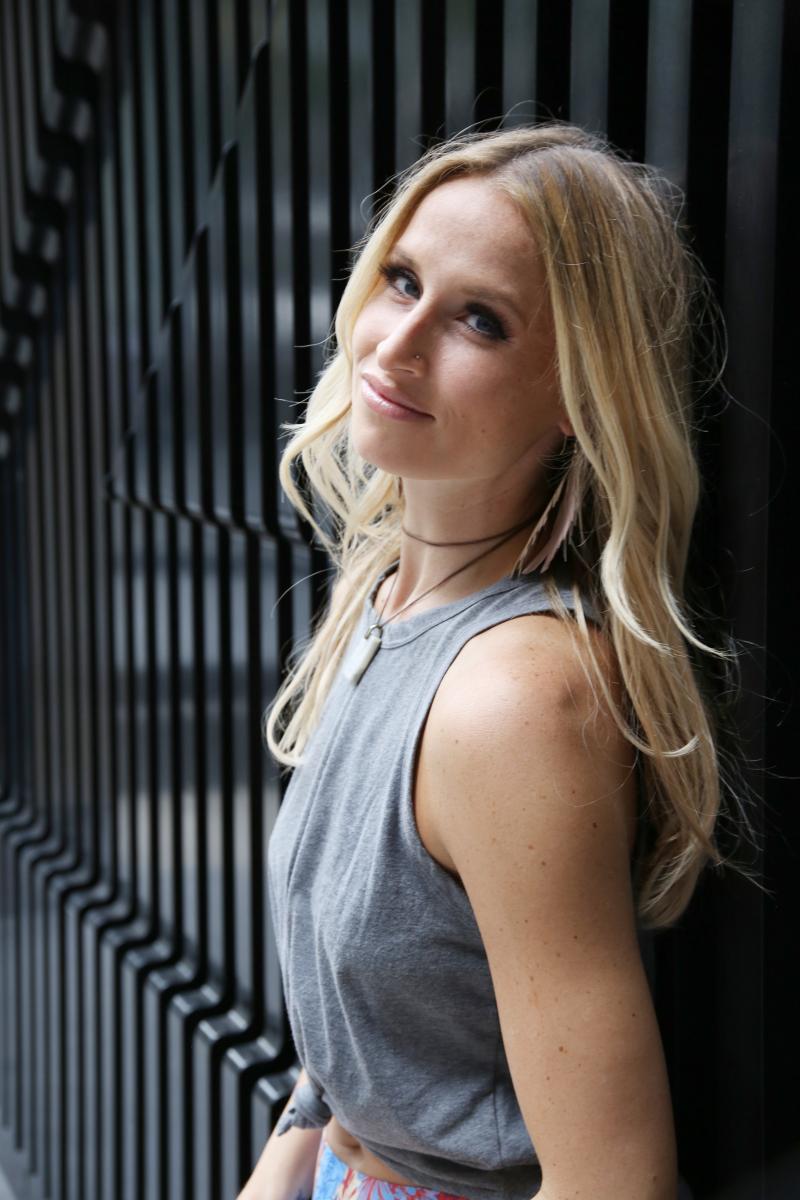 Becca Kotte makes her Broadway debut as Tawney Truebody in GETTIN' THE BAND BACK TOGETHER. The original, new musical comedy follows 40-year-old Mitch Papadopoulos, who after being forced to move back home with his mom in Sayreville, New Jersey, decides to get his high school band 'Juggernaut' back together and prove that it's never too late to give your dreams one last shot.
Today Becca Kotte speaks to BroadwayWorld about making her Broadway debut in a show which she hopes will inspire people to do the things that they have brushed aside because life got in the way.
[NOTE: BroadwayWorld's fabulous photographer Walter McBride captures images of the Broadway stars profiled in our monthly column in a special photo shoot. Check out the pics of Ms. Kotte throughout the feature!]
---
Let's start by going back in time a little. Were you ever in a band in high school?
Well I sang with our jazz band in high school and that's the first time I got in front of a proper band - it was a lot of jazz standards and some pop rock stuff. And that kind of gave me the feel for singing in front of a band. In college, the only money I really made was from singing with a wedding band, mostly weddings, but we'd also do Bar Mitzvahs and corporate events and all that kind of stuff. So yes, I did that for two years and it became something I just loved doing. There's just nothing like performing live, especially when you don't necessarily have a set list and you're like, 'oh, people are really responding to this, so let's do this one now.' And I've always done theater as well so this show is just perfect, it's the melding of my two favorite things.
It's so refreshing to see an original piece of work on Broadway. What does it mean to you to be a part of that?
Oh my gosh, it's something I've always wanted to do, a project from the ground up. This show has been in the works for almost nine years, and though I haven't been a part of it since the very, very beginning, it's so close to so many people's hearts and I feel very, grateful to be a part of it. I joined the process when we did the lab in April so I still got to be a part of the creative process a little bit, which was so neat. And as I said, it's totally something I've always wanted to do, to be able to see something emerge and grow. When I did ROCK OF AGES in Vegas, I came in a few months after it had already opened, so I didn't get to see the tech process, I didn't see the opening. So this is so special and cool.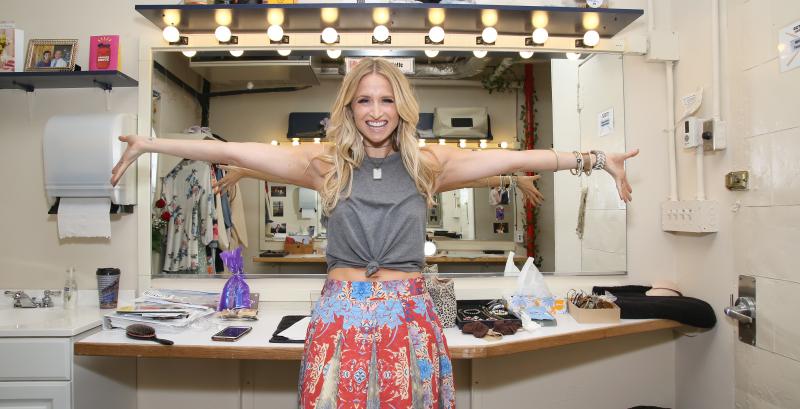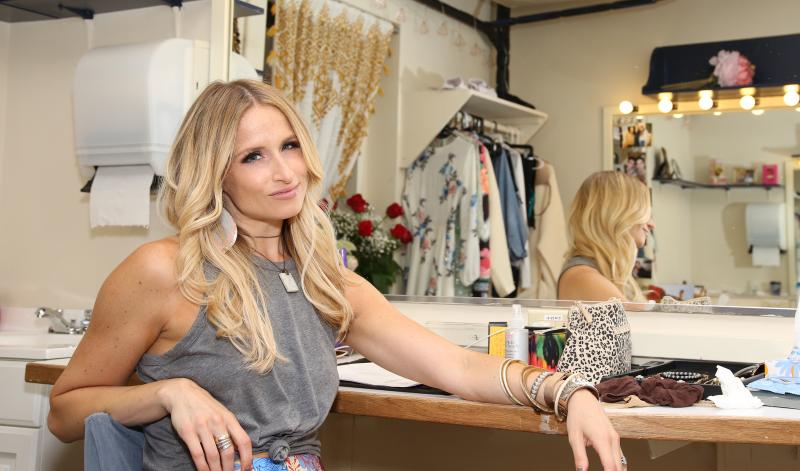 [Producer] Ken Davenport has explained the unique way that this show was created - literally a group of talented performers sitting in a room and improvising the story to life. Is there still improvisation going on each night?
Yes, there are a few spots in the show where they kind of leave it up to the actors. So many of the guys' backgrounds are in comedy, so even if it's not improv'd, they're really good at making it look like it is. And personally there are times when I have to try to keep my composure. The hardest part for me is during the diner scene, when Nick Styler, the lounge singer, has his breakdown at the piano and then he changes the last line he says each night, and you never know what to expect. So he might say something like, 'Thursday is Cornhole for a Cure', and I'm sitting right behind him at the bar trying to keep it together. I've gotten the note so many times from our director John Rando, 'you can't move!' And I'm like, 'I'm so sorry, but he's just being so funny!' So yes, it's a funny group of people!
Sounds like it has been a blast working with this talented cast and creative team.
I don't think I've ever worked with a funnier group of people. It makes it fun but it also makes it difficult for me to stay focused, because across the board, not just the leads, but everyone in the ensemble is a comedian in some way, shape or form. So going to work is hilarious, every single day. John [Rando], Ken [Davenport] and Chris [Bailey], our choreographer, they really each have their own special brand of comedy and getting to work with them and seeing where they are coming from is something I'm super grateful for. As many people know, John did URINETOWN, which is just so off the wall hilarious. I knew that show when it came out, when I was in high school, so getting to work with him is very special because I've been familiar with his work for quite some time. And John is very unassuming, he's so kind and sweet and he's a dad and he's this down to earth guy, but then he's got this wacky sense of humor and is really the force who is bringing this show to life.
Why do you think this story and these characters are resonating with audiences?
Well I don't think there's a single person in the world who doesn't have some sort of dream, whether it's a dream that they actually pursue or whether it's a dream that they think, 'I wonder what would have happened if I had gone for that?' And I think it's surprising how much heart our show has, and that's definitely something we can thank John, Ken and Chris for. Obviously the show has a lot of humor, but there are those moments that I think really surprise people and they're like, 'oh my gosh, that really touched me.' I think about Sully's character, for example, the cop who wants to do musical theater. I think that message is so important for guys to hear, that idea that yes, you can be this macho dude and also still want to listen to show tunes - that's okay! And Robbie, who comes from a very strict Indian household, he comes to realize that he can be a doctor and a musician, have a career and do music on the side and love both. And I love the way the boys have really brought their characters to life in such a relatable way that is really resonating with people.
What message do you hope audiences will leave with by the end of the show?
Well I hope people will obviously laugh, but I hope that they will feel empowered to pursue their dreams. Whether that's a small thing like, 'I really should call my friend who I haven't seen in twenty years,' or whether it's, 'hey, I think I want to pick up my guitar that I haven't picked up in twenty years.' I hope it inspires people to do the things that they have brushed aside because life got in the way.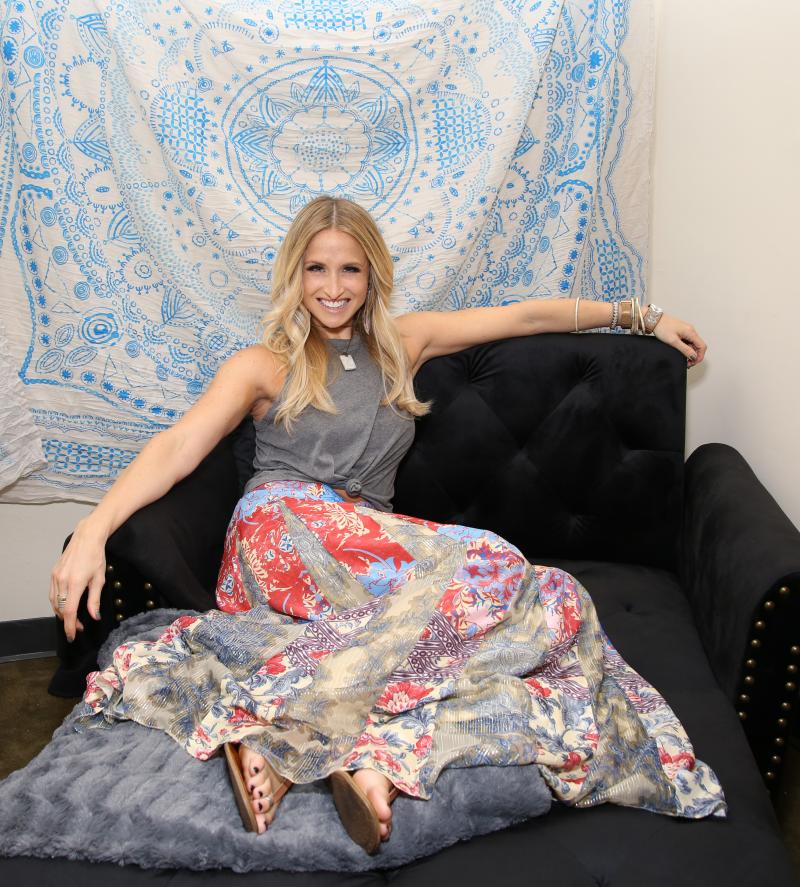 Speaking of pursuing your dreams, you are also a composer and recording artist.
Yes, I'm a recording artist and I do some writing. For the album that I released most recently I worked with my partner Andy Gerold, he was one of the musicians in the Vegas production of ROCK OF AGES, and my publisher, Fervor Record's Jeff Freundlich. Those two guys approached me when I was in Vegas and we put our heads together and we came up with some fun stuff. We were the masterminds behind our first project and now I'm starting something on my own and we'll be working together and they'll be producing and helping to fill in the gaps of the instrumentation and all that fun stuff.
Has this show inspired your new music?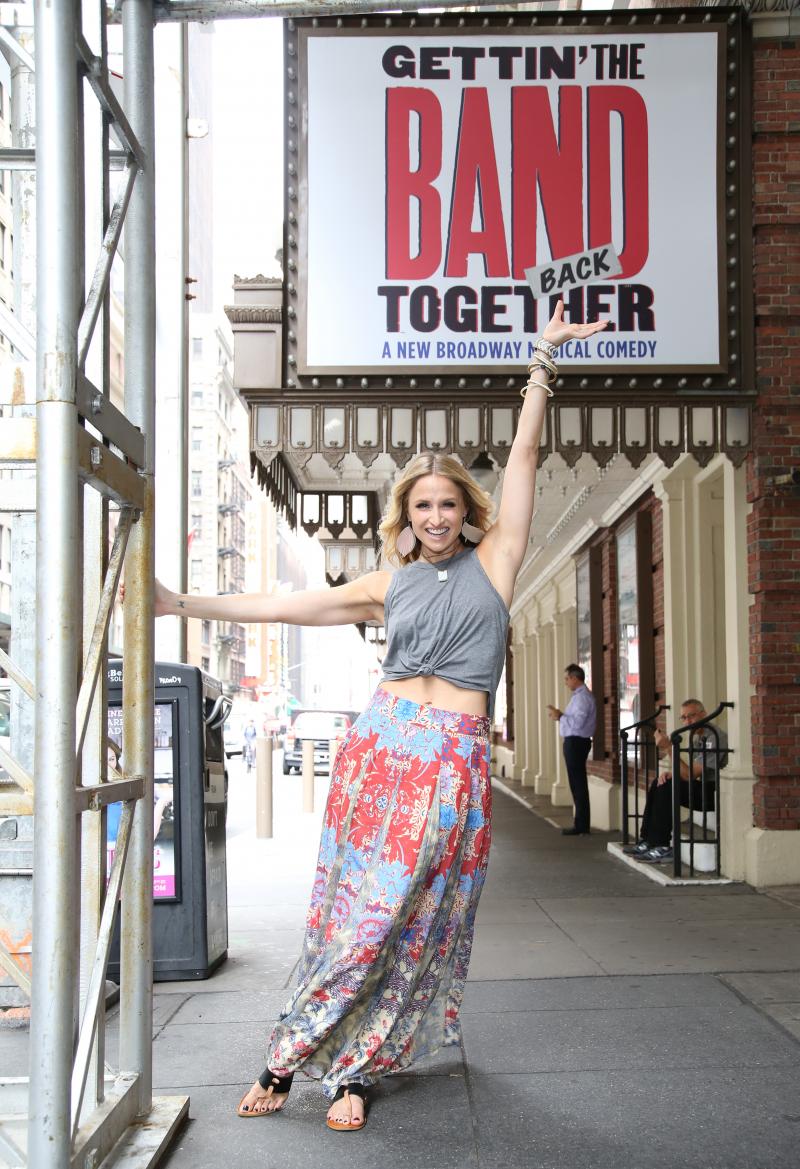 Oh totally! And a lot of people in our cast are also songwriters and they work on their own material. I mentioned how funny everyone is, but it's also incredible how freakin talented everyone is! And they're all working on their own things as well. So I think being around so many creative people who are so actively pursing so many things, makes me feel that I'm on the right track and that I can do multiple things. I may not be able to focus all of my energy all at once, but I think once previews are over and we're open I'll hopefully have a little more time on my hands and I'll get my nose to the grindstone and keep writing and keep creating. I think it's so important to keep sharing my heart, and hopefully someone else can relate to it.
What was it like to make your Broadway debut in GETTIN' THE BAND BACK TOGETHER?
Oh my gosh! Well it was surreal. I have to be honest, I was a little bit in my head. We had just gotten a bunch of new choreography for the opening number so I was literally taking it minute by minute. Not to mention I have sixteen costume changes in the show. We actually made a joke during rehearsals when they were having us play all these different characters, I was like, 'we're going to end up spending more time changing our clothes than we are on stage!' And we sort of said it in passing, jokingly, but now I'm like, 'uh-oh, that is real!' So it's just hilarious - anytime we're not on stage we're getting a wig ripped off and getting another wig pinned in, it's just non-stop. But the night of the first preview, I did make sure to take a moment to myself and soak it all in because it's something I've wanted to do forever. I've wanted to be on Broadway since I was a kid, so this was a total dream come true.
Final question - Battle of the Bands - Juggernaut versus The School of Rock. Who wins?
Oh my gosh. Well maybe we need to have an event where they battle each other and we will find out!
BroadwayWorld congratulates Becca Kotte on her Broadway debut! The actress starred as Sherrie Christian in the Las Vegas company of Rock of Ages, where she enjoyed a three-year run. In 2015, she partnered with Fervor Records and recorded her first EP. Her original music has been featured on Lucifer (FOX) and Impastor (TV Land). Becca has been touring worldwide since 2016 as a background vocalist for Sir Rod Stewart. Highlights include the Isle of Wight Festival, Abu Dhabi, Tel Aviv, and a U.S. tour with Cyndi Lauper as opener.