COMPOSITION OF A WOMAN to Receive Reading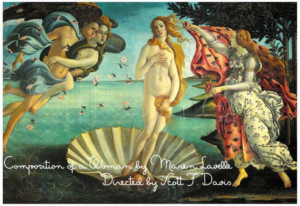 Composition of a Woman by Maren Lavelle// Directed by Scott F. Davis
Cast:
Sara: Gina DeMay
Cassie: Rebeca Rad
Mona: Dana Aliya Levinson
Frida: Sara Ornelas
Nee: Ashley Scott
Venus: Liana Wright-Mark
Stage Directions: Amber Jaunai
Westside Theatre (407 W 43rd St.) in their downstairs theatre on Friday May 4th at 7pm.
Sara stands in front of a panel of five women. They are subjects of some of the most famous paintings in the world, including Frida Kahlo, Venus, and Mona Lisa. Sara asks them to determine whether or not she is beautiful. Sara is also in an art museum, on vacation in Paris, with Cassie, her best friend who she hasn't seen in 7 years. Sara is flung back and forth between the trial of her beauty and the tricky obstacle course that is the pressure within her friendship with Cassie. As Sara struggles to share with Cassie a secret about a failed engagement that she fears Cassie will judge her for, she simultaneously fights for her life in the courtroom run by the painting subjects in order to get the verdict that she wants from them: beautiful.
In this age where women are hyper-evaluating their relationships to the world and to men and to each other, stories about women and their struggles with beauty and validation are important. Composition of a Woman mirrors the tangible and realistic world with its surreal equivalent in order to examine what it means for women to feel beautiful and how their search for validation manifests itself in their behavior and their relationships with the other women around them.
**The reading is free and will run 70 minutes. This play received prior development at Abingdon Theatre Company and 440 Lafayette Studios.**