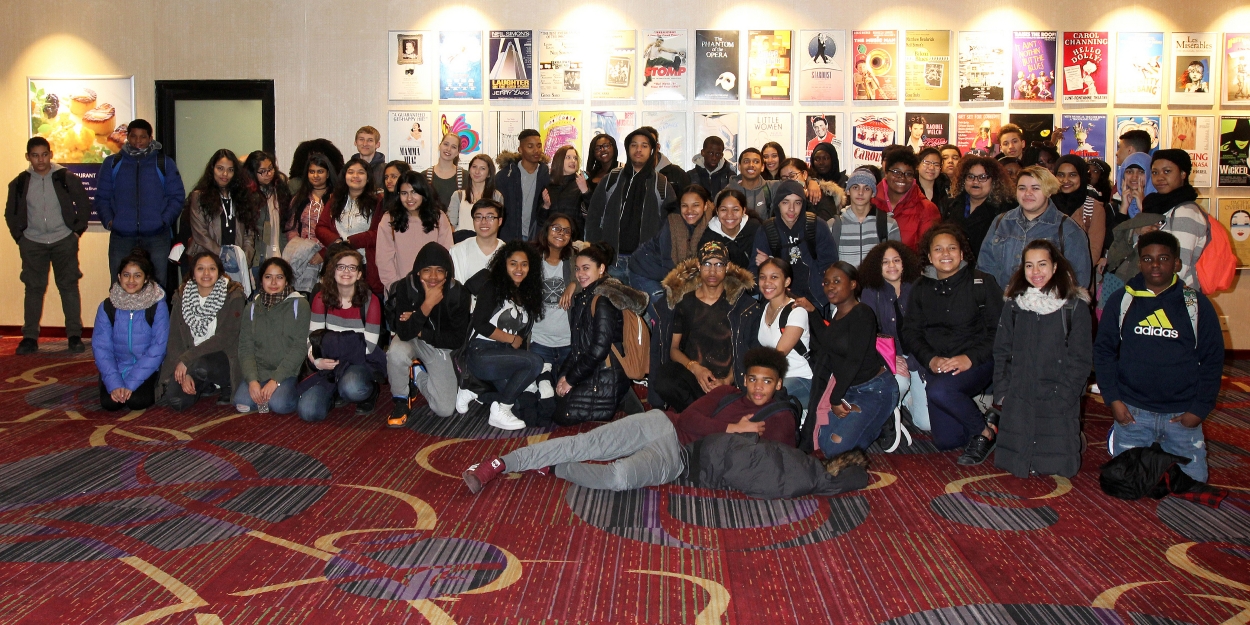 CAMELOT, A BEAUTIFUL NOISE, CHICAGO & More to Take Part in Broadway Bridges 2023 Spring Season
Broadway Bridges seeks to offer every New York City public high school student the opportunity to experience a Broadway show before graduation.
The Broadway League has announced the 21 Broadway shows participating in the 2023 spring season of Broadway Bridges. Broadway Bridges is The Broadway League's initiative that seeks to offer every New York City public high school student the opportunity to experience a Broadway show before graduation. More information is available at BroadwayBridges.org.
Launched in 2017, The Broadway League's Broadway Bridges initiative is offered to New York City Department of Education high schools in the five boroughs. Since its inception, 560 public high schools have registered to participate in the program, with representation from each of the 51 city council districts. Broadway Bridges offers tenth graders the chance to attend a Broadway show and has the unique ability to reach students who may not otherwise be able to experience this cultural opportunity prior to graduation.
Last season, 23,547 students and chaperones from across the five boroughs participated in Broadway Bridges. Now in its full fifth season, Broadway Bridges has introduced more than 80,000 New York City DOE sophomores and chaperones to Broadway.
SPRING 2023 PARTICIPATING SHOWS INCLUDE:
Aladdin
A Beautiful Noise
Bad Cinderella
Bob Fosse's Dancin'
Camelot
Chicago
Hadestown
Harry Potter and the Cursed Child
Kimberly Akimbo
Leopoldstadt
Life of Pi
MJ The Musical
Moulin Rouge! The Musical
New York, New York
Parade
Peter Pan Goes Wrong
Shucked
Six
Some Like It Hot
The Lion King
Wicked
"Broadway Bridges creates a lifelong connection to live theatre for the students who attend a Broadway show, some for the first time, while also being a source of pride in being a New Yorker. It has also introduced potential careers on Broadway for many of the students," said Charlotte St. Martin, President of The Broadway League. "We are thankful to the 21 Broadway shows participating in the spring 2023 Broadway Bridges program. Support from the Department of Education, the United Federation of Teachers, the NYC Mayor's Office of Media and Entertainment, and the New York City Council helps us reach the goal of having all public high school students attend a Broadway show before graduation."
"I am constantly in awe of the talent our young people possess, which is why it is so essential that we nurture and develop these talents, not only setting our students up for successful careers in the arts, but fostering healthy outlets of expression and lifelong passions," said Schools Chancellor David C. Banks. "Thank you to Broadway Bridges for making these opportunities available to our students, allowing our kids to experience the magic of Broadway."
"For our high school sophomores, attending a Broadway show can be the door to a world of possibilities. Suddenly their love of language, music, fashion - it is all there, in front of them. It is both an experience, and quite possibly, a road map. Our partnership with The Broadway League and the city's Department of Education is an investment in our students' futures," said Michael Mulgrew, President of the United Federation of Teachers.
Through Broadway Bridges, New York City DOE high schools are offered $10 Broadway tickets for their tenth-grade students. The tickets are purchased based on availability and are timed to coincide with the demands of the school calendar.
Follow Broadway Bridges on Facebook and Instagram!
Watch a video highlighting the program's impact on students.
Donations to support the program can be made at www.broadwaybridges.org/donate.
THE BROADWAY LEAGUE
(Charlotte St. Martin, President), founded in 1930, is the national trade association for the Broadway industry. The League's 700-plus members include theatre owners and operators, producers, presenters, and general managers in nearly 200 markets in North America and internationally. Each year, League members bring Broadway to upwards of 30 million people in New York, on tour across the U.S. and Canada, and around the globe. The Broadway League's newest category of membership, League Fellows, affords access and benefits to upcoming professionals who represent a diversity of background, ethnicity, experience, and views. The Broadway League annually co-presents the Antoinette Perry "Tony" Awards®, one of the most coveted awards in the entertainment industry.