Broadway Takes To Twitter Over Transphobic New York Times Review For HEAD OVER HEELS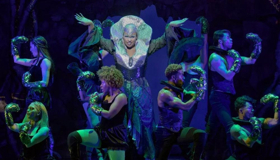 UPDATE: Ben Brantley has issued an apology over his review for HEAD OVER HEELS. To read more click here.
Late Thursday evening, following the publication of the New York Times theatre review of Head Over Heels, members of the Broadway community took to social media to express outrage over a review which many have dubbed transphobic.
Early in the review, critic Ben Brantley seems to invalidate an entire gender identity, writing "And its dichotomous nature matches the didactic thrust of a show that celebrates the importance of not being (and pardon me, for trotting out what's starting to feel like the decade's most overused word) binary."
Later in the review he purposefully misgenders a non-binary character, played by trans actress Peppermint (the first openly trans woman to play a principal role on Broadway) - writing "Dametas (Tom Alan Robbins), the King's viceroy and father of Mopsa, finds himself strangely drawn to her - I mean them."
In the show, it is explicitly stated early on (and is a major plot point) that the character Brantley is referring to uses the pronouns they/them.
Read all the reviews for HEAD OVER HEELS here.
See just some of the comments from the community below:
Come ON, @nytimestheater. When you make pronouns a joke, you strip a person of their humanity. When you strip a person of their humanity, you make it DANGEROUS for that person to fully move through the world. DO BETTER.

— Nikka Graff Lanzarone (@nikkalanz) July 27, 2018
Is Ben Brantley okay? pic.twitter.com/5kInzzdIRN

— Tyler Coates (@tylercoates) July 27, 2018
I don't even want to get worked up about this because Ben Brantley matters much less than anyone (especially him) thinks he does but that the NYT published a "tee hee gender neutral pronouns are funny" joke at this current time speaks volumes, and it's also embarrassing.

— Tyler Coates (@tylercoates) July 27, 2018
The NYT should have standards for addressing 2018 issues if they're going to cover them. To fail to do so is to fail to do their jobs. They failed in publishing Ben Brantley's piece tonight as it was written. The whole thing is embarrassing — to him, to the artists, to the NYT.

— Chris Geidner (@chrisgeidner) July 27, 2018
I'm imagining a world in which we collectively ask Ben Brantley not to attend ANY shows, we take away his complimentary tickets, and we all say together, "We reject your review- be it positive or negative- because we no longer care what you have to say." And girl, will we thrive.

— Alex Wyse (@alexwyse) July 27, 2018
This comment is at best, unfunny, and worst, transphobic. We've got to do better, folks! Haven't seen @HOHmusical, but this problematic @nytimestheater review just made it jump to the top of my list! pic.twitter.com/ope6e3vb5P

— Andrew Keenan-Bolger (@KeenanBlogger) July 27, 2018
Reviewers should have the ability to respect the work they are engaging with. If Ben Brantley has this little respect for nonbinary people, he should not have been sent to write this review.

— While Reading and Walking (@reading_while) July 27, 2018
It's ok for Ben Brantley not to like HEAD OVER HEELS (I loved it, but whatever!) but to dismiss the idea of people who identify as nonbinary? Very uncool, Ben. https://t.co/wY6YhxOKFv

— Kat Brzozowski (@KatBrzozowski) July 27, 2018
Hey @nytimes - what is happening in this review? Mocking gender representation and identity gets NOTHING done. This is horrible. pic.twitter.com/EjUxgWIxdT

— Michael Kushner (@MikieKushner) July 27, 2018
.@nytimes @nytimesarts, @nytbenbrantley should be fired immediately. Mocking the gender pronouns of a trans person in a history making role is not only offensive, it has broken the trust our community placed in Mr. Brantley to review critically and fairly. He should resign. Now.

— Taylor Shubert (@TaylorShubert) July 27, 2018
Ben Brantley's transphobia would be unacceptable anywhere, but that it's in his review of a show actively working to expand definitions of gender and queerness makes it also idiotic. @nytimestheater should fire his crusty ass, as well as the editor who let the review go through.

— One More Thing (@OneMoreThang) July 27, 2018
Ben Brantley's review of Head Over Heels is disgraceful. It costs cis people nothing to simply respect trans and non binary folks' pronouns. It costs trans and nb people their LIVES when we continue to contribute to transphobia. @nytimestheater @nytimesarts

— Alex Hansen (@no1askedforthis) July 27, 2018
it pains me to imagine why the Times would bother sending a nerd like Ben Brantley, who can't even bring himself to use the word "vagina" in his copy, to review a show that so, so clearly was not made for him https://t.co/6aaIZNXPqf

— Noah Manskar (@noahmanskar) July 27, 2018
Another OUTRAGEOUSLY INSENSITIVE review from the @nytimes GET IT TOGETHER. DO BETTER. Ben Brantley can't keep with the times. So shashay AWAY. THIS IS NOT OKAY. pic.twitter.com/j4LShdcebB

— Tara Halpern (@alltimetara4) July 27, 2018
Um @nytimesarts, what the hell is this Head Over Heels review doing dismissing gender fluidity? This is totally at odds with the Broadway community I know. Ben Brantley is fucking cancelled. pic.twitter.com/Jbi0uDVtdR

— Mel (@melephant11) July 27, 2018
I'm real glad to see a whole lotta backlash to Ben Brantley's offensive review of Head Over Heels in @nytimestheater. My jaw was on the floor. Review the merits of the show, no need to reveal your distaste for things you don't understand.

— laurel (@laureleena) July 27, 2018
Am I surprised the Times theatre critics demeaned gender identity and body-shamed an actor this week? No. Am I surprised an editor didn't bother to fix these issues before print? No.

they should stick to what keeps them relevant: panning shows out of town so they can't transfer

— Annoying Actor Friend (@Actor_Friend) July 27, 2018
.@nytimestheater @nytbenbrantley in what world is mocking gender pronouns acceptable?

— Nick Cearley (@ClearlyCearley) July 27, 2018
Come ON @nytimestheater ?! Really?! You're going to insult and offend twice in the same week? Who is in charge over there? Are they on summer vacation? Stop embarrassing yourself. #getittogether pic.twitter.com/ST6YaGRw0D

— Nick Cearley (@ClearlyCearley) July 27, 2018
Hey @nytimes this is transphobic trash. Print an apology, fire Ben Brantley, and consider this: there's no way on Earth this would have gotten published if you hired trans people. https://t.co/byPqbZ4J2y

— Laura ???? (@petrarchian) July 27, 2018
I expect much better from @nytimestheater than the transphobic nonsense that was published as a "review" of @HOHmusical. I don't know what's more disgusting - Ben Brantley's writing, or the editors who let that go through. Shame on everyone.

— Justin McCallum (@Justin_McCallum) July 27, 2018
Hey Ben Brantley and @nytimes .... Why do you think it's funny to deliberately misgender someone in order to make fun of non-binary people, a group who is already faced with massive amounts of discrimination and negative stigma? What the fuck is funny about that?

— be kind (@newdawnrisingg) July 27, 2018
@nytimesarts can you please retract and correct this transphobic misuse of Pythio's pronouns. Ben Brantley's review is inaccurate re the fact that @Peppermint247 's character is explicitly nonbinary and uses TheyThem pronouns. Even 'joking' here does not require this misgendering pic.twitter.com/L4pl35pSOT

— Emma Lea (@theemlea) July 27, 2018
then credibility is lost. It has then become targeted and inhumane. I'm usually a fan of critics *like* Mr. Brantley and his colleagues, or at least am able to understand their perspective even if it differs from my own, but all it takes is one statement that strays away from the

— Jacob Rivera-Sanchez (@jacobrivsan) July 27, 2018
Are you kidding me??? The @nytimestheater @nytimes has once again proven themselves completely out of touch with the current culture in this country. Ben Brantley, as a gay man, you should be ASHAMED of yourself for such a vulgur display of disrespect. pic.twitter.com/SoWzyXNHAg

— Kevin Metzger-Timson (@kevmetz) July 27, 2018